About this Event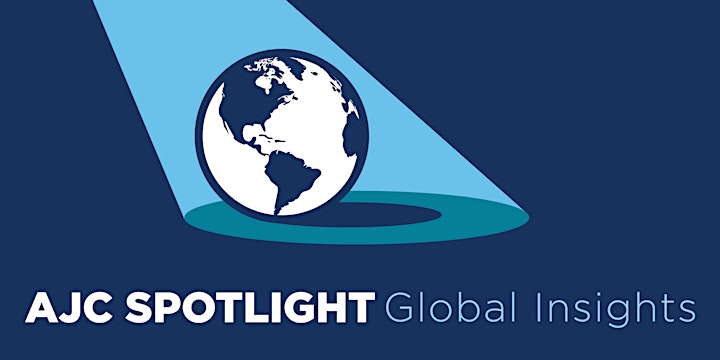 AJC Chicago, The Japan Foundation Center for Global Partnership, and the U.S.-Japan Council invite you to join us for a discussion on trilateral cooperation between the U.S., Israel, and Japan on the future of Ag-Tech and Eco-Tech.
Incredible progress is being made in the development Ag-Tech and Eco-Tech that will shape the future of the agriculture industry, global food security, development programs, and the ways in which we consume. As artificial Intelligence continues to unlock new possibilities for yields and efficiency, what societal impacts can we expect? What problems may arise, and what solutions should we begin to develop?
Networking reception: 5:30 - 6:30pm
Panel discussion and Q&A: 6:30 - 8:00pm
PANELISTS
Dr. Kathryn Ibata-Arens
Vincent de Paul Professor of Political Science, DePaul University
Michael Lavin
Founder & Managing Partner at Germin8 Ventures
Dr. Sakae Shibusawa
Specially-Appointed Professor at Tokyo University of Agriculture and Technology
MODERATOR
Amy Stoken
Vice President of OurCrowd

PANELISTS
Dr. Kathryn Ibata-Arens is Vincent de Paul Professor, DePaul University. Her scholarly work focuses on innovation and entrepreneurship in Asia, science and technology policy, women's economic empowerment, and inclusive innovation. Ibata-Arens' recent research explores technology leadership, innovation and entrepreneurial ecosystem development in biomedical industries in Asia. Her book, Beyond Technonationalism: Biomedical Innovation and Entrepreneurship in Asia (Stanford University Press 2019) analyzes national policy and firm level strategy in China, India, Japan, and Singapore. From 2012 to 2013 she served on the METI-State Department Japan-US Innovation and Entrepreneurship Council, and serves on the Board of Directors of the Japan-America Society of Chicago, and as a member of the U.S.-Japan Council. Previous policy analysis, utilizing social network analysis and GIS methodologies, examines emerging life science (biotechnology and medical devices) regions in Japan and the United States. In 2012, Ibata-Arens was a visiting researcher at the Research Center for Economy, Trade and Industry (RIETI, Tokyo), Ritsumeikan University Research Center for Innovation Management (Kyoto) (2011-2012), and as a Fulbright Fellow at Kyoto University (2010). In 2008, Ibata-Arens was a Japan Policy Fellow at the Center for Strategic and International Studies (CSIS) in Washington, DC and received a Sloan Foundation Industry Studies Grant for her work on national entrepreneurship and innovation policy. Her dissertation research was conducted at the Research Center for Advanced Science and Technology (RCAST) at the University of Tokyo as a Fulbright Doctoral Fellow. Ibata-Arens' previous book, Innovation and Entrepreneurship in Japan: Politics, Organizations and High Technology Firms (Cambridge University Press, 2005) analyzes leading high technology firms and regional economies in Kyoto, Osaka and Tokyo. She received a BA in international relations from Loyola University Chicago and a PhD in political economy from Northwestern University.
Michael Lavin founded Germin8 Ventures, a venture capital firm with strong strategic backing and driven by entrepreneurs, dreamers and technologists. Germin8 is seeking to improve the global food system by providing capital, strategic resources, and hustling to best-enable the most exceptional founders of transformative FoodTech & AgTech companies around the world. Mr. Lavin oversees Germin8's investing and operations, as well as actively participates on the boards of invested companies. Mr. Lavin is also a mentor and member at several accelerators and incubators, including the TERRA Accelerator, the Techstars Farm to Fork Accelerator, 1871, The Good Food Accelerator, Family Farmed, and The Hatchery. Mr Lavin's experience includes extensive investment banking and consulting for clients ranging from the middle market to Fortune 500, as well as internal corporate development advisory for Mesirow Financial, a leading financial services firm with $100 billion of assets under management.
Mr. Lavin's passion for food and agriculture is authentic and deep rooted having grown up in the industry, working throughout the value chain and completing coursework in agribusiness and agriculture sciences in addition to undergraduate and graduate degrees in Finance. Mr. Lavin is a proud Chicago native, but regularly commutes to the San Francisco Bay Area, Europe, Tel Aviv and other hubs where food meets tech.
Dr. Sakae Shibusawa is a specially-appointed Professor in the doctoral program of Tokyo University of Agriculture and Technology; the program aims to create new industries that revolutionize agriculture and distribution through the application of engineering. His research areas include development and implementation of community-based precision agriculture utilizing information and communication technology. He also develops real-time soil management sensors, does fieldwork in sustainable agriculture, and provides support for farmers who incorporate technology into their work.
Dr. Shibusawa is a member of the Science Council of Japan, the representative organization of the Japanese scientist community across all fields of science. He also serves on the Expert Committee for the Promotion of New Strategies of Information Technology under the Information Technology Strategic Headquarters within the Cabinet Secretariat of the Government of Japan. He is also the Japan chair of the expert committee of GLOBALG.A.P (Good Agricultural Practice), a private sector body that sets voluntary standards for the certification of agricultural products around the world.
Prior to his current appointment, he was a Professor at the Graduate School of Agriculture at Tokyo University of Agriculture and Technology from 2001-2019, and prior to that, he was an Associate Professor at Shimane University, an Assistant Professor at Hokkaido University and Ishikawa Agricultural College. Dr. Shibusawa received his Ph.D. in Agriculture in 1984 and M.Sc. in 1979, both from Kyoto University.
MODERATOR
Amy Stoken serves as Vice President of OurCrowd (Israel's most active venture capital firm) and leads OurCrowd's efforts in Chicago. Previously, she was the Regional Director of the American Jewish Committee (AJC) and before that she was the America Israel Public Affairs Committee's Chicago Area Director. During her legal career, she focused on securities litigation at Davis, Polk & Wardwell and McDermott, Will & Emery. Amy has a Master's Degree in Public Policy from George Washington University and a J.D. from Georgetown University Law Center. Amy serves on the boards of AJC Chicago and the America Israel Chamber of Commerce.