Description
We're really excited to announce a new phase of our Farmers Direct Series! We'll be trying to move about to more locations, and our first stop is the amazing Lincoln's Beard Brewey! We'll be collaborating with chef Danny Ramirez, who runs The Westchester- a gourmet deluxe food truck that lives on the back patio of the brewery. Our dinner will be in the main room.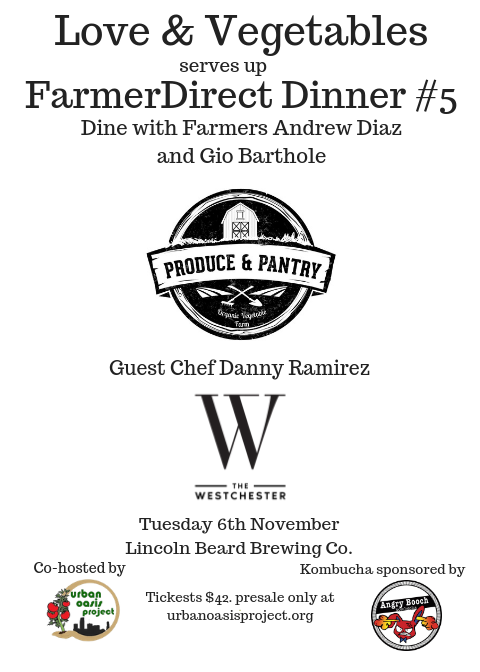 Our farmers this time will be Gio and Andrew of Produce & Pantry. We'll have lots of fresh greens as the veggie season is just getting started! The co-owners of Produce and Pantry met in high school and have been best friends going on a decade. After working in kitchens and in the fields, their passions have coalesced into the formation of Produce & Pantry, whose goal is to use organic practices to grow affordable, nutrient dense food for every community.
Your ticket price includes one beer or kombucha (Angry Booch will be on tap!). Additional drinks will be available for purchase at the bar. Because we are in a brewery, BYOB is not allowed at this event.
Love and Vegetables and Urban Oasis Project hosting the FarmersDirect dinner series to highlight farms in South Florida and provide the best plant based and truly local deliciousness possible.
At each dinner, most of the ingredients will be sourced from a specific farm, and the farmer will be present to share the meal and have a live interview about their motivations, successes, challenges and dreams. We purchase all of the produce, plus a portion of the proceeds will go to that farmer as a thank you for their work.