Description
Thanks for your support! Farmers Direct Dinner #1 is now SOLD OUT, but click here to sign up for Dinner #2!
Dinner #2 will be Saturday, May 19th, 7-9 PM indoors at Little haiti Cultural Complex. Our second farm is TBA- but we've got some great ones lined up from our sources! Refunds will be available since we have not yet firmed up the details.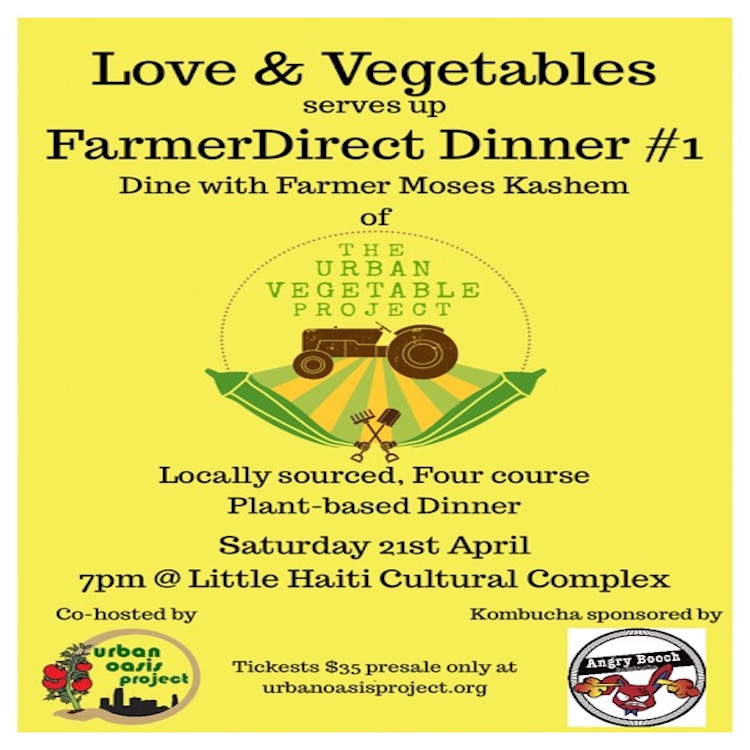 As promised Love and Vegetables is back bringing good food to the people! We have teamed up with Urban Oasis Project to host the FarmerDirect dinner series highlighting farms here in South Florida to provide the best plant based deliciousness possible.
At each dinner, the ingredients will be sourced from a specific farm, and the farmer will be present to share the meal and give a short talk about their motivations, successes, challenges and dreams.

Our first featured farm is Urban Vegetable Project. Farmer Moses Kashem is the man behind this incredible farm project. He strives to incorporate culturally diversified methods into his agricultural practices and believes that all citizens of Miami should have access to organic locally grown produce.


Entry at 7PM, First of four courses will be served at 7:30. Kombucha generously donated by Angry Booch, tea will be available, alcoholic drinks are BYO.