ANNUAL MUSIC FESTIVAL AND STREET FAIR
About this event
General Admission is FREE. Party Pit is a closed section closest to the stage. The music starts at 5P on Friday & Saturday.
Friday, June 4: Parmalee with Highway 615, Rhett Powell & The Slim Chance Band, Jack Daniel & Dave Woolridge
Saturday, June 5: Saliva with Tantric, Alborn, and One Vision
Times will change. Please make sure to follow our main page, for any updates. Also, check our website www.farmercityheritagedays.com for the most up-to-date information.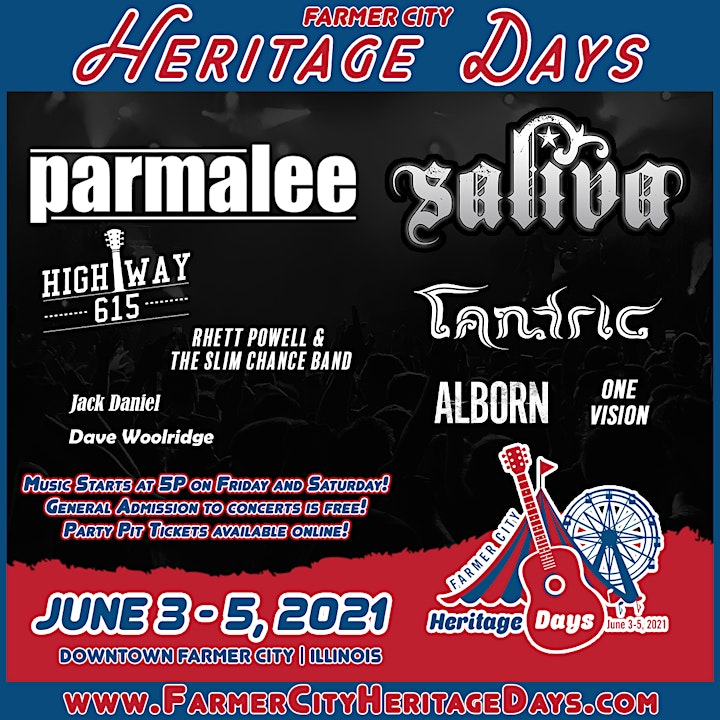 2016 ACM "New Vocal Duo/Group of the Year" nominee Parmalee is one of Country music's most successful new acts: The Platinum-selling band of brothers is one of only four groups since 2001 to earn three consecutive Top 10 singles from a debut Country album. Since their debut at Country radio, Parmalee has earned over 373 million Pandora streams, 123 million plays on Spotify, over 31 million YouTube/ VEVO views, and 1.7 million Shazam subscribers. Heralded as "Country Music's Breakout Stars" by MSN Entertainment, Parmalee has supported Brad Paisley and Jake Owen on national tours while finding time to perform on NBC's TODAY show, The Late Late Show, FOX & Friends All American Summer Concert Series, MLB Central's Studio 21, The Queen Latifah Show, and more. Parmalee – comprised of brothers Matt and Scott Tomas (lead vocals/guitar and drums, respectively), cousin Barry Knox (bass), and life-long best friend Josh McSwain (guitar) – continue to show loyalty to their home state of North Carolina with the release "Down Town." The band's latest release "Just the Way", is a collaboration with BBR Music Group's Blanco Brown, the mastermind behind the international smash single 'The Git Up'. Parmalee and Brown struck up a friendship several years ago and have since written together on several occasions. Knowing how dedicated Blanco is to spreading joy and purpose, Parmalee invited the "Trailer Trap" creator to join them on the song and share in spreading the message of self-love. The feel-good, from-the-heart track, with its melodic groove, blends Matt Tomas' lead vocals with Blanco's, in a new way, never heard before. The new collaboration praises folks for being true to themselves and encourages self-acceptance. For more information, visit: http://www.parmalee.com
After acquiring front man Bobby Amaru in 2011, Saliva became infused with new blood, energy, and spirit. The same energy launched Saliva's career in 2001 with the release, Every Six Seconds – a certified Double Platinum-selling album, containing the hits, "Click Click Boom" and 2002 Grammy nominated, "Your Disease." Saliva's in-your-face, anthemic writing style continued with a certified Gold-selling album Back in to Your System with hits: "Always," "Raise Up," and the Nikki Sixx co-written, "Rest In Pieces."
Saliva has toured the USA and world with bands including (but not limited to), Sevendust, Aerosmith, and KISS. They've also appeared on the main stage at countless fairs, festivals and bike rallies – Sturgis, Rockin The Rivers, Daytona Bike Week, Rock on the Range, Welcome to Rockville to name a few.
Saliva's most recent studio album "Love, Lies and Therapy" was written on their own terms around their road dog touring schedule. Tracks like "Refuse to Lose" and the Michael Jackson cover of "They Don't Care About Us" have taken off on Spotify with millions of streams. In September 2017, Saliva independently released a cover of the iconic song "Lose Yourself" by Eminem which has become an explosive internet streaming hit in the rock genre. Since their last album, Saliva would not be pushed into record deals that were not advantageous toward the growth and expansion of Saliva as a whole. They formed their own label Refuse to Lose Music and are slated to release a new album (yet to be titled) this coming Summer 2018.
Saliva is putting something special together this year and looking forward to seeing all of their friends on the road along with making a few new ones. Watch as new dates post on the www.saliva.com tour page.
Tantric is an American rock band from Louisville, KY founded in '99 by Hugo Ferriera. Tantric is often categorized as post-grunge and known for its emphasis on acoustic guitar, distorted electric guitar, and multi-layered vocal harmonies.
Altogether, Tantric has released seven studio albums and one EP Tantric (2001), After We Go (2004), The End Begins (2008), Broken Down...Live in the Poconos (2008), Mind Control (2009), 7 Channels (2013), and Blue Room Archives (2014). Their 7th studio album "MERCURY RETROGRADE" was released on 10/5/18.
Tantric's line-up consists of the founder, Hugo Ferriera (Vox/Acoustic Guitar), Jaron Gulino (Vox, Bass), Sebastian LaBar (Lead Guitar, Vox), and Ian Corabi (Drums).
Additional information about Tantric can be found on their website at https://tantricofficial.com.
Performers
Date and time
Location
Organizer of Farmer City Heritage Days
Offering a mix of local, regional, and nationally known artists on Friday and Saturday evenings. Be sure to check out the 2020 Line-Up to see who will be taking the stage next for the 2020 music festival. Complete with Carnival, Vendors, Annual Car Show, Bags Tournament, and Saturday's Kid's Zone. While admission to the music festival and Main Street fair is free (Party Pit is additional cost), be sure to check the current Schedule and Things to Know for specific information.