First Farmasi National Annual Convention at Hard Rock Hotel in Hollywood, FL *Private Event only for Farmasi Beauty Influencers*
About this event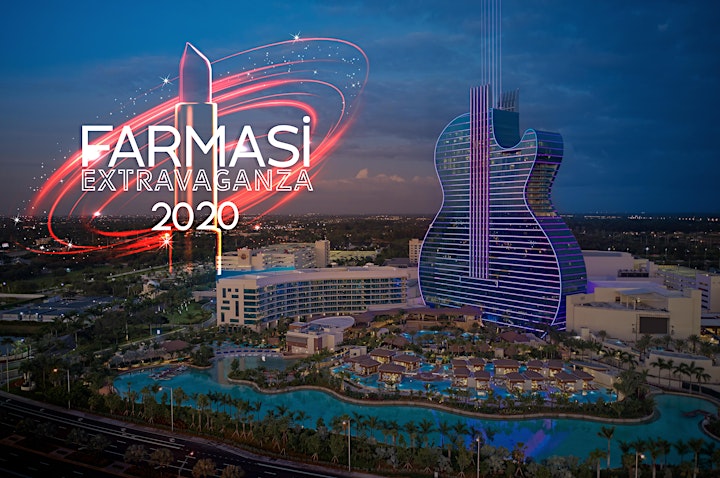 Farmasi Extravaganza 2020
Agenda
September14 - Welcome Party Cocktail
September 15 - Breakfast / Makeup Trends Seminar / Recognition & Gala Dinner Party
September 16 - Breakfast / Keynote Speaker
FAQ
1. What dates will be the event? September 14 -September 16
2. At what time event starts and end? September 14 Registration will start at 1pm
3. Are we able to bring a guest and participate in the event with me? Yes, if you want to bring a guest to same activities with BI, you would need to buy a ticket for that person as well.
4. What will be regular price for tickets? Regular cost is $249.90
5. What does ticket include? Ticket will include:
September14 - Welcome Party Cocktail
September 15 - Breakfast / Makeup Trends Seminar / Recognition & Gala Dinner Party
September 16 - Breakfast / Keynote Speaker
6. Are we staying at The Guitar? Hard Rock Hotel is a huge hotel that has 2 towers and all is connected. Rooms will be in the regular tower because it's next to the Convention Meeting Center.
7. Where do I have to call to make hotel reservation? The hotel reservation needs to be by Elite World of Travel, LLC 386-320-3144 Voice/Text or by email elitebecky@gmail.com
8. How much will be room night rate? Hard Rock did a special event rate for $179 plus fee and taxes per night.
9. Can we share rooms with another BI? Yes, you can accommodate up to 4 per room.
10. Is there any limited amount of rooms reserved for the event? Yes, Farmasi reserved 350 rooms.
11. Can I make an upgrade on my room for a suite? Yes, based on availability and rate will change.
12. What happened if we run out of rooms? It may be based on availability of the hotel.
13. Can I stay in other hotel? Yes , you can see around different options for accommodations.
14. Which airport will be best to arrive? Fort Lauderdale(FLL) airport is just 10 minutes from hotel.
15. Does Hard Rock has Airport Shuttle Service? No
16. Can I take an Uber of Lyft from FLL? Yes and it would be very economic.
17. Can we extend the stay at Hard Rock or arrive earlier with same rate? No, this will be based on availability and that time rate.
18. Is all food included in cost of ticket? No, only the ones that are mentioned above are included.
19. Are there any places to eat around? Yes, the hotel has 14 different restaurants and plenty options are available outside the hotel.
20. Are tickets refundable? No, all sales are final. Tickets can be used by other Beauty Influencers.