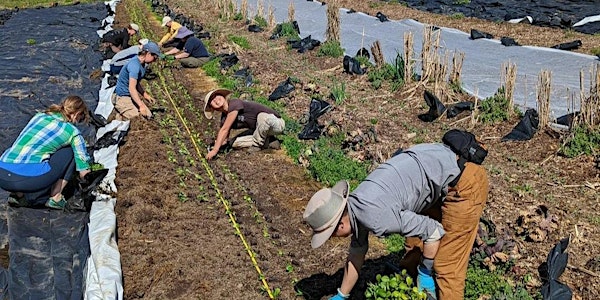 Farm Volunteer Day at Awbury Arboretum: Sweet Potato Harvest
Join us for the sweet potato harvest as well as other field tasks such as planting, weeding, and mulching
Date and time
Saturday, September 30 · 9am - 12pm EDT
Location
6336 Ardleigh St 6336 Ardleigh Street Philadelphia, PA 19138
About this event
THIS WORK SHIFT IS FOR NON-MEMBERS ONLY! IF YOU ARE A MEMBER, PLEASE REGISTER FOR YOUR SHIFT THROUGH THE MEMBER PORTAL.
What to expect: You will be working with Alessandro (he/him), who goes by Ali, and Nicole
(she/they), the farmers at Awbury, as well as potentially other Weavers Way farmers, co-op
members completing working member shifts, and other volunteers. Field work generally involves
kneeling, squatting, or bending over for extended periods of time and being exposed to the
elements and the outdoors, i.e. sun, rain, bugs, mud, etc. We encourage taking breaks, drinking
lots of water, and doing only what feels right for your body! There is drinking water available and
a porta potty a short walk from the fields. We are out there rain or shine, but not in unsafe
conditions - you'll receive an email if we cancel the volunteer day due to anticipated inclement
weather.
How to get there: On google maps, search "The Farm at Awbury Arboretum." The address is
6336 Ardleigh Street. Park on Ardleigh St. and walk in through the gate. Stay to the right and
walk past the community garden, the pavilion, the greenhouse, and the Philly Goat Project.
Meet us at the wash station/picnic table or peek into the field if you don't see us.
What to bring: Water, sun protection, clothes and closed toed-shoes for working outside and
getting dirty, garden/work gloves if you have them
Accessibility: There is a paved path from the entrance gate on Ardleigh St. to the greenhouse,
then a gravel path with a mellow slope down to the fields. The porta potty is wheelchair
accessible. We have a folding table and a shade tent that can be set up near the greenhouse for
wheelchair accessible work - please let us know if you need accessible work options so that we
can have projects set up. Email aascherio@weaversway.coop
About the organizer
Weavers Way is a consumer-owned cooperative grocery store founded in 1973, with three locations in, and near, Northwest Philadelphia. We operate two urban farms and feature products we've grown ourselves alongside many other locally sourced, sustainable, fairly traded, organic and nautrally nutritious foods, pet products, beauty aids, gifts and accessories.  We're owned collectively by nearly 10,000 member-households, though you don't have to be a member to shop in our stores -- We are open and ready to welcome you seven days a week.