About this Event
SEATS AVAILABLE: There are 2 general seating tickets and 1 table of four in our upper-level dome open.
Please note: there is an option to ride coach that evening, but tickets do not include the meal. You can get tickets at www.amtrainrides.com. Also check this website for other upcoming train rides! The Arkansas Missouri Railroad offers several rides a week, year-round and special events.
Sit back and relax. Enjoy the ambiance of an antique dining car, views of the Ozark hills painted in autumn colors, and multiple courses of seasonal dishes prepared by our chef using product from local growers. Chef Wes Douglas, formerly of Four Corners Kitchen, created the menu, which we will share with you soon.
Appetizers and live music begin at 5 p.m. at the Arkansas Missouri Railroad depot. The train will leave at 6 p.m. sharp. It will return to the Springdale depot at approximately 9 p.m.
Ticket price of $135 per person includes excursion to Winslow and back, farm-to-table meal, beer, and wine.
Tickets for limited seating in the dome, an upper deck on Car #108 - "The Silver Feather", will be opened to the public for purchase at a later date.
Let your friends know you're going or interested in the Farm to Train Dinner: RSVP on the Facebook event page.
Proceeds go to support Downtown Springdale Alliance, a nonprofit with the mission to build a more vibrant downtown. Ticketed events help offset the costs associated with producing free programming for a wide range of audiences.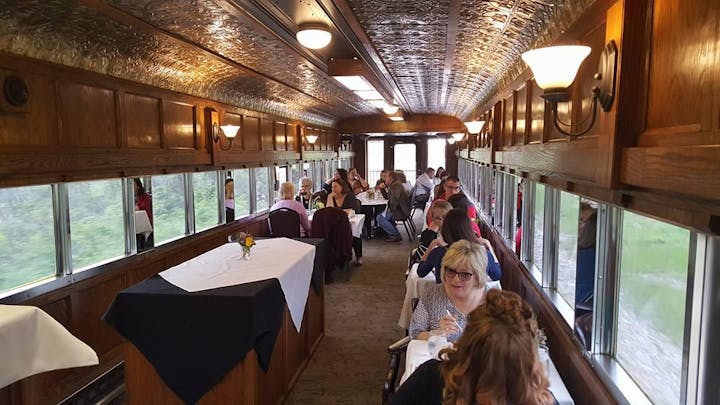 Parlor Car #107 - "The Explorer"
For the history buffs: This car was built by Pullman Standard around 1955 or 1956. It was originally Long Island Railroad class P72 coach 2927. The car was rebuilt in 1989 by the Long Island RR as class PP72B parlor car 2002. This car was one of only two "dual mode" parlor cars, capable of drawing power from either its installed diesel generator system or from a trainline. When the car was retired, it was acquired by Ken Bitten and used as a table car on the Northern Central Railway in Pennsylvania. After the Northern Central shut down, the car moved to the Arkansas & Missouri Railroad in December 2004. This car also has a small open platform that may be entered with permission from the conductor (pictured below).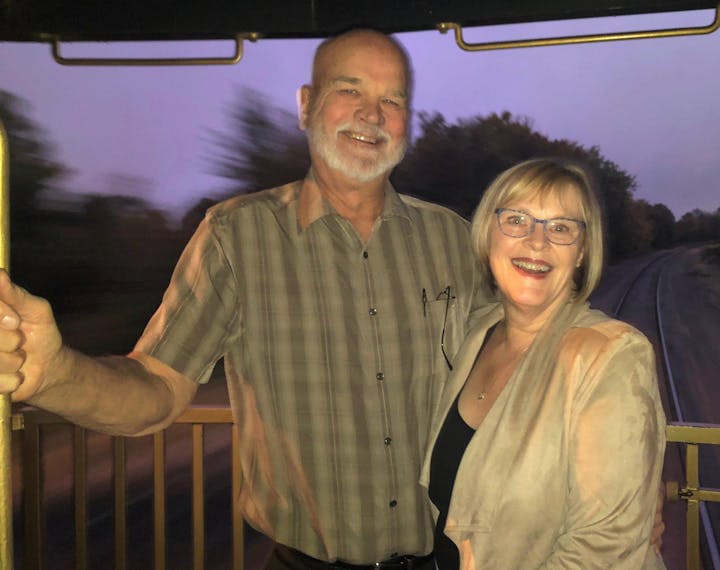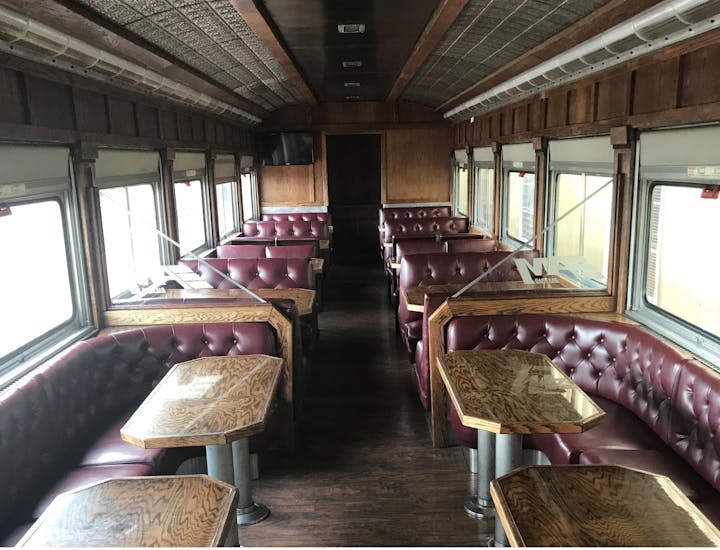 Dinner Lounge #109 - "The Spirit of Arkansas"
History: This car entered service in 1950 as a Southern Pacific Sunset Limited "Pride of Texas" coffee shop-lounge car. Numbered SP 10409, the car was decorated with Texas cattle brands and featured inexpensive meals for coach passengers. Known by some as a hamburger grill car, the car was built with 32 dining table seats, 14 lounge-table seats, a bar and a kitchen. The car became Amtrak 8322 in 1971. After being retired, the car became owned by Hank Peterson (RPCX 8322) and used on trips on the Ohio Central, including during the 2006 NRHS convention. The Arkansas & Missouri Railroad acquired it in 2014.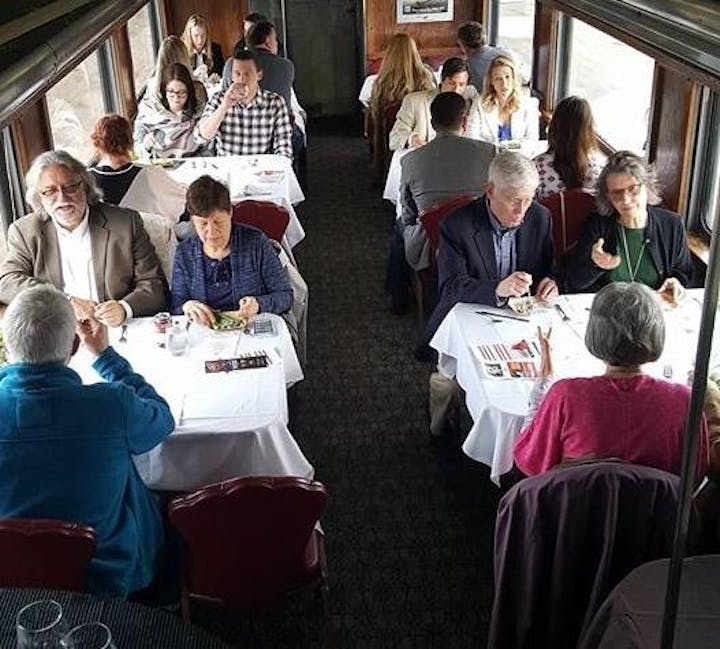 Car #108 - "The Silver Feather" Lower Level
History: "The Silver Feather" was built in 1948 for the famous California Zephyr. When retired, the car went to the Auto Train where it was painted, but then it was restored to its original look in the mid-1980s. It then served on the Texas Southern operation, before moving to Washington Central n 1993 and then the BC Rail Pacific Starlight Dinner Train in 1997. It was renamed "Moonglow." With changes on the railroad, the operation was shut down and the car sold in 2004 to the Ontario Northland. The Arkansas & Missouri Railroad acquired it in 2011 and reinstated its original name.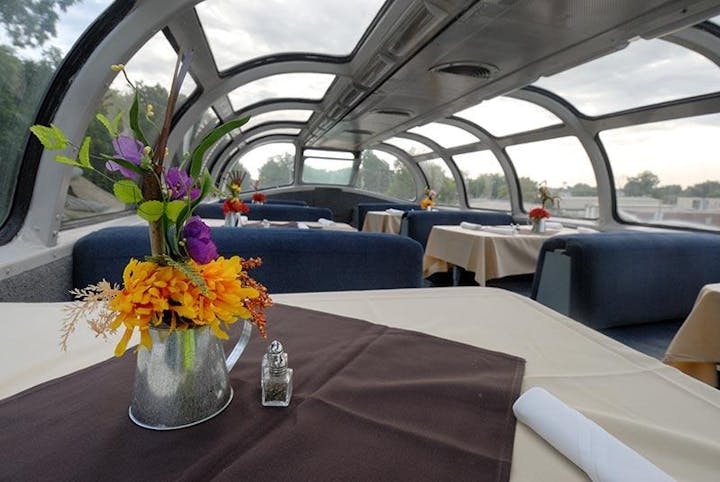 Car #108 - "The Silver Feather" Upper Level
Tickets for these tables will be open at a later date TBA, and those who have purchased a four-seat table in general seating on any of the three cars will have an opportunity to upgrade to the dome.