Location
GratiDude Ranch
7515 Pewitt Rd
Franklin, TN 37064
Join us for our 2022 season for an amazing 5 course Farm-to-Table Dinner experience.
About this event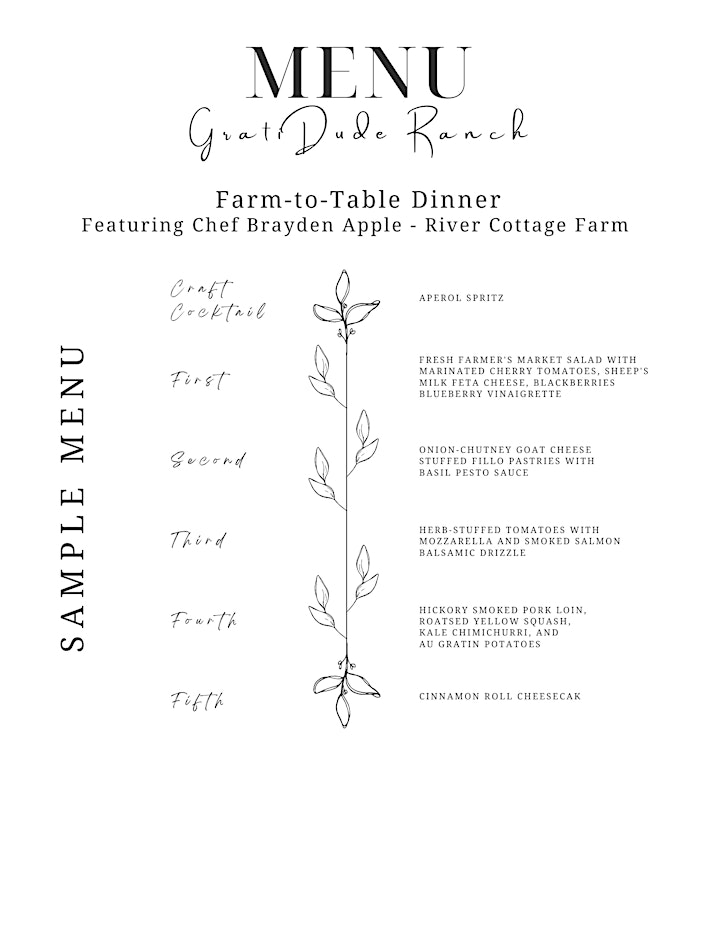 Get whisked away to the countryside for an evening of sunsets and celebrations all while enjoying an amazing array of cuisine and refreshments. Where Chef Brayden Apple from River Cottage Farm has sourced seasonal ingredients at the peak of ripeness to put together a dining event like no other. Our Farm-to-Table menu is 5-courses, gourmet, made from scratch, featuring grass-fed meat. Only the best organic ingredients sourced from local farmers focusing on Williamson County's very best.
We welcome our guests to enjoy our ranch from 5:30pm – 9pm.
Dinner guests are invited to arrive at 5:30pm for a craft cocktail, wine and an exclusive farm tour led by co-owner, Jason Warner.
The dinner will begin at 6:00pm and go until approximately 9:00pm with live music. You may bring your own wine or beer (no liquor allowed). You will not leave hungry or thirsty!
Dinner reservations are required and available via the links provided.
While we love to host guests of all ages during private events and holiday events, our Farm-to-Table Dinner events are a 21+ only event. So, bring your family and friends as we gather surrounded by the beautiful Tennessee nature under the evening stars.
GratiDude Ranch is a small intimate venue so SPACE IS LIMITED, and these dinners WILL sell-out! Will YOU be at the table?
✨A portion of the proceeds benefit SAFE (safehouseforall.org), a local non-profit supporting local foster kids. ✨
Schedule
5:30pm – Guests are free to arrive
5:30pm – Craft Starter Cocktails are served, Tour of the Ranch and Meet the Farm Pets
6:00pm – Five Course Farm to Table Dinner, Conversation and Live Music
9:00pm – Goodnight!
Location
GratiDude Ranch, 7515 Pewitt Road, Franklin, TN 37064 (near Leiper's Fork in Fernvale)
Once a ticket is purchased or event is contracted, the following terms and conditions will take effect.
Tickets will NOT be emailed or mailed. Guests will receive an email about a WEEK PRIOR to the dinner with event details.
All tickets are non-refundable due to the nature of our venue. Tickets are, however, totally transferable, so if you know someone who wants to take your place, please send an email to GratiDudeRanch@gmail.com with their name so they can be added to the guest list.
Should you need to reschedule, and it is at least 7 days before your scheduled event, then a $20/person transfer fee will apply. No transfers less than 7 days before the event. To reschedule you must email GratiDudeRanch@gmail.com
The barn doors open at 5:30PM with our first course being served at 6PM.
Our house red and white wine is available to guests; however, guests may bring their own beer/wine. No liquor is permitted.
Guests must be 21 years of age due to alcohol being available.
WEAPON/CONCEALED CARRY POLICY: GratiDude Ranch does not allow weapons into our events, even with a concealed carry permit, or in areas where it is otherwise legal. This policy applies without exception.
A portion of all ticket sales support SAFE, a nonprofit that supports local foster youth and foster families.
Guests will be added to our mailing list. This mailing list may be used to inform you of upcoming events and/or special promotions. You have the option of opting out of the mailing list at any time.
GratiDude Ranch reserves the right to use any photograph/video taken at any event sponsored by GratiDude Ranch, without the expressed written permission of those included within the photograph/video. GratiDude Ranch may use the photograph/video in publications or other media material produced, used or contracted by GratiDude Ranch.
To ensure the privacy of individuals, images will not be identified using full names or personal identifying information without written approval from the photographed subject. By participating in an event at GratiDude Ranch you are agreeing to release, defend, hold harmless and indemnify GratiDude Ranch from any and all claims involving the use of your picture or likeness.