Description
Prairie Wind Nursery partners with Chef Kamala Gamble and Chef Barbara Mock of Kam's Kookery and Guilford Gardens to offer a special evening event featuring locally sourced food.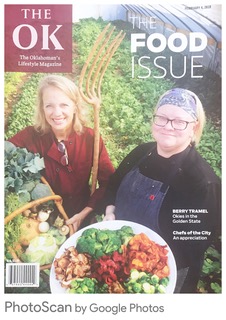 Appetizers:
Fried zucchini coins
Fried green tomatoes
Caprese skewers
Sun-dried tomato pesto with goat cheese on a crostini
Salad:
Kam's Kookery Oklahoma Salad: Wedge salad with tomatoes, corn, cucumber, served with our green goddess dressing topped with fried okra
Main Course:
Peach Crest Ranch strip steak with chimichurri sauce, served with roasted summer vegetables and mashed potatoes
Dessert:
Strawberry Shortcake served with lemon curd made with Guilford Gardens' eggs, fresh mint and cream
Dinner does include wine.


About Kam's Kookery and Guilford Gardens - Guilford Gardens is located in suburban Oklahoma City.
Our philosophy at Kam's Kookery is twofold: to celebrate the joy of eating and to live well.
We support sustainable agriculture by purchasing from local growers at farmers' markets and because seasonal, local, and organically grown ingredients taste better. We offer a CSA (Community Shared Agriculture) subscription to local consumers for fresh, locally grown food.
We purchase beef, pork, poultry, buffalo, venison and dairy products from local producers and promote those producers through the Oklahoma City Slow Food Convivium.