Description
Sit down for a Rocky Mountain Inspired meal with Chef Jared of Thistle & Mint and Goldspot Brewing Company.
We want to invite you to explore the history and cultural influences of Colorado Cuisine in a 6-course tasting menu created by Chef Jared paired with beers from GoldSpot.

USE PROMO CODE "PRIDE" FOR A 20% DISCOUNT
---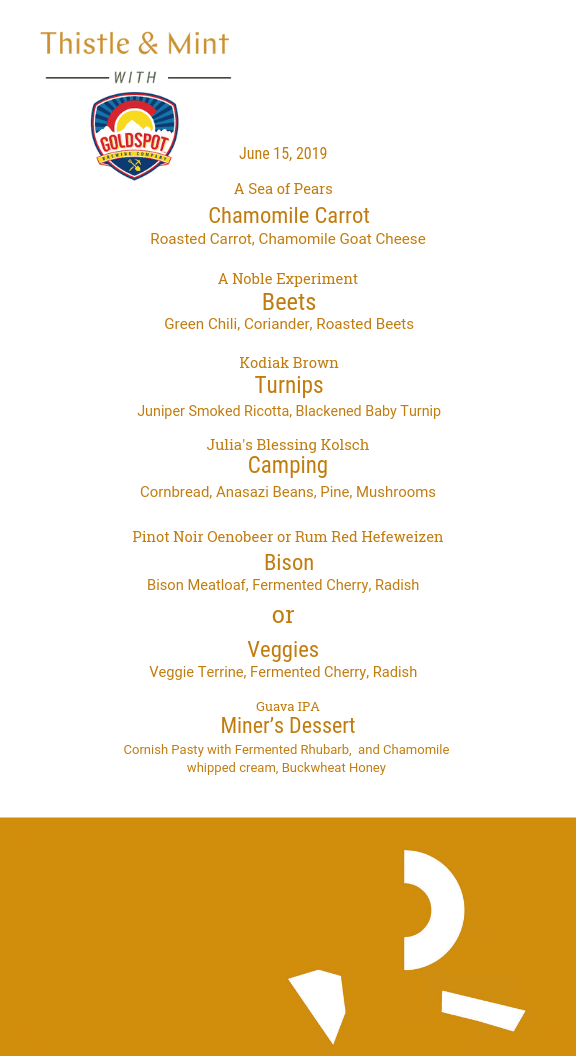 Goldspot Brewing Company
We strive to create a sense of community, a place to be known, to gather, to celebrate and to feel at home. We hope our eclectic, balanced, and finely crafted beer will bring people together to share in this wild adventure of living, and living well.
Our goal is to provide balanced and interesting beers that entice and inspire. We love using unique ingredients, such as Guanabana or Sudachi lime, but also savor a well crafted kolsch or lager. Every time you come to the Spot, there is always something new and unique/fun to taste. We tap a new beer every week or two, but there are always our classic favorites available. At Goldspot, everyone can find a beer to enjoy. We love exploring all that the craft beer world has to offer!
Thistle and Mint
Thistle and Mint was founded with two main goals; first curating unique gastronomic experiences and second discovering colorado's culture through cuisine.
With the foundation of our events being a Personal Chef Experience, we provide intimate dinners with menus based in Colorado history. We limit to sourcing only from Colorado to showcase the "terroir" and tell stories through food. Our menus change with the seasons. We host Pop-up Dinners and cater to intimate weddings, small events, and personal dining experiences.