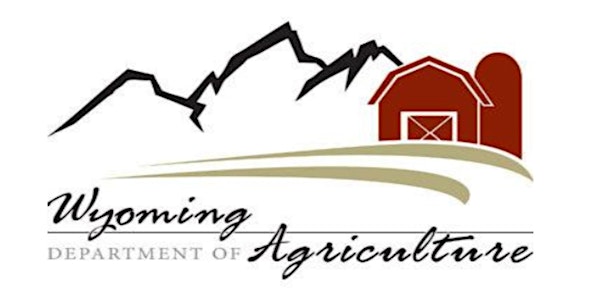 Farm to Market Conference, Cheyenne, Wyoming, November 11-12, 2016
When and where
Location
Laramie County Community College, CCI Building 1400 East College Drive Cheyenne, WY 82007
Refund Policy
Contact the organizer to request a refund.
Description
Farm to Market Conference; taking specialty crop growers to the next level of production, food safety, processing and marketing.
Most states have adopted "Food Freedom" and "Cottage Food" laws reducing barriers getting foods like: pickled (acidified) products and other value added homemade foods to local markets. However: it's still very important for people to know, understand and practice food safety. This conference was developed to help you have garden to table-safe vegetables, process vegetables safely, have a better farmers market and even save a few of your favorite seeds along the way.
The Wyoming Department of Agriculture Specialty Crops division and the University of Wyoming Laramie County Extension are hosting a Farm to Market Conference at Laramie County Community College, in Cheyenne, Friday and Saturday, November 11-12. On Friday you have a choice of full day workshops (please choose one). On Saturday there will be four tracks with multiply programs for you to choose from.
Everyone is welcome. The conference cost is $75 (plus Eventbrite site fees) and includes two lunches, coffee and snacks for both days.
Friday, November 11, your choice; one of the following all day workshops:
Food Acidification with Dr. Brian Nummer (http://food-safety.guru). Just what are acidified foods? They are; pickles (cucumbers), pickled vegetables and salsa's. The variety of products and flavors are limited only by the creativity of the person in the kitchen. However; learn how to do this safely and keep your customers coming back for more. Dr. Nummer will address food processing pH, different methods of thermal process, sugar syrups and much more.
Build a High Tunnel with Del Jimenez University of New Mexico Extension and Jeff Edwards University of Wyoming Extension, both have built dozen of high tunnels across both states and come with years of building experience. Lean to build a high tunnel (aka hoop house) using PVC plastic and a minimal amount of wood. This is a hands on workshop you will help build a 12" X 12" high tunnel complete with a UV plastic cover.
Plant Breeding for Seed Saving with Organic Seed Alliance. Learn about breeding plants for seed saving from your favorite vegetable or flower. OSA has a 13 year track record as the leading organic seed institution in the US.
Market Manager. As a market manager you need to know a lot about running a market. In this track we address everything from Food Freedom act for better clarification, social media how to use it to bring customers to the market, learn the basics of mediation to help keep the peace between vendors or even unhappy customers, also included, record keeping, board roles and responsibility, market rules and code of conduct.
Saturday, November 12, your choice of what programs will help you best.
We are offering four different tracks for you to pick and choose which program will help you best with your farm, processing, food safety, marketing, what else to grow or just doing it right.
Saturday's Line Up
Mike Lambert from the Wyoming Entrepreneur Market Research Center will cover basic marketing and how to develop a marketing plan to help you get the word out.

Get out your colored pencils with artist Jill Van Overbecke and learn how to create a winning logo for your business.

Dr. Ron Godin Soil Scientist from Colorado State University Grand Junction area will share his 20+ years of experience on soil health issues and working on building soil health with cover crops for nitrogen production, tilth and productivity.

More than just kimchi! Learn about food fermentation safely with Dr. Brian Nummer.

Where's the money, grants for value added products, farmers markets and more.

Del Jiménez from New Mexico on Hoop House Production.

If we can grow wine grapes in northern Wyoming so can you. Take the mystery out of Vineyard Management with Dr. Sadanand Dhekney.

Dr. Gayle Volk will update us on seed preservation for specialty crops at the USDA seed bank at Colorado State University.

Another outlet for all those great vegetables you grow learn from the person who wrote the book on running a CSA's with Cole Ehmke.

Tips for staying safe with the foods and vegetables you sell.

Latest updates on FDA/FISMA, Linda Stratton.

Grow your own Nitrogen, Cyanobacteria for an all- natural on farm nitrogen that all your plants can use. Jessica Davis

More demand than supply, Hops, growing methods, harvest and tips on selling. Dr. Ron Godin.

Seaton Smith of Gluten Free Oats on the big picture of selling both retail, wholesale and on line.

Plus more.
For more information contact Catherine at 307-633-4383 or Ted at 307-777-7321.
The Host Hotel is the Comfort Inn with rates of $89/night they can be reached at 307-514-6051 they are located at 201 W Fox Farm Rd, Cheyenne, WY (the corner of Fox Farm and the Greeley Highway).
---