Description

Farm-to-KITCHEN Cooking Class: Holiday How-To
Mastering Festive Flavors with Chef Cleo
Presented by The Trustees
Bring your best to the dinner table this holiday season by learning new and traditional holiday recipes with Chef Cleo Bell at The KITCHEN at The Boston Public Market! In this lively, hands-on cooking class you'll learn techniques and flavors to kick your holiday favorites up a notch and impress your friends and relatives with your newfound cooking skills.
Attendees will also enjoy a wine tasting of three local wines from the Massachusetts Wine Shop as you chop, mix, stir, roast, fry, and season each delicious recipe.
Holiday How-To is schedule for the following dates and times:
Saturday, November 25 | 1:00-3:00 pm
Saturday, December 2 | 1:00-3:00 pm
Saturday, December 9 | 1:00-3:00 pm
Saturday, December 30 | 1:00-3:00 pm
"Better than the original" Leftovers
Dates: November 25
Up for a challenge? Learn how to transform ordinary leftovers into tasty comfort favorites that have the original versions beat.
Mexican turkey soup with beans, cilantro and lime
Mashed potato, veggie, and stuffing "

croquettes"

Cranberry chocolate Crepes
Hors D'Ouevre to thrill the taste buds
Dates: December 2 and December 30
Bring a farm-fresh, gourmet appetizer to that special gathering this holiday season. And leave the pigs in a blanket at home (trust us).
Whipped ricotta, dried cranberry, and Q's walnut mini tarts
Kale chimichurri with chilled shrimp and veggie dippers
Everything lavash crackers with sweet and spicy butternut squash dip
Sides to get "ex-sided" about
We're big fans of bold flavors when it comes to sides. This year, your guests and family will pile their plates high with colorful, seasonal veggies with these not-so-average sides.
Dates: December 9
Spinach and ricotta dumplings in pesto
Lemon and pepper beets with maple and crispy ham
Squash gratin with lemon and brown butter
Our hands-on how-to classes are structured as a group learning experience; you'll work with other students to create a seasonal meal led by our professional chef instructors. We focus on learning new styles and techniques to increase your confidence and enjoyment in your own kitchen. Here are a few things to know before booking a class with us:
During each class, you'll learn 2-3 recipes and you'll work with between 2 and 4 other students to create each one.
Classes are usually between 2 and 2.5 hours long, unless otherwise noted.
Please be prepared to be on your feet, standing at a table, and cooking for the duration of class.
We recommend comfortable, non-slip, and closed-toe shoes.
Cost is $52 for Trustees member and $65 for Non-Trustees Members. Members must bring their current member card and number. Join The Trustees and save! Members save between 20-40% off all classes in The KITCHEN.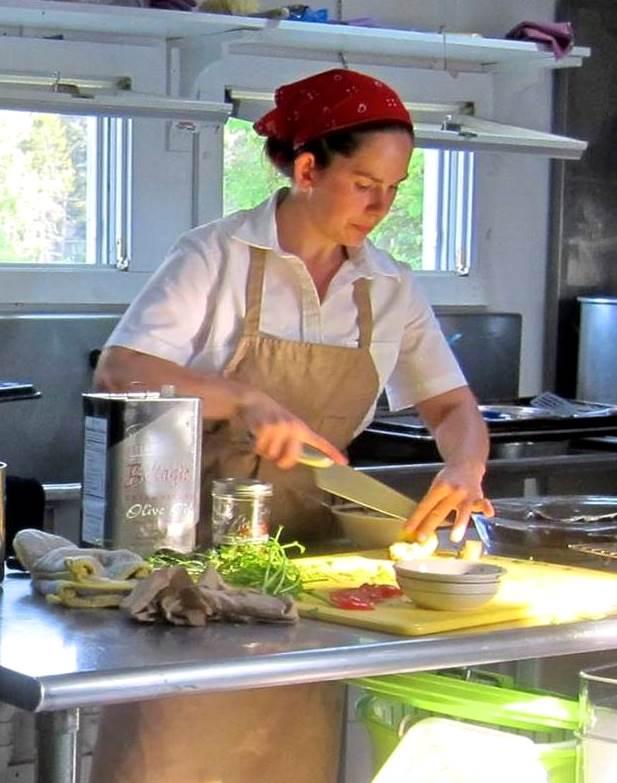 About Chef Cleo Bell
Cleo was born and raised in Washington, DC. She attended McGill University in Montreal and has a BA in Cultural Anthropology. After graduating, she moved back to DC and began working at local restaurants, such as Againn, a British Isles-inspired gastro-pub and Komi, a high-end Mediterranean restaurant. She has spent 2 summers as the Head Chef for the Hog Island National Audubon Society summer camp in Maine, working with local farms to bring fresh food to the Island and to happy campers. Cleo is thrilled to have the opportunity to cook and teach at Boston Public Market, with the whole Market to source from and the whole of Boston to serve.
At first glance, it might seem a strange road from cultural anthropology to cooking, but food and cooking are integral to the expression and transference of culture. As they say: culture begins at the table. By concentrating on serving local, sustainable foods, Cleo hopes to elevate the experience of the diner and to make a positive impact on the local food community.

About The Trustees and The KITCHEN
As one of the largest owners of agricultural land and the premier steward of the cultural and natural landscape of Massachusetts, The Trustees extends its leadership to transform the local food system by connecting residents and visitors back to the land and sharing the Commonwealth's collective agrarian heritage through innovative retail and educational experiences at the Boston Public Market in the heart of downtown Boston.
The KITCHEN is a community gathering place, managed by The Trustees, that is restoring the craft of seasonal cooking in Massachusetts, New England, and beyond through hands-on classes and educational experiences that celebrate the farmers and artisans of this region. Partnered with the Boston Public Market, The KITCHEN embraces a whole-food approach to eating and promotes cooking as an essential cornerstone of a sustainable food system.
Join the Trustees and recieve discounts on KITCHEN events. Join here.