Farm-to-KITCHEN Cooking Class: Greek Flavors with Chef Theo from Committee
Description
Farm-to-KITCHEN Cooking Class: Greek Flavors with Chef Theo from Committee
Presented by The Trustees
Spice up your life at The KITCHEN at The Boston Public Market with a seasonal & local twist on the traditional flavors of Greek cuisine at our Farm-to-KITCHEN Greek Flavors hands-on cooking class! Chef Theo Tsilipanos, the chef de cuisine at Committee in the Boston Seaport, will lead this cooking class emphasizing the fresh flavors from his native land. Theo's recipes will awaken your senses and introduce you to new options for flavorful meals at home.
The majority of ingredients for the class will be straight from The Boston Public Market, proving you can buy local, eat local and still achieve international flavors.
Menu:
Traditional Greek Xoriatiki Salad (tomatoes, cucumbers, red onions, feta cheese, pitted Kalamata olives, oregano, olive oil)
Artichoke Pastitsio with Vinsanto or Greek Coffee Glazed Pork Chops
Galaktompourekakia with honey syrup and seasonal berries
Farm-to-KITCHEN Cooking Class: Greek Flavors
Thursday, June 22, 2017
6:00-8:00 pm
The KITCHEN at The Boston Public Market
100 Hanover Street, Boston
In this combination demo and hands-on cooking class, Theo will demonstrate the tools and techniques of creating traditional Greek recipes. He will then lead the class through making an appetiser and entree, and will demonstrate how to make a dessert.
Our hands-on cooking classes are structured as a group learning experience; you'll work with other students to create a seasonal meal led by our professional chef instructors. We focus on learning new cooking styles and techniques to increase your confidence and enjoyment in your own kitchen. Here are a few things to know before booking a class with us:

Each class is centered on the local, seasonal farmers and artisans of the Boston Public Market, so menus may change slightly based on what's available the day of the event.
During each class, you'll learn 2 or 3 recipes, you'll work with between 2 and 4 other students to create each one, and you'll enjoy a plentiful taste of each.
Classes are usually between 2 and 2.5 hours long, unless otherwise noted.
Please be prepared to be on your feet, standing at a table, and cooking for the duration of class.
We recommend comfortable, non-slip, and closed-toe shoes.
Cost is $50 for Trustees member and $65 for Non-Trustees Members. Members must bring their current member card and number. Join The Trustees and save! Members save between 20-40% off all classes in The KITCHEN.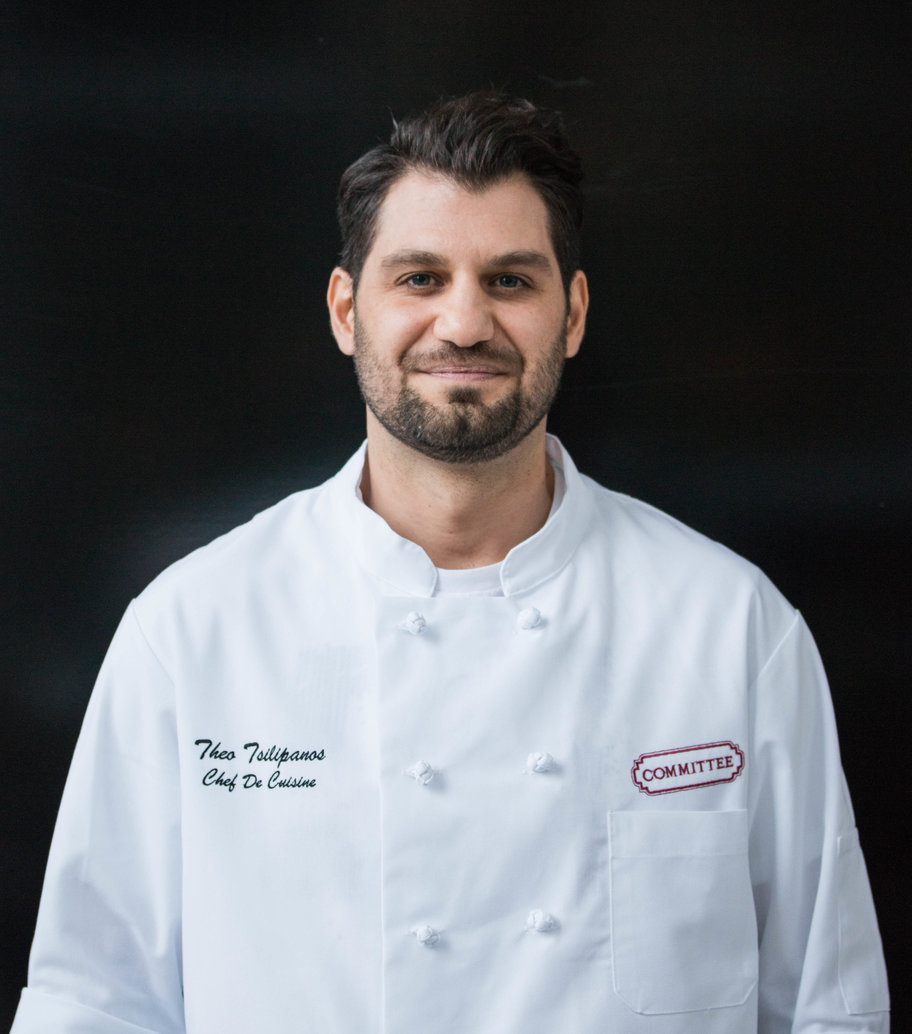 About Chef Theo
Chef Theo Tsilipanos is the new chef de cuisine at Committee in the Boston Seaport. No stranger to the modern Greek cuisine, Theo owned a restaurant for eight years in his hometown of Lamia, Greece, before relocating to Boston. In his new role, Tsilipanos is riffing on the classics, with fresh and simple ingredients. Before shipping up to the Seaport, Tsilipanos cooked locally at Sel de la Terre, the Wequassett Resort on Cape Cod, and La Brasa. He was a line cook at L'Espalier, too, where he was a student of the venerable chef James Hackney.
About The Trustees and The KITCHEN
As one of the largest owners of agricultural land and the premier steward of the cultural and natural landscape of Massachusetts, The Trustees extends its leadership to transform the local food system by connecting residents and visitors back to the land and sharing the Commonwealth's collective agrarian heritage through innovative retail and educational experiences at the Boston Public Market in the heart of downtown Boston.
The KITCHEN is a community gathering place, managed by The Trustees, that is restoring the craft of seasonal cooking in Massachusetts, New England, and beyond through hands-on classes and educational experiences that celebrate the farmers and artisans of this region. Partnered with the Boston Public Market, The KITCHEN embraces a whole-food approach to eating and promotes cooking as an essential cornerstone of a sustainable food system.
Join The Trustees and receive 20%-50% off all classes, workshops, and events at The KITCHEN and all Trustees properties.