Description
Once again, Piedmont Culinary Guild has partnered with CEFS (Center for Environmental Farming Systems) for this chef and farmer pairing - a celebration of year-round local food.
The evening will also feature multiple food artisans, local brewers, distillers, and wineries.
Attendees will enjoy the wonderful tasting event as they stroll through Daniel Stowe Botanical Garden, enjoy live music, and listen to speakers who will talk on food-related topics.
Featured Chefs
Paul Verica – The Stanley
Chris Coleman – Stoke
Ashley Boyd – 300 East
Donald Lewis – Sweet Lew's BBQ
Julia Simon – Nourish Charlotte
Jamie Barnes – What The Fries / Soul Food Sessions
Blair Cannon – Forsyth Country Club
Rob Clement – The Porter's House
Daniel Wheeler – Dot Dot Dot
John Cutitta – JJC Foods, LLC
Andrew Dodd – NC Red
Jonathan Fortes – The Flipside Café
Steven Goff – AUX Bar
Nick Kepp – Community Matters Cafe
Oscar La Fuente – Queen City Catering
Brandon Lopez – Members Food Service
Matthew Martin – Freshlist
Laney Parrish – 300 East
David Quintana – Eurest
Adam Reed – Santé
Matthew Shepard – McNinch House
Benjamin Sullivan – Highland Avenue
Whitney Thomas – 5 Church
Joy Turner – The Farm at Flat Creek
James Patterson – Sedgefield Country Club
Phillip Platoni – Southminster
Featured Farmers
Jamie Ager – Hickory Nut Gap
Brent Barbee – Barbee Farms
Katherine Belk – Wild Hope Farm
Rebecca Borland – Blue Goat Dairy
Erin Bradley – Freshlist
Kate Brun – Lucky Leaf Gardens
Gina Decker – Sharon Hill Farm
Cindy Digh – Clearview Farms
Shelley Eagan – Proffitt Family Cattle Co.
Jessica Evans – Evans Family Farm
Chris Fletcher – Green Meadow Acres
Brandon Hamrick – Carolina Farmhouse Dairy
Emma Hendel – Fair Share Farm
Daniel Kypena – Middle Ground Farm
Jamie Lynch – Chef Jamie's Farm
Lee Menius – Wild Turkey Farms
Isaac Olliver – Harmony Ridge
Mary Parker – Glory Farm
Mary Roberts – Windcrest Farm Organics
Mindy Robinson – Tega Hills
Amy Schroeder-Rohrer – Boy and Girl Farm
Kim Shaw – Small City Farm
Greg Stephens – Rocky River Farms
Joy Turner – The Farm at Flat Creek
Christy Underwood – Underwood Family Farms
Liquid Refreshments
Amor Artis Brewing
Bob Peters / TOPO Organic Spirits
Catawba Brewing
Doc Porter's Distillery
Dover Vineyards
Fonta Flora Brewery
Free Range Brewing
High Branch Brewing
Legion Brewing
Lenny Boy Brewing
Magnolia Coffee
Muddy River Distillery
Old North Shrub
Overmountain Vineyard
Red Clay Ciderworks
Southern Artisan Spirits
Surry Cellars
UpDog Kombucha
It's an evening to celebrate all the wonderful food and food talent we all enjoy here in the Carolinas Piedmont!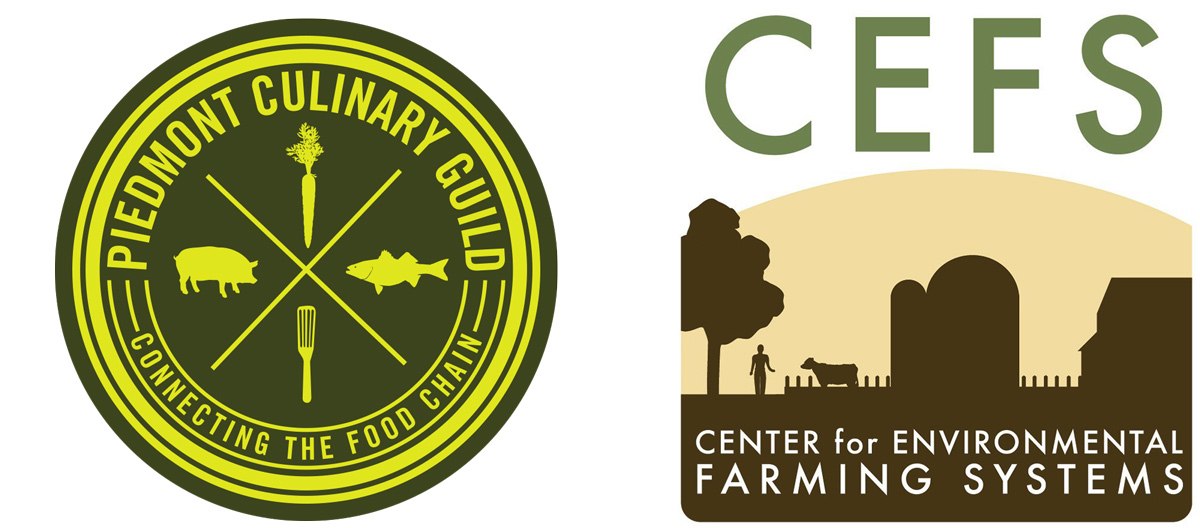 (NOTE: Tickets are not transferable. IDs required at check-in)