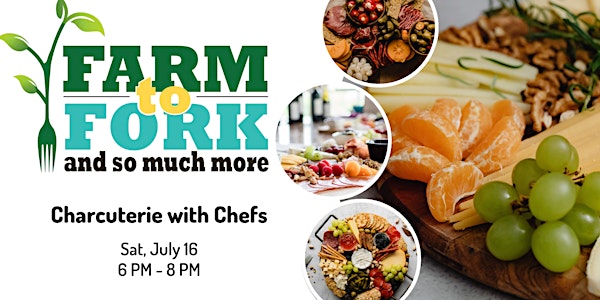 Farm to Fork - Charcuterie with Chefs
Charcuterie with Chefs - Demonstrations to make your next Charcuterie Board the gathering center. High bidders take home. Wine & Beer avail.
When and where
Location
Applejack Pumpkin Patch 10007 Southwest Indianola Road Augusta, KS 67010
About this event
July 16th - Charcuterie with Chefs
6:00 pm - 8:00 pm at Applejack's Pumpkin Patch in Augusta -
Professional Chefs Natasha Rue, owner of The Kitchen and Scott Peggie of the Redler Culinary Institute along with local favorite MisFit Kitchen food truck owner Tony Yaghjian will demonstrate how to make a Charcuterie Board that will be the center of your gatherings! Enjoy locally produced beer, wine, & hard cider while learning the culinary art from experts. Following the demonstrations, there will be an auction for the Chefs' finished Board - the high bidder gets to take it home! $45
-------
Here is an overview for the ENTIRE Farm to Fork Festival. Tickets for each portion separately or a full event pass is available at our Eventbrite page.
July 16th - Family "Agventure" Day - 8:00 am - 4:00 pm
July 16th - Charcuterie with Chefs - 6:00 pm - 8:00 pm - Applejack's Pumpkin Patch - Augusta - Locally produced Beer, Wine, & Hard Cider available at this fundraising event & auction where Chefs demonstrate tips to make your next Charcuterie Board the center of your gathering! Then, be the high bidder and take the Chefs' boards home with you that evening to enjoy! $45
July 16, 19-23 - Ag Art Show
July 16th - July 23rd - Farm to Fork Festival of Local Food
July 23rd - Farm to Fork Luxury Charter Bus Tour "Agventure" - 8:30 am - 5:00 pm
July 23rd - Bounty of Butler Feast - Mixer & Dinner - 5:00 pm- 8:00 pm
This is the 7th year for the Farm to Fork Event which has now grown to an 8-day festival celebrating Agriculture across Butler County. Butler County is uniquely positioned to host a festival like this with the diversity of the county from the East to the West. "Farm to Fork" was founded by Butler County Farm Bureau Association, the Farmers and Ranchers organization of the county as a way to bring consumers and producers together to better understand each other. Funds raised from the event fund the BCFBA Ag in the Classroom Program offering free programming, supplies and field trips to connect students in Butler County from Kindergarten to College with Agriculture and the world around them.
Please follow the Farm to Fork and So Much More Facebook Page for other and free events during the festival. For more information email ButlerFB@KFB.org or call 316/648-2556.