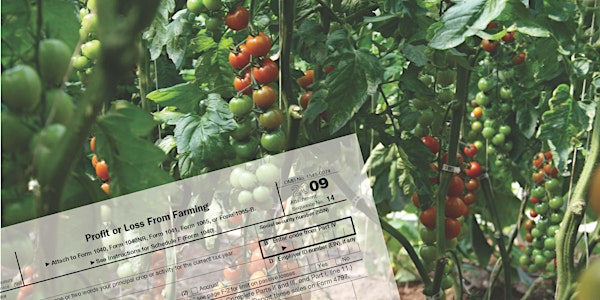 Farm Recordkeeping for Productivity & Profitability
When and where
Location
WSU Snohomish County Extension's Cougar Auditorium 600 – 128th Street SE (McCollum Park) Everett, WA 98208
Refund Policy
Contact the organizer to request a refund.
Description
Learn from experts how to set up a farm recordkeeping system to help keep your farm in the black!
Accurate and up-to-date financial records are essential to any growing business, but are especially important to farms and agricultural businesses. Without a good recordkeeping system in place, decisions will be made based on hunches, not reality.
Join us for an in-depth, two-Saturday event, February 11, 2017, 8:30am to 4:30pm and February 25, 2017, 8:30am to 3:30pm for Farm Recordkeeping for Productivity and Profitability. Location is WSU Snohomish County Extension's Cougar Auditorium, 600 128th St SE Everett, WA inside McCollum Park.
In this two-day workshop, participants will learn about farm-based financial records and bookkeeping from farmers and other experts at Northwest Farm Credit Services and Moss Adams. We'll take a look at three different systems: paper, computer, and a thorough walk through a farm-based set of QuickBooks with a certified trainer. In addition, each farm will receive one copy of "Fearless Farm Finances: Farm Financial Management Demystified" by Paul Dietmann, Craig Chase, and Chris Blanchard.
If you are interested in learning about farm recordkeeping, how to use QuickBooks on your farm, or just want to build upon what you already know, this workshop is for you.
According to Chris Blanchard, farmer and co-author of Fearless Farm Finances, "Farmers need to keep good records so that they can predict the future. Our memories tend to trick us into thinking that things were better or worse; good record-keeping helps to smooth out the variations, facilitating rational decision-making."
Class size is limited and pre-paid registration is required. Cost is $120 per farm and includes lunch for two both days, along with one copy of the book "Fearless Farm Finances." Meals for additional farm members for both days, are available for $30 per person.
To register, visit FarmRecordkeeping.EventBrite.com. For more information on the course, contact Kate Ryan, kate.ryan@wsu.edu, (425) 357-6024.
Sponsored and hosted by WSU Snohomish County Extension, USDA Risk Management Agency, Snohomish Conservation District, Farm Services Agency, Northwest Farm Credit Services, and Moss Adams LLP.
Extension programs and employment are available to all without discrimination. Evidence of noncompliance may be reported through your local Extension office or to the WSU Center for Human Rights. Reasonable accommodations will be made for persons with disabilities and special needs who contact Karie Christensen at (425) 357-6039 or christensen4@wsu.edu at least two weeks prior to the event.