About this event
Kids Camp-
Each camp is different...the theme for Camp #4 will be "Animal Rescue".
This camp will be open to kids 10 and older!
Lunch is provided daily for all kids as well as snacks throughout the day.
All campers will need to bring appropriate clothes for the outdoors and closed toed shoes for working with animals as well as swim clothes for the pool/creek.
Daily activities will be outdoors, educational, FUN, and interactive! Several animal rescue organizations will be visiting during this camp and the kids will be helping with an animal rescue themselves, I wonder what will need rescuing during this camp?
Kids that attend our camp need to know how to follow instructions, obey rules, and have an interest in animals and farming as well as exploring the forest and learning about wildlife!
Daily Drop off is 8-9am and pickup is 2-3pm for Monday through Wednesday. One day will be spent visiting Crazy Chic Heritage farm as well but transport will be provided.
Thursday drop off will be at noon and kids will stay the night outdoors with the goats and other animals like many animal rescuers have to do when they save injured or orphaned animals.
We will make dinner by the camp fire and talk about all the things we have learned! Parents will begin to arrive at 11am Friday morning and will be given a tour by their camper before heading home at noon.
Supply List-
- Swimsuit and towel
- Cot, blanket, and change of clothes for Thursday Night and any personal hygiene items needed.
- Appropriate shoes and clothes for being in the woods
Parents, after purchasing your Childs ticket please email us at goatdaddys@gmail.com to receive release and liability waivers which are due the first day of camp.
For any questions please feel free to text Jason @ 803-605-3286.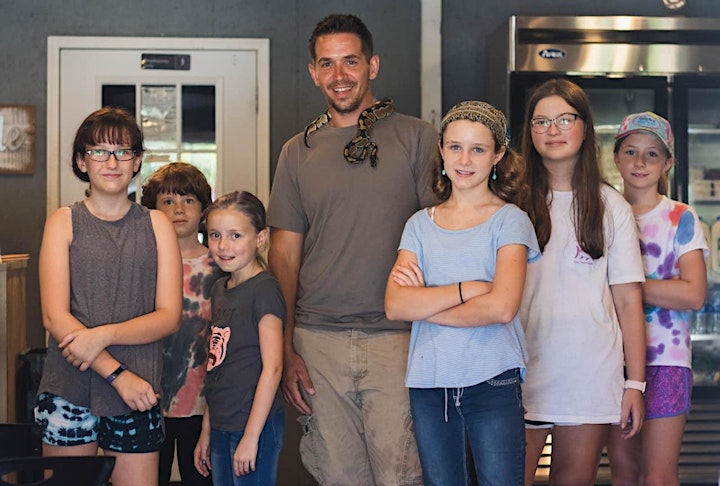 Organizer of Farm Kids Camp #4