Description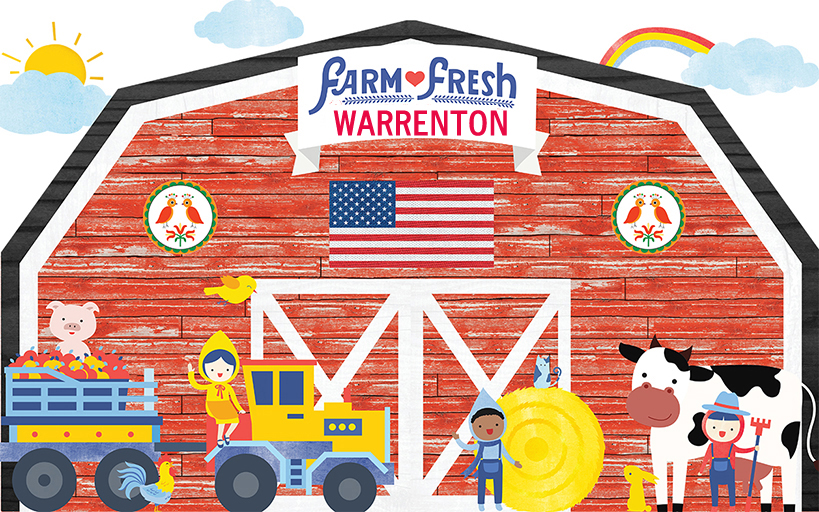 FARM FRESH WARRENTON is a series of free kids events at the Warrenton Farmers Market. Free and fun activities, crafts, entertainment, tastings, games, discovery, creativity to connect kids with farm fresh foods and healthy habits! Celebrate a new theme every month a the Warrenton Farmers Market! Fresh Bucks, prizes and surprises every month for all kids! All ages welcome!
WHEN - 8:00am to 12Noon on the first Saturday of every month
WHERE - At the Warrenton Farmers Market located at 20 North 5th Street at the municipal parking lot at the corner of Lee Street and 5th Street in Old Town Warrenton
Farm Fresh Warrenton Kids Days are produced by the Generation Fresh Foundation, in partnership with the Town of Warrenton and Warrenton Farmers Market.
Click here for photos from our June Kids Day!
WHAT ARE FRESH BUCKS?

Fresh Bucks are free vouchers for kids to use at the Warrenton Farmers Market, to trade for fresh produce, foods, plants and locally-produced market goods.
Fresh Bucks are sponsored by a Make it Happen! grant from the PATH Foundation, to encourage children and families to visit the Warrenton Farmers market, live and eat healthy, and support our local farmers, growers and producers. Fresh Bucks partners include FRESH in Fauquier public schools, Commit to Be Fit in Rappahannock public schools, Fauquier Community Child Care, Fauquier Boys & Girls Club and FISH. Learn more about the Fresh Bucks program here.
More About the Farm Fresh Festival Mission:
The Farm Fresh Festival's mission is to make living HEALTHY fun and accessible for all kids and families. A goal of the Farm Fresh Festival is to teach kids through play and activities, where food comes from, how food grows, and lessons of sustainability.

Are there volunteer opportunities for the event?
Yes! There are plenty of ways to get involved. Please join us as a TEAM FRESH VOLUNTEER!
How can I contact the organizer with any questions?
Please visit our website at www.farmfreshfestival.org/warrenton. For all Farm Fresh Warrenton - Kids Day inquiries, please contact susanne@generationfresh.org.