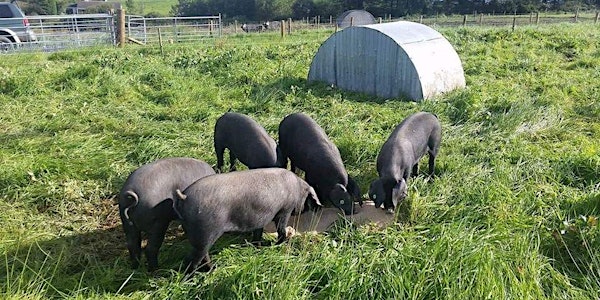 Farm Experience - Rare Breed Pigs
Rare Breed Pig Farm Experience
When and where
Location
Inagh Free Range Farm inagh free range farm Ballyea South Inagh Inagh Ireland
About this event
Farm Experiences - Oink, Oink! For pig lovers of all ages….
Inagh Free Range Farm offers a variety of unique hands-on experiences to allow customers to get up close to these fantastic loving and friendly animals!
All experiences begin with a health and safety talk followed by a guided tour around the farm, within which you will learn all about life on the farm including some fun and interesting insights into a pigs life. Part of this tour will involve feeding pigs.
After your tour, you will be given access to petting pen where you can spend quality time with a variety of pigs*. You will be able to brush and pet the pigs. You will also have the opportunity to take pictures.
*Throughout the year we breed litters of piglets, however, we cannot guarantee there will be piglets at the time of your visit, so please follow us on social media for updates on when new piglets arrive!
How to Book and Experience
All experiences are booked online, we are appointment only we do not allow spectators.
Times and Prices
Tickets start at just €25 per person.
Children under 3 are free (maximum of 2 per booking). All children under 16 must be accompanied by a paying adult.
Sessions run at allocated times on Friday, Saturday and Sundays.
This experience takes approximately 1.5 hours.
Cancelling or Changing a Booking
We have a 48-hour cancellation policy on all experiences. Should you be unable to attend the event you can re-gift to friends and family who can attend in your place however you will need to inform us of this change.
Pigs are zoonotic – therefore anyone who has signs of illness is not able to attend the farm. This is for the protection of both our animals and staff. Please re-gift the experience to friends or family as explained above.
ALL bookings are non-refundable.
What to Wear
Prepare to get messy! You won't be able to resist petting and grooming our adorable pigs, so be sure to wear clothes that you are happy to get dirty and prepare for the weather. This experience will run come rain or shine!
You must wear closed shoes to participate, preferably wellies or waterproof shoes.
Don't forget…
Our farm is by appointment only and everyone attending must have a pre-paid ticket. We do not allow for spectators and have a 48 hour cancellation policy on all experiences.
*We have litters of piglets born throughout the year, however we cannot guarantee that there will be piglets at the time of your visit.