Location
Gorman Heritage Farm
10052 Reading Road
Cincinnati, OH 45241
Discover the hidden gems of Gorman Heritage Farm in this interactive farm tour for all ages!
About this event
Explore the gardens, meet the animals, grind corn to feed to chickens, and walk through our historic buildings in this guided farm walk! This program is the perfect introduction to all that happens at Gorman Heritage Farm for new members, first time farm visitors, families, and individuals looking to get closer to the animals and gardens.
Each program will be slightly different to highlight the seasonal happenings on the farm.
In the month of October, the farm will also have free, regularly running hayrides from 9am-3pm on weekends! Your ticket to this program covers admission to the farm for the day and you are very welcome to join for a hayride before or after the program.
FAQs
What ages is this program suited for?
This program is great for adults and families with children 2 years of age and older.
Families that have children under 2 years of age can add a free "Under 2" ticket to their order. While many pathways through the farm are stroller accessible, much of the program will take participants off the path into animal spaces, gardens, and barns. Thus, carriers are recommended rather than strollers.
Do I need a PayPal account to buy tickets?
Not at all! Eventbrite will redirect you to PayPal to take payment, but you can enter your card information instead of using a PayPal account. See more in depth instructions below.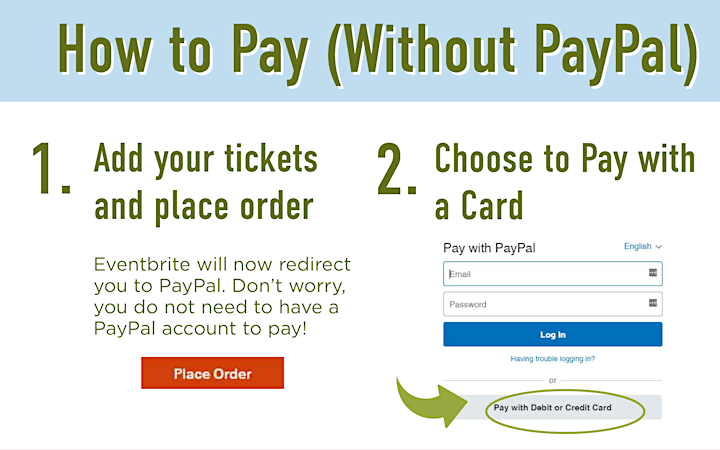 What should I wear?
Dress for the weather and be prepared to walk about a mile on a hilly path with some detours into grass and gardens. Close-toed shoes are highly recommended, as are layers for the colder months.
Are masks required?
Currently, masks are not required for this program. We reserve the right to change our mask policy and will update attendees through the email they use to register. This program takes place almost entirely outside with brief activities in our farm buildings.
POLICIES
Programs run rain or shine. Dress for the weather if your program takes you outside! In the case of dangerous weather, this program will be cancelled or moved indoors and participants notified through the email or phone number used to register. Reimbursements will be provided in the case that Gorman Heritage Farm cancels the program.
No ticket refunds except in the case of program cancellation. COVID-19 related refunds will be considered on a case by case basis. Your ticket purchase helps forward our non-profit mission at Gorman Heritage Farm to educate on sustainability, nutrition, agriculture, and the environment.
WARNING: Under Ohio law, there is no liability for an injury to or death of a participant in an agritourism activity conducted at this agritourism location if that injury or death results from the inherent risks of that agritourism activity. Inherent risks of agritourism activities include, but are not limited to. the risk of injury inherent to land, equipment, and animals as well as the potential for you as a participant to act in a negligent manner that may contribute to your injury or death. You are assuming the risk of participating in this agritourism activity.
By signing up and attending any of our programs, you are agreeing to the above policies.