Description
Experience urban agriculture while enjoying an authentic 'Farm Dinner' at the Well Fed Community Garden, just 3 miles from the Irregardless Cafe.

Irregardless' chefs will be firing up the Garden's pizza oven, using fresh herbs and produce from the garden. Enjoy a casual evening, tour the garden and enjoy witnessing the 'growing cycle'. Live music will be performed and various garden activities will be available to 'get your hands dirty' if you wish.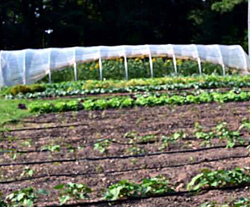 Reserve now. $20 includes a farm fresh Pizza Dinner with garden salad and dessert. Children are $7.50. Gluten Free and Vegan Pizzas will be available. Beverages, wine and beer will be available for a small additional fee.
Enjoy a garden fresh meal with friends – old and new. Buy your tickets now and be sure to have a reservation.