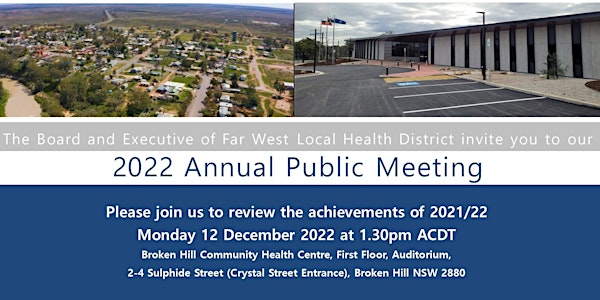 Far West Local Health District Board 2022 Annual Public Meeting
Far West Local Health District Board is inviting members of the community to its Annual Public Meeting (APM) on Monday, 12 December 2022.
About this event
You are invited to register to attend either in person, online or by phone.
The APM provides an opportunity for the public to gain a snapshot of the Far West Local Health District (LHD) for the past financial year.
The meeting will commence at 1.30pm ACDT/ 2.00pm AEDT and will be held at the BH Community Health Centre auditorium, First Floor, 2-4 Sulphide Street (Crystal Street Entrance).
Those wishing to attend the FWLHD Board Annual Public Meeting online are invited to join using the following Microsoft Teams information:
Meeting ID: 426 903 031 808, Passcode: oxKNS2
To join by phone please call: 02 8318 0010 and use PIN: 146241229# when prompted
There will be a question and answer session for members of the public at the end with the meeting closing at approximately 2.30pm ACDT/ 3.00pm AEDT.
For more information please contact the Board, Committees and Policy Clerk, Hannah Everuss via email, hannah.everuss@health.nsw.gov.au or telephone 08 8080 1526.