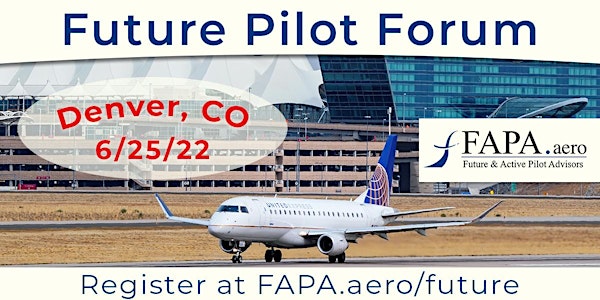 FAPA Future Pilot Forum, Denver, Colorado, June 25, 2022
FAPA Future Pilot Forum Location: Denver, CO
When and where
Location
Hyatt Regency Aurora-Denver Conference Center 13200 East 14th Place Denver, CO 80011
About this event
FAPA Future Pilot Forum: For students of all ages, their parents and/or mentors, career changers, and non-aviation separating military personnel
Location: Hyatt Regency Aurora-Denver Conference Center, 13200 East 14th Place, Aurora, CO 80011, (303) 365-1234
Parking: $6 daily, $12 overnight self-parking for event attendees
Airport Shuttle: Complimentary shuttle available, Monday-Sunday, 7:30am-3:30pm, pickup from the light rail Peoria station
FAPA (Future & Active Pilot Advisors) is Building the Pilot Pipeline by inviting aspiring career pilots of all ages, backgrounds, shapes and sizes to our Future Pilot Forums to learn about the pathways to becoming a professional pilot. School counselors are also invited – and encouraged – to attend so they can best guide their students on how to navigate an interest in flying for a living.
Our FREE forums will cover the following:
State of the aviation, specifically pilot, industry
The path from initial training to professional pilot
Educational advice: college, vocational flight school, or military route?
Options to pay for your flight training and education
The next steps necessary to launch your pilot career
When the presentation(s) conclude, you will have the opportunity to ask all of your questions; our goal is to send you home with the answers you need to take the next steps toward your/your child or student's cockpit career. Presentations start at 2:00 PM sharp. All attendees must register.
FAPA conducts our monthly Pilot Job Fairs and Future Pilot Forums around the country. To view the list of upcoming events and their cities, please visit our Future Pilot Events page.