Description

San Francisco's 3rd Annual
FANTASY NYE 2015
The Bay Area's Biggest Latin New Years Event

Wednesday December 31st
Doors open at 8PM, 21 and over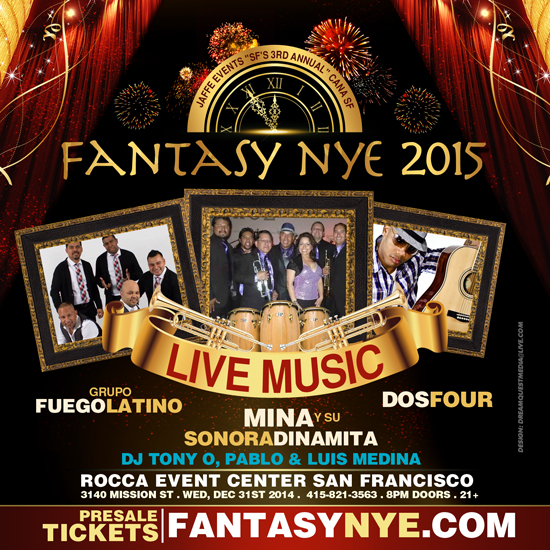 Hard Tickets available : call 415 235 4036


DJs Tony O,
DJ Luis Medina
DJ Pablo
DJ Antonio

At Rocca Event Center
www.roccapulco.com
3140 Mission Street, SF


Hosted by:
Univision
Jaffe Events
CanaSF
Luther B_415

Live Performances by:

FUEGO LATINO
Grupo Fuego Latino, somos una agrupacion de talento centroamericano con ardiente deceo de compartir con el respetable publico lo mejor que Dios nos ah regalado que es el talento musical. Creemos que en este mundo existe gente mala pero que habemos mas gente buena que mala y como gente buena que somos creemos en el trabajo y tenemos la mira y la fe puesta en el todo podero papa Dios para que se cumplan nuestros suenos. Agarrados de la mano de nuestro padre celestial empredemos pues nuestro viaje a un planeta lleno de delicias musicales esperando y agradeciendo de antemano el apoyo de todos ustedes amigos. Dios los bendiga.

DOS FOUR
Dos Four (Leyder Chapman) is an impressive performer with a unique sound and powerful lyrics. Each show is delivered with incredible energy and will have the entire audience on their feet moving by the time he is ready to start the second song. The music itself, written and created by Dos Four, is a unique fusion of current and traditional rhythms from both Cuba and the U.S. - a distinct blend of hip hop, reggaeton, salsa, and mambo as well as many other rhythms. And when you listen to this artist's list of influences, you begin to understand why: Benny More, Los Van Van, Charanga Habanera, Munequitos de Matanzas, Tego Calderon, Don Omar, Snoop Dog and Jay-Z just to name a few.

Dos Four has shared the stage with Danny Losada, Fito Reinoso, Jesus Diaz, Gente De Zona, Don Omar, Ivy Queen, Fulanitos, and others. He has performed at clubs all over the U.S. including the Bay Area, NY, Miami and LA as well as performing in Europe.

Dos Four is proud of his roots and is quoted in saying "Cubans take pride in their culture. We were born with the drum [and] I carry Cuba around like a backpack."


MINA Y SU SONORA DINAMITA
Mina Vasquez began to sing in a local group in 1989-1991named CARISMA . Then joined Sonora Dinamita with El Soruyo (one of the original band's founder)in 2001 a year before he died , after several years she moved between other Sonora's DINAMITA And then in 2011 joined the prestigious Sonora Tropicana, where she got named "the Golden voice of cumbia". She spends a few years with Sonora TROPICANA, then moves back again with several other Sonora DINAMITAS, where because of her talented voice, she's very sought after. One day 2 years ago she decided she had enough working for other people and forms her own MINA y Su Sonora DINAMITA. Although many people claim to have rights to the name Sonora DINAMITA...Mina decides not to infringe upon that name whenever possible, even though she was a part of the Original one. But more and more, now she's recognized as one of the most original interpreters of such beautiful sounds of cumbia as it was "Sonora DINAMITA"