Description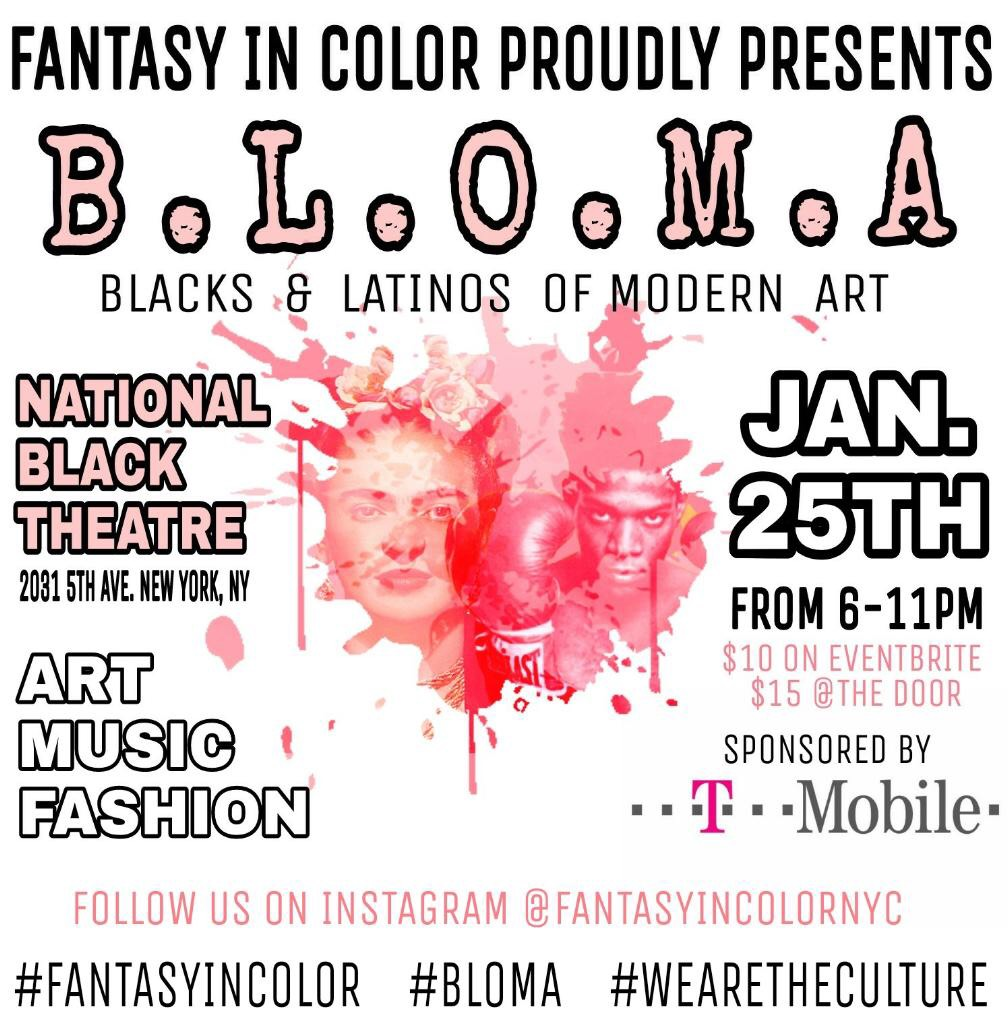 "B.L.O.MA" (Blacks & Latinos Of Modern Art) This group exhibition will celebrate and showcase some of the best emerging Black and Latino Visual Artist. UNFORTUNATELY, Black and brown artist are not always given the same opportunity and spot light. Instead of complaining, we are doing it for ourselves!
Sponsored by T-Mobile
Hosted by ROBYN "BE" BAXTER
Music by DJ Chase
Food Provided By: Empanada Papas
Thursday, January 25, 2018
6:00 pm - 11:00 pm
at the National Black Theatre in Harlem
2031 5th Ave, New York, NY 10035
Advance Eventbrite tickets $10.00, SOLD OUT!
$15.00 at the door CASH ONLY!
BUT THE VIBES ARE FREE!
Featured Artists:
ROB AYALA
CHRISTY AYALA
GLITTER
RON GOBLYN
CAFFETTI
PIPS
A L L U R E BY AMY
CATALINA CAVELIGHT
ARIELLE WILKINS
NATHAN TAYLOR
KAE ISRAEL
IVETTE URENA
GOYAZILLA
SHARON STOKES
SHEA DESIGN
BMRLAPINTORA
VICENTE MATOS
ASHLEY SUPREME
CLAUDIA WARYNIAK
KAIRI CHAPMAN
BLEU PABLO
ROZETTE MCLEAN
LEONARDO
HAADAH
DAQUANE CHERRY
VIV MORAN
JASON NET
TZURIEL SHADDAI
KASAI
BAIN ART GROUP
BRYANT SMALL
OVILA LEMON
TOMMY THE ANIMATOR
HUNT RODRIGUEZ
LOUISE MARIE
and much more!!
Designers/ Fashion Show: ArewaNYC, PopAllCulture and Tyrant Tees & Sweatshirts
Performing Live:
JONNY PARKS
FLO GLO
KEVIN TAPIA
RICHARD PIGKASO
KENT LUCAS
Vendors:
KIMBERLY DANIELLE
STEVEN FERRI
STASSI DESIGNS
AREWANYC
LUMIERE BY LISA
and much more!
Follow us Instagram @fantasyincolornyc
Visit us at fantasyincolor.com
Facebook link: https://m.facebook.com/fantasyincolor/