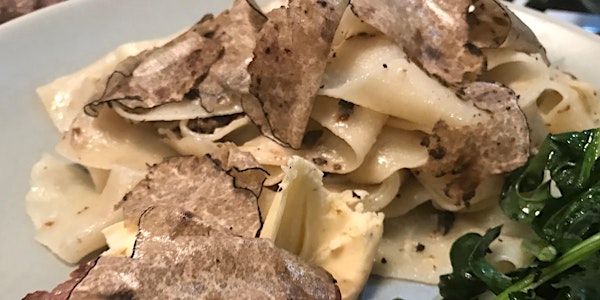 Fantastic Fungi Retreat
Three night mountain retreat, includes lodging, 8 chef prepared meals, drinks, speakers, mushroom foraging, stargazing and a silent disco.
When and where
Location
Camp Earnest 21553 Cedar Springs Road Twain Harte, CA 95383
Refund Policy
Contact the organizer to request a refund.
Eventbrite's fee is nonrefundable.
About this event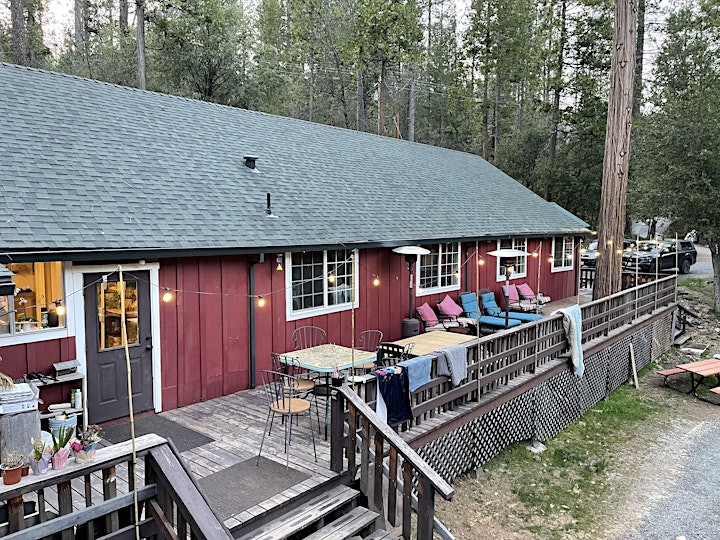 Welcome to Camp Earnest!
Ready for some chef-prepared feasts, local wines, nature walks, mushroom foraging, deep dive discussions, music, silent disco, stargazing and more?
We are thrilled and honored to welcome acclaimed author, chef and adventurer Maria Finn and her truffle hunting dog Flora Jayne to Camp Earnest for this celebration of all things mushrooms.
These dates should be a wet cool weekend, perfect for mushroom hunting on campus and in the surrounding wilderness.
----------
Meals will be served either on the 75 foot deck of Good People Lodge, in our main dining hall or at picnic tables in the community field. We will offer a nature walk with Dan Webster of the Yosemite Conservancy. Dan will also use his trusty laser pointer to guide us through the cosmos during a stargazing evening in our outdoor amphitheater. Expect a silent disco, musical performance and singalongs as well.
For now, here's what to expect on our Camp Earnest campus.
Lodging:
King Tent 5 meter bell tent on an octagonal platform (glamping w/king bed, twin sleeper sofa, electricity, heated mattress pad, hot water, etc.).
Queen Tent 5 meter bell tent on an octagonal platform (glamping w/queen bed, twin sleeper sofa, electricity, heated mattress pad, hot water, etc.).
Two Hearts Cabin, two bedrooms, new bathroom, king bed, queen bed, leather sleeper sofa, mini-split heat pump for heating & A/C.
Quiet Cabin, one large room with a wood burning stove, king bed, twin daybed, mini-split heat pump for heating & A/C
.Chapel House (attached to meditation/movement hall), 2 bedrooms, 3 bath, full kitchen, king bed, full bed, bunkbed, leather queen sleeper sofa, two mobile A/Cs.
3 walk in campsites w/picnic tables, fire rings and wood, Turnback Creek, Upper Camp and Sugar Pine sites.
Other Great Spots on Campus:
Bathhouse with three toilets, two showers and California's first Iki Finnish sauna big enough for 8 to 10 people at a time, cold plunge (ask for ice in the lodge) and an 8 person cedar hot tub.
Chapel Hall, 1,100 square foot open space for yoga, meditation, dancing, group discussions.
Outdoor amphitheater. A great spot for acoustic music and talent shows, with bench seating for up to 50 people, an 8 x 8 foot stage and a fire pit.
Nearby:
Pinecrest Lake is about 30 minutes uphill at 5,600 feet of elevation, a great place to cool off on hot days.
Murphys has great wine and food culture.
Town of Twain Harte, only 8 minutes away. If you're not too stuffed from our awesome meals, don't skip the wood fired pizzas at The Prospector.
Sonora is the largest nearby town, about 20 minutes away, and has all the big box retail and great beer, coffee and restaurants.
We will be cautious about pandemic safety, even though we've seen fantastic vaccination rates in California and infection rates are plummeting. Proof of vaccination will be required for this retreat.
If you are under medical advice not to get vaccinated, please chat with Karin or Raman and we can figure out a quarantine and testing protocol that works for all. If you fall ill as the time approaches, please let us know and do not come. We will give you a full refund.
We look forward to seeing you in December up at camp!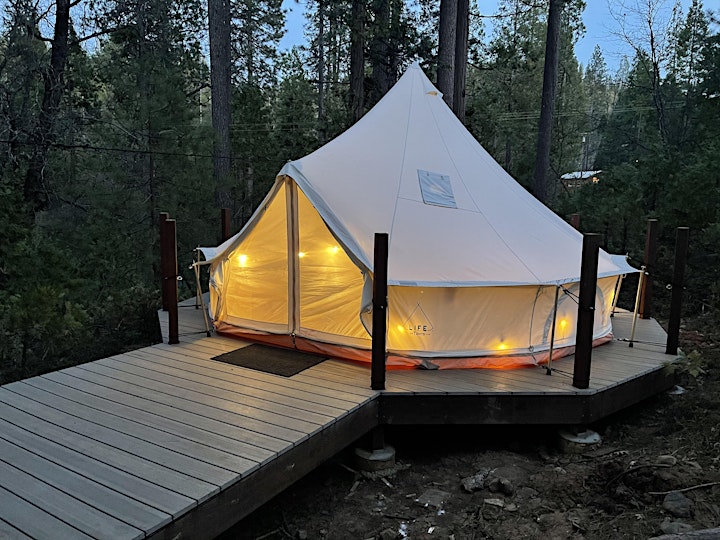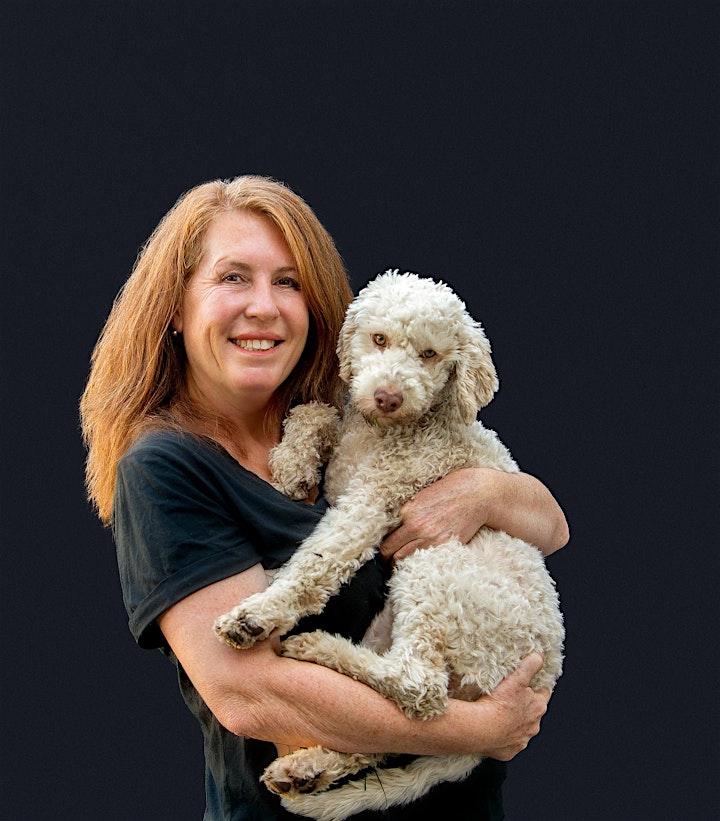 YOUR GUIDES:
Our friends and guides in exploring the world of mushrooms are Maria Finn and her truffle hunting puppy Flora Jayne.
Maria is an author, journalist and multi-sensory storyteller who lives on a houseboat in Sausalito, California. She is ocean-obsessed and this theme runs through much of her undertakings, from food events to wildcrafting and writing projects. She used to work in the commercial fishing industry in Alaska, including crewing on all female fishing boat, her tv pilot loosely based on this experience, Sea Legs & Fish Nets, has been optioned and is represented by Intellectual Property Group. She's the author of five books, with more in the works. Her memoir, "Hold Me Tight and Tango Me Home" was optioned by Fox Studios for a television series.
She recently adopted a Lagotto Romagnolo, or Italian truffle dog, Flora Jayne, and they have been training to hunt truffles. She also hosts wild food camps to teach people how to find edible mushrooms and cook them over live fire.
Maria has told stories for The Moth Mainstage at the Museo del Barrio in New York City and the Castro Theater in San Francisco, along with the Eat Real Festival at Jack London Square in Oakland, and at the Fisher Poets Gathering in Astoria, Oregon. She has given talks at the SOCAP Conference, Seattle Chefs Collaborative, the California Academy of Sciences, and SXSW, among many other places. Usually she is asked to speak about seafood, but sometimes about gardening edibles or why everyone should dance more.
In 2020, she was a fellow in the first creative cohort in the Design Science Studio and Living Systems Collaboratory, as part of the Buckminister Fuller Society. She created an augmented reality menu that expresses her lockdown experience. It's online now as a website, Pandemic Menu from Spaceship Earth. It tells the stories of ecosystems - and how humans are an integral part of them. She also launched a series of Wild Food Adventures, Flora & Fungi.
As Artist-in-Residence at Autodesk, Pier 9 maker space, Maria created an edible map of the San Francisco Bay that is on display at the San Francisco Exploratorium. Other recent residencies include Writing Between the Vines, The Marin Headlands Center for the Arts and Mesa Refuge. She was chef-in-residence for Stochastic Labs, a residency for artists, scientists and tech innovators in Berkeley.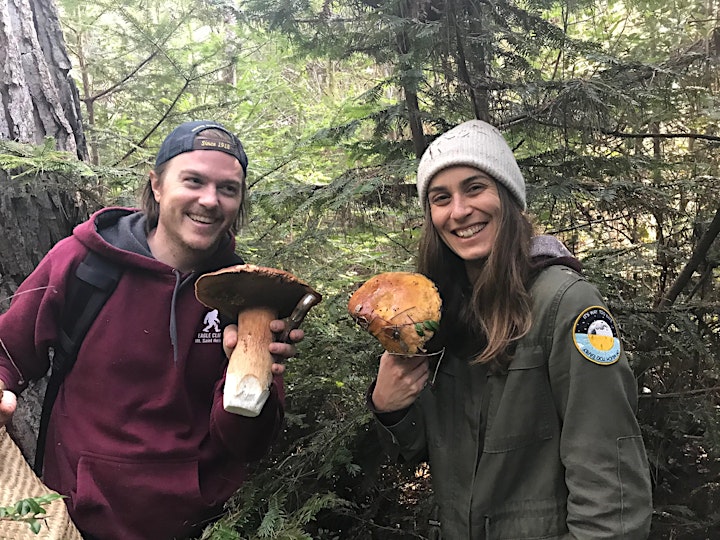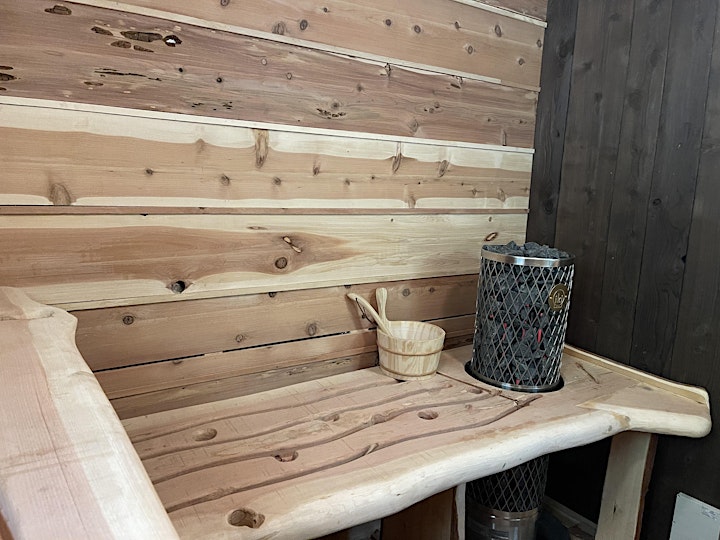 Our Journey Together:
Thursday evening arrival from 3:00 to 6:00
Pick a mushroom card
Cocktail party, introductions, Maria's mushroom knowledge drop.
Speaker: Dan Webster on local flora, fauna and the role of fire
DINNER:
TO START: Porcini bruschetta
Salad of shaved celery, watercress, fennel, little gems and pickled kabocha squash finished with aged Pecorino Romano cheese
MAINS:
Cedar planked black cod with sauteed chanterelle/leeks
Matusake rice with douglas fir tips and pine nuts
TO FINISH:
Orange almond cake with candy cap mushroom whipped cream
9:00pm Dan guides stargazing in our Acoustic Amphitheater
Friday
BREAKFAST
Mushroom, herb, onion fritatta breakfast sandwiches with carrot pesto
Yogurt swirled with tahini, topped with tangerines, pomegranates and torn mint
Talk/Demonstration with mycologist Kevin Sadlier
Spores and Gills: How to identify boletes from amanitas and polyphores
10:00 to 12:30 guided foraging with Maria and Kevin
LUNCH
Porcini risotto
Chopped salad with radicchio, spinach and arugula with Comice pears, walnuts and apple cider vinaigrette
Candy cap cookies
2:00-5:00 Unguided forage, free time
DINNER
Cocktails
Talk – The Truffle Renaissance and the Regenerative Power of Pleasure By Maria Finn
TO START:
Crostini: Bianchetto truffle & bone marrow
Mixed greens with delicata squash, toasted hazelnuts and pomegranates
MAINS:
Truffle bucatini pasta – Perigord or Burgundy truffles
TO FINISH:
Oregon black truffle pot de creme
9:00pm Acoustic Amphitheater concert with Adam Dragland and Michael Carney
Saturday
BREAKFAST
Truffle infused scrambled eggs
Garnet potato hash
Pear and ginger muffins
Truffle hunting demonstration with Flora Jayne (the dog), how scent moves in a forest and how truffles are the nodes that drive the forest ecosystem.
LUNCH
Pizza! (With wild mushrooms of course.)
Mixed green salad with pickled persimmons and onions in a citrus vinaigrette
Medicinal Mushrooms (We're talking about turkey tails & reishi!) Walk with Maria to identify polyphore fungus like reishi and turkey tails.
Preserving Mushrooms Workshop
We'll have a workshop on how to make tinctures and teas with wild medicinal mushrooms. As well, we'll learn to make salts, rubs, butters and stocks as a way to preserve mushrooms well past their season.
SATURDAY DINNER
Starters: Caramelized onion and black trumpet tarts
Salad of shaved Brussel sprouts, Manchego cheese and pine nuts
Roast chicken with mushroom, leek and chestnut stuffing
Za'atar roasted root vegetables
Apple galette with whipped cream
9:00pm Silent Disco in main field or Chapel Hall
Sunday
BREAKFAST
Toast bar – Artisanal breads with optional toppings of nut butters and jams, avocado, smoked fish and chevre, and sauteed mushrooms and onions.
Hardboiled eggs, yogurt, fruit, granola, non-dairy and dairy milk.
Closing ceremony and gratitude circle.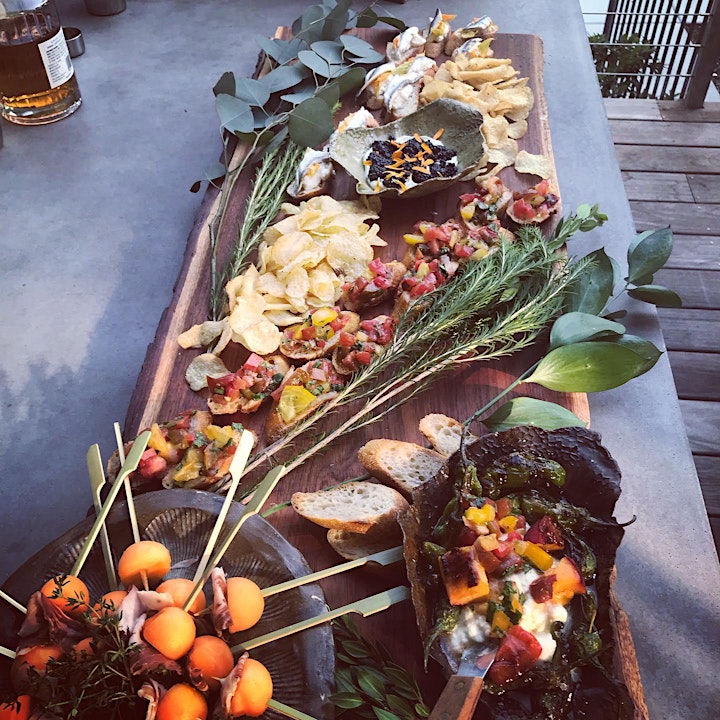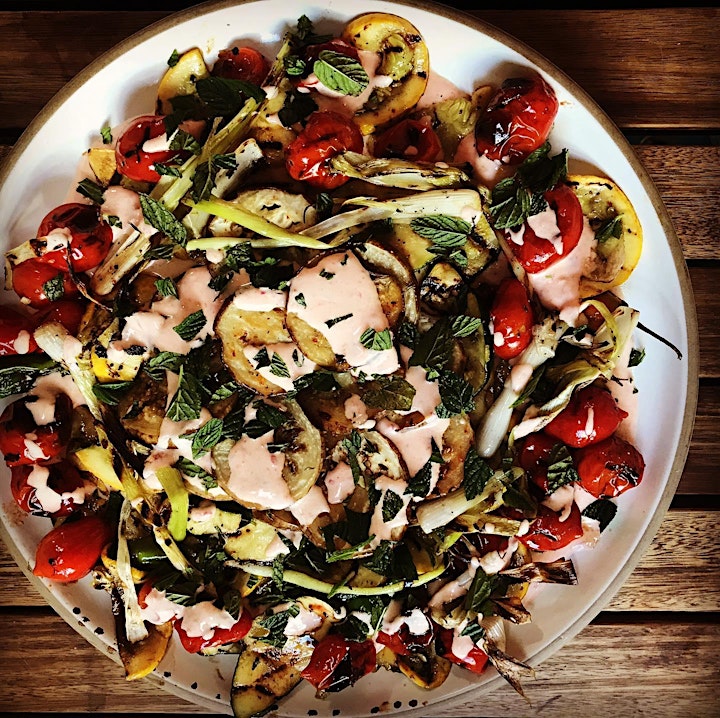 Questions? More info and images on Camp Earnest and GP Dinners can be found here.
https://www.campearnest.com
https://www.gpdinners.com
https://www.airbnb.com/wishlists/872751009
https://www.hipcamp.com/en-US/discover/california/camp-earnest
Or write to us for our FAQ on campus buyouts.