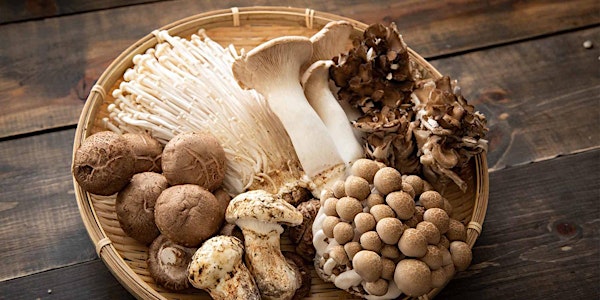 Fantastic Fungi (October 4 @ 6 PM)
Let's celebrate mushrooms with organic mushroom farmers from the Fat Moon Farm in Westford, Massachusetts!
When and where
Location
Joyful Kitchen Cooking School 12 Greenwood Rd Wellesley, MA 02481
About this event
Savor the Season
Let's celebrate mushrooms with organic mushroom farmers from the Fat Moon Farm in Westford, Massachusetts! Fat Moon Farm will introduce you to the edible treasures of the fungi kingdom, that sprout in all shapes and sizes and offer unique nutrient-dense profiles full of health benefits that fuel delicious meals.
In this workshop you'll discover the different flavors and methods for cooking seasonal mushroom varieties for satisfying dishes. We will share plenty of tips on flavor combinations, rule-of-thumb buying/storing/ and cooking methods and other 'shroom wisdom to help you feel ready to embrace mushroom season in your own kitchen. You'll also explore ways to incorporate dried mushrooms into your cooking so you can enjoy these rich flavor profiles all year round! Fantastic Fungi will help beginners and avid cooks alike feel more confident preparing mushrooms into a functional and delectable dish — which is especially important for our plant based foodies.
To kickstart your mushroom making, each guest will receive a 10 lb organic Shiitake Grow Kit to take home to grow and harvest their own mushrooms — a $40 value.
Cooking Classes: Remember to come hungry, because you will leave with a full belly. Please don't think that you have to be a great cook to take any of these classes. All you really need is to enjoy spending time in the kitchen, or desire to increase your enjoyment in the kitchen. Joining one of our cooking classes will be a fun and engaging experience and change your relationship toward food for the better. During class, each participant will receive recipe printouts, shopping and preparation checklists, and plenty to eat. Classes are by reservation only. Only 12 reservations per class. Please let us know about any special dietary needs. 
Cancellation Policy: Because seating is limited and food is purchased in advance, we cannot guarantee full refunds for cancellations made less than a week prior to the event. In the event you must cancel late, we will attempt to fill your seat with someone from our waiting list. Please email cancellation notices.
What Should I Bring? Please dress comfortably and come with a smile and eagerness to learn. Small group classes are taught by both demonstration and hands-on participation, so you can choose to participate as much or as little as you feel comfortable. We will provide all the tools you need to participate, including aprons, cutting boards, knives, etc. 
The School: Surrounded by stainless steel, thick white marble, commercial grade appliances, and artful accents, you will learn to cook in a rather stylish way at Joyful Kitchen in Wellesley. Joyful Kitchen has a state-of-the-art kitchen-featuring top of the line cookware and appliances from Sub-Zero & Wolf.