About this Event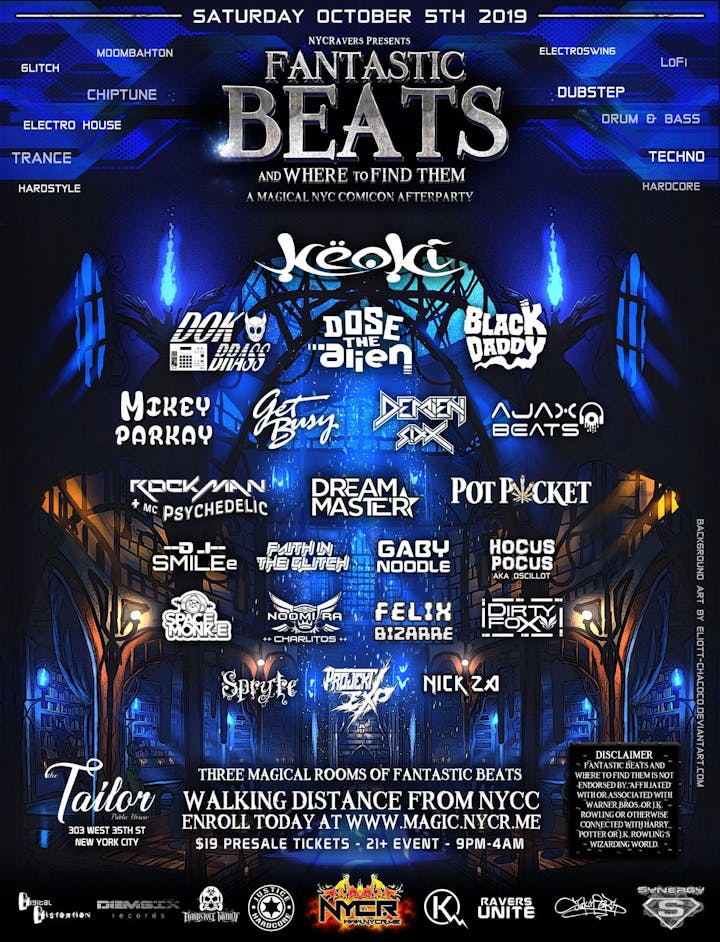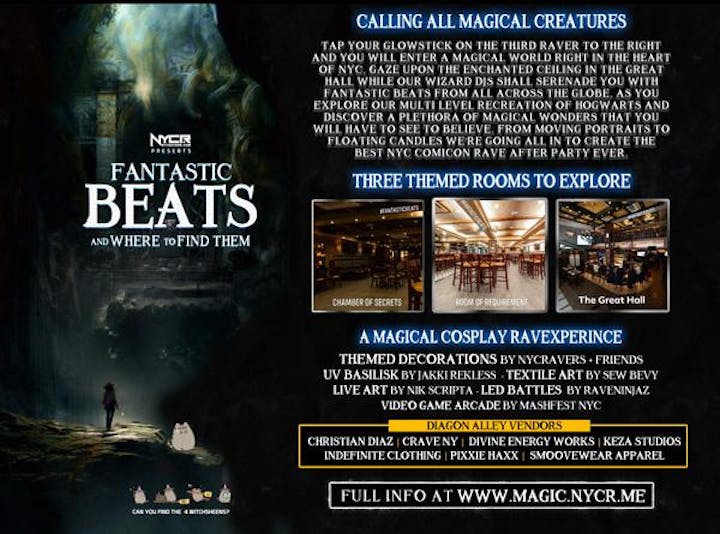 NYCRavers is breaking the International Statute of Secrecy on October 5th, 2019 when they show #NYCC19 Fantastic Beats and Where to Find Them!
EXPLORE a multi-level 3 stage recreation of Hogwarts right in the heart of NYC! Experience 20+ Wizardly DJs filling you with fantastic beats from all across the EDM Spectrum! Plus amazing art , mind melting visuals, unique vendors, an arcade and tons of wizardly activities that even Snape would be hard pressed to criticize.
#FantasticBeats is a 21+ cosplay rave located within walking distance from Comic Con.
NYCRavers Presents
FANTASTIC BEATS
AND WHERE TO FIND THEM
A Magical NYCC Afterparty
⬫⬪⬧ LINEUP⬧⬪⬫
Our Fantastic Lineup features : Superstar DJ Keoki, Christian Bruna, Dokbrass *LIVE*, Dose the Alien, BlackDaddy, Mikey Parkay, Get Busy, Rockman + Mc Psychedelic *LIVE*, Demien Sixx, DreamMaster, Ajaxbeats, Gaby Noodle, Hocus Pocus, Faith in the Glitch, SMILEe, Space Monk-E, Dirty Fox, Noomi Ra + Charilitos, Felix Bizarre, Project EXP, Spryte and Nick Za.
▫ ✧FEATURES✧▫
We have  Three Themed Rooms of Sound for you to enjoy: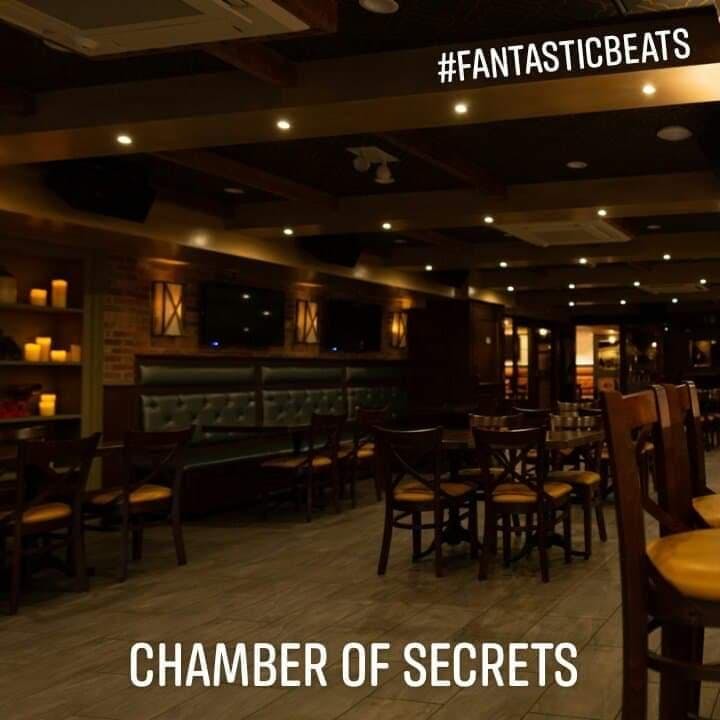 ⬪⬪The Chamber of Secrets⬪⬪
Featuring a custom built Basilisk Stage by NYCRavers , textile art by Sew Bevy, Blacklight Face/Body Magic by Christian Diaz and Interactive Live Painting by Nik Scripta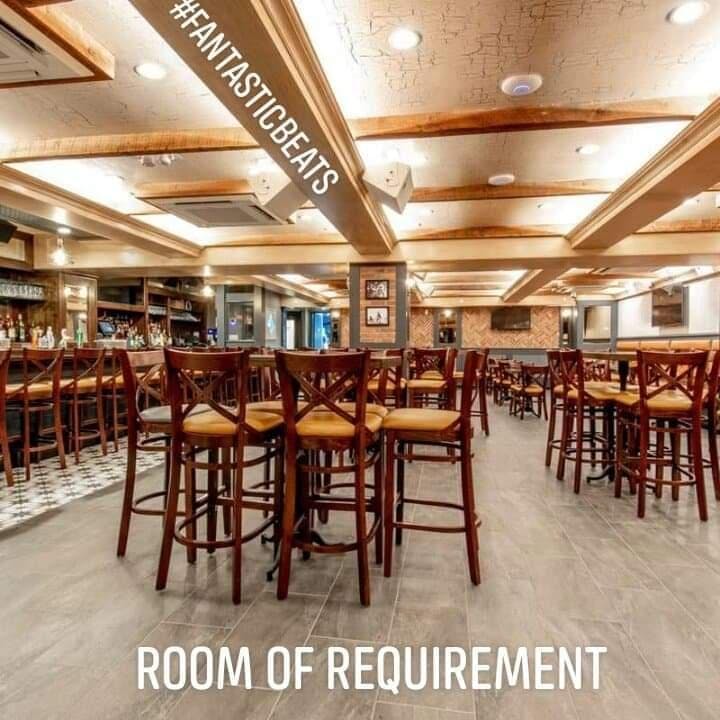 ⬪⬪The Room of Requirement⬪⬪
Featuring room morphing walll to wall projections and a Video Game Arcade Gaming by Mashfest NYC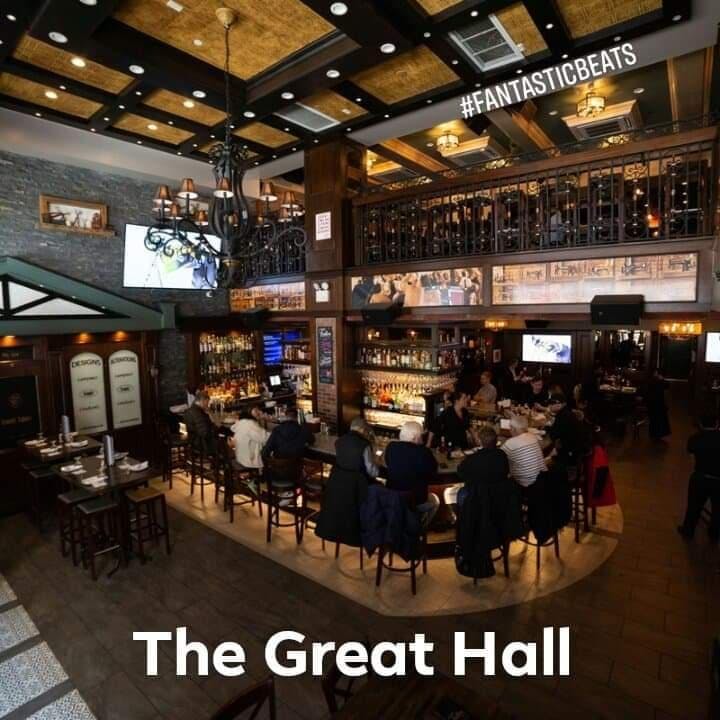 ⬪⬪The Great Hall of Hogwarts⬪⬪
Featuring a star field projection of the enchanted ceiling, floating candles, amazing vendors, themed photobooths and more!
Plus
➡ 4k Video Coverage by Midnight Roach Media
➡ Spellbinding Light saber Performances by Rave Ninjaz
▫ ✧ VENDORS ✧ ▫
➡ Christian Diaz will be providing top quality UV face/bodypainting as well as blacklights for the event.
➡ Crave NY will have LED and cosplay accessories to turn you into the magical wizard you always wanted to be!
➡ Keza Studios is creating one-of-a-kind hand-blown glass charms to bring you luck and magic everywhere you go.
➡ Indefinite Clothing will be selling their unique t shirt, hat and other clothing designs.
▫ ✧ COSTUME IDEAS ✧ ▫
Wizards, Witches, Dementors, School Girls, Zombies, Werewolves, Vampires, Merlin, Sam Black?, Aurors, Hitwizards, The Minister of Raving, Sexy Ghosts, House Elves, Obscurials, Poorly Executed Animangus Transformations and the first 3 people dressed up like Schnife the Yak will get in FOR FREE #epictroll
▫ ✧ TICKETS ✧ ▫
#FantasticBeats is a 21+ Cosplay Ravexperience.
$19 General Admission Presale  //$15 Group Discount Presale // $25 at the Door 
Presale Tickets will be available until 10/5/19 - $5 off at the door with Costume, Flyer or NYCC Laminate
21+ Event, you must have valid ID.
▫ ✧ LOCATION ✧ ▫
The Tailor Public House
303 35th St (w35th St & 8th Ave)
New York, NY 10018
The Tailor Public House is multi-level 3 room event space located on west 35th and 8th Ave. This hidden gem of a venue is conveniently located just 5 blocks from Comic Con, and 1.5 blocks from Madison Square Garden / Penn Station. For Fantastic Beats we will be using the entrance on 35th Street look for Diagon Alley.
Take a 3D Walkthrough of the Venue right meow from your computer/phone by visiting : http://bit.ly/tailorhouse
Disclaimer : Fantastic Beats and Where to Find Them is not endorsed by, affiliated with or associated with Warner Bros. or J.K. Rowling or otherwise connected with Harry Potter or J.K. Rowling's Wizarding World.