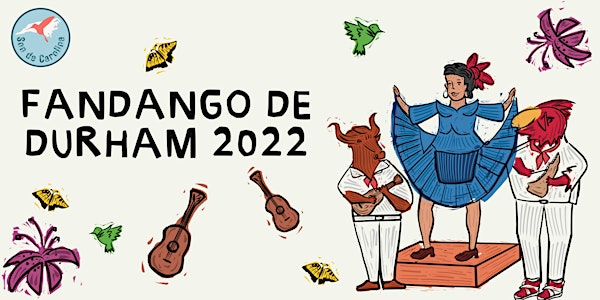 Fandango de Durham: Los Utrera in Concert w/ Larry & Joe
Los Utrera in concert with Larry & Joe
When and where
Date and time
Wednesday, September 21, 2022 · 7 - 10pm EDT
Location
The Fruit 305 South Dillard Street Durham, NC 27701
About this event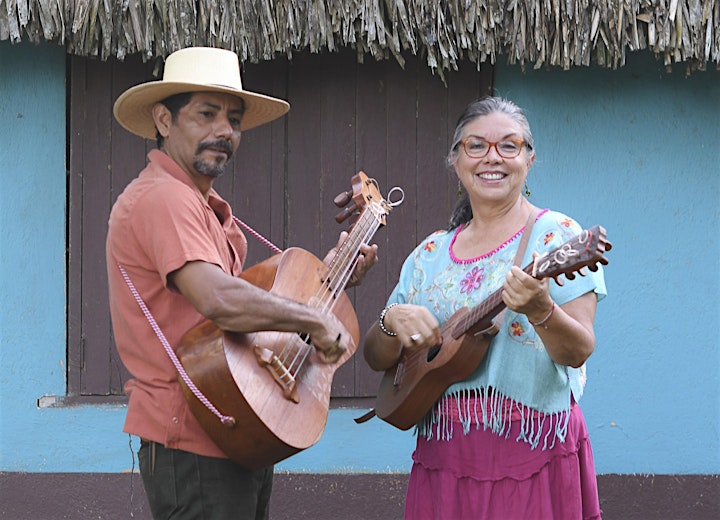 Español a continuación ⬇️ ⬇️
---
From the El Hato community of Veracruz, Mexico, Los Utrera are a leading family of son jarocho –a folk music and dance tradition that draws from Spanish, African, and indigenous influences. As an ensemble, Los Utrera has established a reputation for exploring the traditional roots of son jarocho, as well as showing relationships between diverse cultures and contemporary world music genres. The group has participated in the most well-known son jarocho festivals throughout Veracruz and at various music festivals around the world. In 2020, Wendy and Tacho of Los Utrera were featured in the award-winning film Fandango at The Wall which follows their performances with the Afro-Latin Jazz Orchestra and documents their journey as son jarocho musicians. Wendy and Tacho will visit North Carolina for the first time in an exciting collaboration with the local Durham community, Duke University, and the North Carolina Arts Council.
Larry Bellorín hails from Monagas, Venezuela and is a legend of Llanera music. Joe Troop is from North Carolina and is a GRAMMY-nominated bluegrass and oldtime musician. Together as Larry & Joe they perform a fusion of Venezuelan and Appalachian folk music on harp, banjo, cuatro, fiddle, maracas, guitar, upright bass, and whatever else they decide to throw in the van. The program they offer features a distinct blend of their musical inheritances and traditions as well as storytelling about the ways that music and social movements coalesce.
This event is FREE and open to the public. Interpretation services will be provided to accommodate English-only and Spanish-only speakers. Food and drinks will be available for purchase.
*This event is made possible by a course enhancement grant from Duke Global and support from the North Carolina Arts Council, a division of the Department of Natural and Cultural Resources
---
De la comunidad de El Hato de Veracruz, México, Los Utrera es una familia líder de son jarocho, una tradición de música y danza folclórica con influencias españolas, africanas e indígenas. El conjunto de Los Utrera ha ganado la reputación por su exploración de las raíces tradicionales del son jarocho, y por mostrar las relaciones entre diversas culturas y géneros musicales contemporáneos del mundo. El grupo ha participado en los festivales de son jarocho más prestigiosos en todo Veracruz y en diversos festivales de música alrededor del mundo. En el 2020, Wendy y Tacho de Los Utrera aparecieron en la película galardonada, llamada Fandango at The Wall , que sigue sus actividades con la Afro-Latin Jazz Orchestra y documenta su trayectoria como músicos de son jarocho. Wendy y Tacho visitarán a Carolina del Norte por primera vez como parte de una emocionante colaboración con la comunidad de Durham, la Universidad de Duke y el Consejo de las Artes de Carolina del Norte.
Larry Bellorín es de Monagas, Venezuela y es un legendario de la música llanera. Joe Troop es de Carolina del Norte y es un músico de bluegrass y old time nominado por el premio GRAMMY. Tocan juntos como Larry & Joe, interpretando una fusión de música folclórica venezolana y Apalachiana en arpa, banjo, cuatro, violín, maracas, guitarra, contrabajo y cualquier otra cosa que decidan arrojar a la camioneta. El programa que ofrecen presenta una combinación única de sus herencias y tradiciones musicales, y también presenta historias sobre cómo la música y los movimientos sociales se fusionan.
Este evento es GRATIS y abierto al público. Habrá servicios de interpretación para quienes sólo hablan inglés o español. Habrá comida y bebidas disponibles para su compra.
*Este evento es posible gracias a una subvención de Duke Global y el apoyo del Consejo de las Artes de Carolina del Norte, una división del Departamento de Recursos Naturales y Culturales.