Fandango de Durham: Community Workshop & Fandango
Join us for the first ever Fandango de Durham and experience son jarocho from Veracruz, Mexico!
When and where
Date and time
Starts on Thursday, September 22, 2022 · 6pm EDT
Location
Durham Bottling Co 506 Ramseur Street Durham, NC 27701
About this event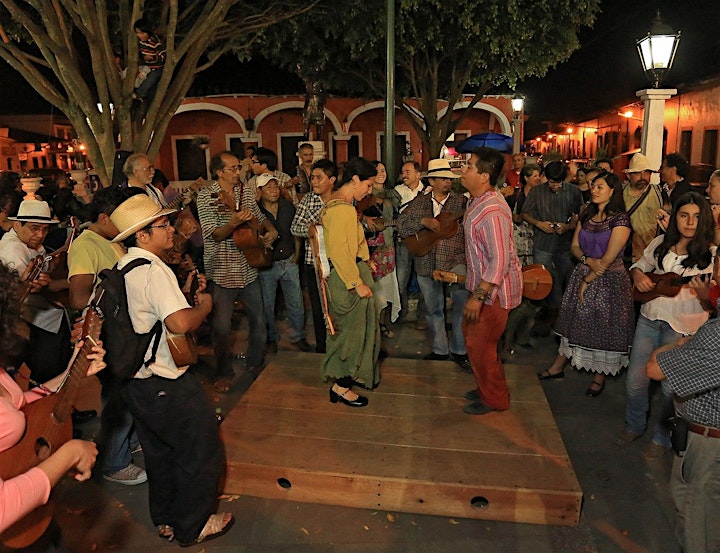 Español abajo ⬇️
---
A fandango is the community celebration of the son jarocho tradition. From Veracruz, Mexico, son jarocho features a variety of string instruments and is derived from a mix Spanish, African, and Indigenous music practices. During a fandango, community members gather to play a variety of son jarocho instruments, sing improvised poetic verses, and dance on top of a wooden platform called a tarima. Fandangos are often held in honor of a patron saint or to celebrate a particular holiday. In this case, we celebrate the visit of Los Utrera to Durham and the vibrant, creative, growing local Latino community. During this community workshop, Wendy and Tacho of Los Utrera will teach the basics of the primary son jarocho instrument, the jarana, as well as the percussive style of dance traditional to son jarocho called zapateado. A limited number of jaranas will be available for use during the workshop. Those who would like to participate in the workshop are recommended to wear hard-soled shoes. The fandango celebration will begin once the workshop has concluded.
From the El Hato community of Veracruz, Mexico, Los Utrera are a leading family of son jarocho. As an ensemble, Los Utrera has established a reputation for exploring the traditional roots of son jarocho, as well as showing relationships between diverse cultures and contemporary world music genres. The group has participated in the most well-known son jarocho festivals throughout Veracruz and at various music festivals around the world. In 2020, Wendy and Tacho of Los Utrera were featured in the award-winning film Fandango at The Wall which follows their performances with the Afro-Latin Jazz Orchestra and documents their journey as son jarocho musicians. Wendy and Tacho will visit North Carolina for the first time in an exciting collaboration with the local Durham community, Duke University, and the North Carolina Arts Council.
This event is free and open to the public. Interpretation services will be provided to accommodate English-only and Spanish-only speakers. Food and drinks will be provided for participants.
*This event is made possible by support from the North Carolina Arts Council, a division of the Department of Natural and Cultural Resources
---
El fandango es la celebración comunitaria de la tradición del son jarocho. Originalmente de Veracruz, México, el son jarocho utiliza una variedad de instrumentos de cuerda y se deriva de una mezcla de prácticas musicales españolas, africanas e indígenas. Durante un fandango, los miembros de una comunidad se reúnen para tocar una variedad de instrumentos de son jarocho, cantar versos de poesía improvisada y bailar sobre una plataforma de madera llamada una tarima. Normalmente los fandangos se realizan en honor a un santo patrón o para celebrar una fiesta en particular. En este caso, celebramos la visita de Los Utrera a Durham y la vibrante comunidad local latina que sigue creciendo. Durante este taller comunitario, Wendy y Tacho de Los Utrera enseñarán los conceptos básicos del instrumento principal del son jarocho, la jarana, y el estilo percusivo de danza tradicional del son jarocho, llamado zapateado. Habrá unas jaranas disponibles para usar durante el taller. Se les recomienda a quienes deseen participar en el taller el uso de zapatos de suela dura. La celebración del fandango comenzará después del taller.
De la comunidad de El Hato de Veracruz, México, Los Utrera es una familia líder de son jarocho, una tradición de música y danza folclórica con influencias españolas, africanas e indígenas. El conjunto de Los Utrera ha ganado la reputación por su exploración de las raíces tradicionales del son jarocho, y por mostrar las relaciones entre diversas culturas y géneros musicales contemporáneos del mundo. El grupo ha participado en los festivales de son jarocho más prestigiosos en todo Veracruz y en diversos festivales de música alrededor del mundo. En el 2020, Wendy y Tacho de Los Utrera aparecieron en la película galardonada, llamada Fandango at The Wall , que sigue sus actividades con la Afro-Latin Jazz Orchestra y documenta su trayectoria como músicos de son jarocho. Wendy y Tacho visitarán a Carolina del Norte por primera vez como parte de una emocionante colaboración con la comunidad de Durham, la Universidad de Duke y el Consejo de las Artes de Carolina del Norte.
Este evento es GRATIS y abierto al público. Habrá servicios de interpretación para quienes sólo hablan inglés o español. Se proporcionará comida y bebida a los participantes.
*Este evento es posible gracias a una subvención de Duke Global y el apoyo del Consejo de las Artes de Carolina del Norte, una división del Departamento de Recursos Naturales y Culturales.