About this Event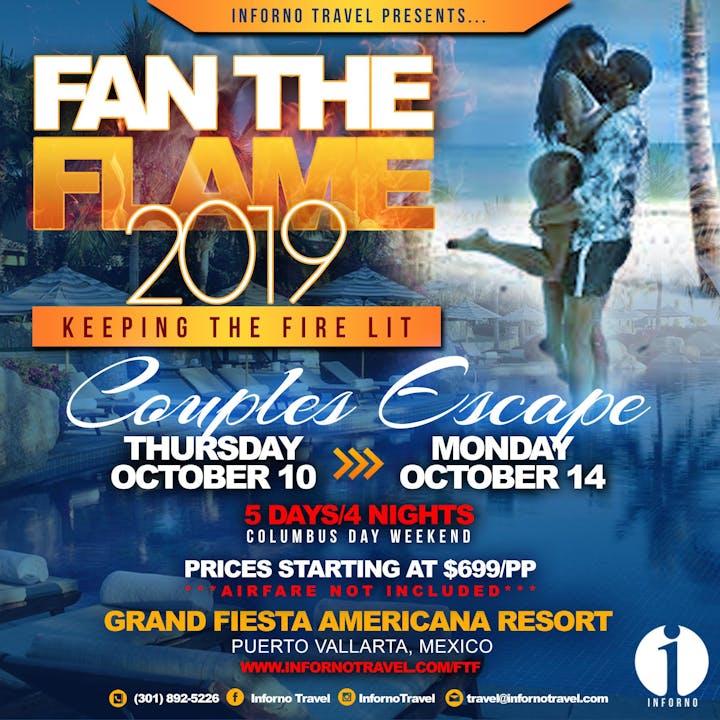 Grand Fiesta Americana Puerto Vallarta - All Inclusive Adults Only has 443 spacious, modern and luxurious suites. Admire the natural beauty of the beach from inside your elegant and stylish suite and enjoy the incredible ocean views and relaxing coastal breezes from the comfort of your private balcony.
Some say that the difference is in the details - these suites have all of the features for creating unique and lasting experiences. These spacious suites are equipped with one king bed or two queen beds, living room, 50" LCD TV, wireless Internet access, coffeemaker, iron, couch, voicemail service, air conditioning, minibar, and other special amenities.
24 HR ROOM SERVICE AND MINIBAR
All rooms have minibars offering beers, sodas, water, and snacks. 24hr room service is available for those unexpected cravings during the night. It's an option for when you need your personal space, enjoy the privacy of your room for a meal.
Let yourself be mesmerized by the majestic views, world-class fine dining, and exceptional personalized service at this stylish beachfront all-inclusive resort in Mexico. Secluded in the lush green Sierra Madre mountains, but just 10 minutes from the Romantic Zone, Grand Fiesta Americana Puerto Vallarta offers an unforgettable leisure experience.
Unwind by the infinity pool or dive into the crystal-clear waters of Bahia de Banderas. Try your new favorite craft cocktail at the specialized lounge bars. Go on a guided kayak tour. Get pampered at Haixa Spa. Venture into town to discover Puerto Vallarta's magic. Fantastic memories await you at this unique La Colección destination.
HIGHLY RECOMMENDED!
For something more exclusive, book a Grand Club Suite (Grand, Master, Governor & Presidential). These romance-themed rooms are designed with honeymooners and couples in mind. They are located on the top three floors of Tower I and II and have a lobby with private check-in and rooms with Jacuzzis and other amenities for couples.
The Grand Club Level offers the ultimate premium experience, featuring a private penthouse lounge with outstanding panoramic views, a club concierge, VIP check-in and check-out, and three culinary presentations throughout the day. Exclusive Grand Club services and amenities are also extended at the Grand Beach Club & Sundeck. These privileges are reserved for just 60 comfortable and spacious suites, located on the top floors of the resort, all marble-floored with a casual yet luxurious decoration and private infinity-balconies with stunning views to the turquoise water of the sea.
The penthouse lounge offers breathtaking panoramic views of the sea, and a calm and relaxed ambiance to enjoy the personalized service delivered by a private concierge and butler. Also, you get the following:
Private registration area and individualized check-in
Premium food & liquor services offered throughout the day
Priority for Spa & Restaurant reservations
Private Cabana reserved daily with 20-minute foot massages and a bottle of wine
Orange or Red bracelet
Payment Schedule:
Initial Deposit ($150) per person: Due NOW to secure your space!
2nd Payment Due - $100 per person: Due Friday, Mar. 1, 2019
3rd Payment Due - $100 per person: Due Friday, Apr. 5, 2019
4th Payment Due - $100 per person: Due Friday, May 3, 2019
5th Payment Due - $100 per person: Due Friday, June 7, 2019
*Final Payment* (Remaining Balance): Due Friday, August 2, 2019
Frequently Asked Questions (FAQs):
1.) What airport do we fly into?
- Airport Code: Licenciado Gustavo Díaz Ordaz International Airport (PVR)
2.) Are packages available for excursions and other off-resort events?
- Details regarding the packages will be available soon and will incur an additional cost. Some of the excursions include Lover's Beach, Sailing, Tequila, and City Tours, Cirque du Soleil, and MORE!
3.) What private events will Fan The Flame host during this time?
- Couples Empowerment Sessions (Fanning The Flame 101), Romantic Zone Night, Yacht Party, Pool Party, Group Dinners, Cocktail Parties, and MORE!
Contact Us!
Visit https://www.infornotravel.com/ftf for more details!