Join us in support of West Hollywood's forthcoming cafe dedicated to female+ artists for a night filled with music, art, and more!
About this event
Fan Girl Cafe: a new hip, music oriented neighborhood cafe and wine bar with a focus on female musicians, queer artists & community building.
We are thrilled to announce our first event at the world famous Troubadour. Our goal is to raise awareness (and a little bit of funds) for the opening of our forthcoming space, but most importantly, to bring you a night you won't forget! Our lineup features some of today's hottest up and coming artists including Jax, Kat Cunning, TRACE, Alicia Blue, KingQueen and Noah Vonne.
Hosted by on air personality Megan Holiday of KROQ and drummer/podcast host Jess Bowen (of The Summer Set, Tessa Violet, Babes Behind the Beats etc), this is an event you won't want to miss! Get ready to Fan Girl the F out!
We will be showcasing artwork by some of LA's most talented female+ photographers and artists around.
Doors: 5:30pm Show: 6:30 All ages. GA: $36.00 VIP: $65.00
PLEASE NOTE: As of November 4th, LA County will require proof of FULL Covid-19 vaccination at the door to enter the venue.
* If you can't make it due to a Covid related issue, refunds will be honored up to 7 days ahead of the event.
Get to know the Artists:
Jax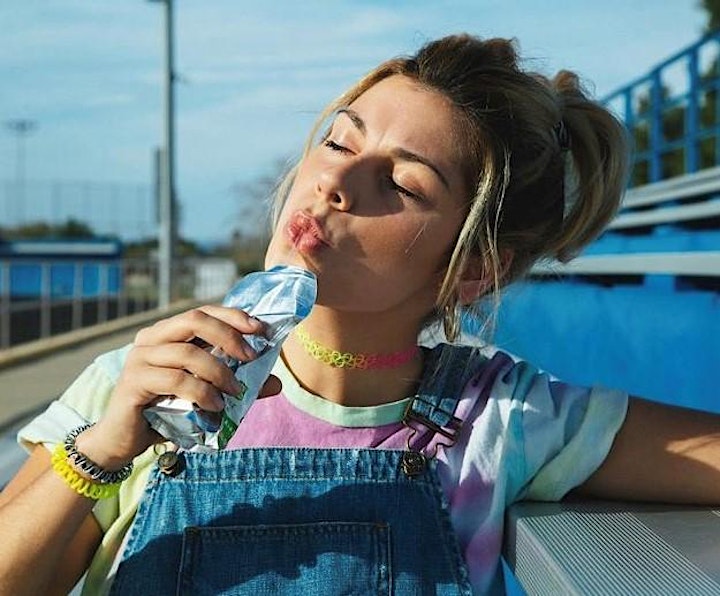 Raised in New Jersey by way of New York, Jax got her start by performing a wide variety of genres and in bands growing up. At the age of 18, she developed cancer above her vocal cords, which returned following a couple months of remission right as she relocated to Los Angeles in pursuit of her music. Left unable to sing herself, Jax turned to songwriting for others and found industry success behind-the-scenes.
Her new sentimental single "Like My Father" follows the release of "90s Kids," Jax's addictively nostalgic anthem that proved a fast fan-favorite – with 12 consecutive weeks of over 1 million streams in the US alone and complimented by a music video starring The Sandlot's Patrick Renna. Meanwhile, her labeldebut single "Ring Pop" arrived earlier this year to massive viral response and high-profile appearances on The Ellen DeGeneres Show, Access Hollywood & more.
As her ability to perform returned, Jax needed to pivot yet again when the COVID-19 pandemic struck. This time she turned to TikTok, posting a hilarious response to the pop gem "Stacy's Mom" from "Stacy's Mom's Perspective" which exploded with nearly 9 million views in just a few months and "Update from Avril Lavigne & Sk8er Boi 18 years later" which became her most successful parody to date with over 14.5 million views. She continued to go viral a dozen or more times over, now having amassed over 5.7 million followers on the platform and 81 million "likes." With a massive online audience under her belt, Jax began sharing her own original music in late 2020 to an overwhelmingly positive response – ultimately leading to her singing with Atlantic Records for her forthcoming debut full-length album.
Kat Cunning
With a traffic-stopping voice and powerful presence, Kat Cunning adds soulful grace to anthemic alternative pop. An accomplished screen and stage talent, they appeared on Broadway as Emile in Les Liaison Dangereuses and in Cirque du Soleil in addition to acting alongside James Franco in HBO's hit The Deuce. 2019 saw Kat make their musical debut with fan favorite singles such as "King of Shadow," "Birds", and "For The Love." Not to mention, they supported LP on a sold out U.S. Tour and received praise from Nylon, Teen Vogue, New York Times, Earmilk, and more.
Kat currently stars in Netflix's Emmy award winning show "Trinkets," as Sabine, a musician and also love interest to lead actress, Brianna Hildebrand. Kat, who identifies as non-binary (they, their, them), recently signed to Lava Records and released their first single under the new deal, "Supernova (tigers blud)." The single arrived in tandem with the season two premiere of the show where Kat's character, Sabine, performs it in the opening scene. Next up, Kat will also be a principal in the upcoming Jennifer Lopez film, Marry Me.
TRACE
In 2016, TRACE brought her first project, the Low - EP, to life through a Kickstarter campaign. The 4-track piece earned her comparisons to the "west-coast cool of Lana Del Rey" and the "R&B-kissed rumination of James Blake," as well as over 20M streams and her first record deal.
In early 2018, TRACE made her Ultra Records debut with her single "Blood and Bones," followed by two more singles: "Side Eye" (which was featured on The Fader's fall list of "Best New Pop Songs") and "Anxiety." For the latter, TRACE partnered with the non-profit organization National Alliance on Mental Health (NAMI) to raise awareness on anxiety in the entertainment industry.
With over 55 million streams across her catalog, and press support from Refinery 29, Teen Vogue, NYLON, Forbes, HypeBeast, C-Heads Magazine, The Line of Best Fit and L'Officiel, TRACE feels she has only just begun creating a voice she hopes you keep coming back to.
Next, TRACE will be working on her next project independently. Until then, you can listen to her latest, the Like Hell EP.
Alicia Blue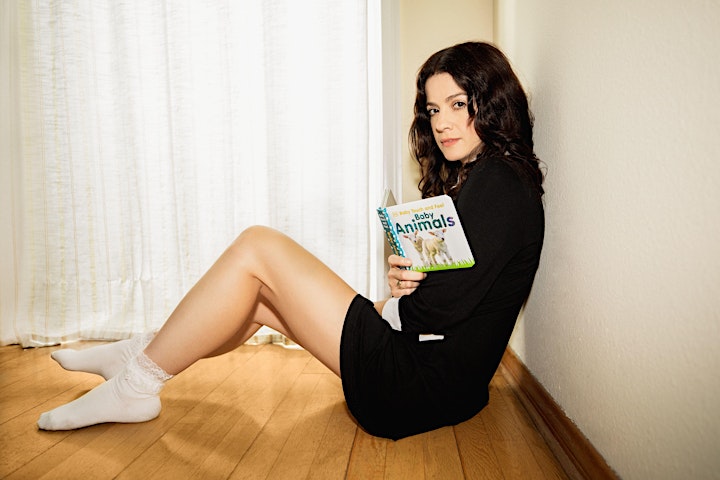 Southern California native, Alicia Blue, began her foray into music when she transitioned from writing poetry throughout college to setting her thoughts to song. Barely yet even able to play an instrument, she got her first guitar then and practiced from morning till night every day until the mechanics of playing and singing began to make sense to her.
Alicia had been introduced to soul music early on, but found her heart in the songs of artists like Joni Mitchell, Leonard Cohen, Bob Dylan and Neil Young. Through this lens she discovered the path to creating her own singular and modern sound, always using words and poetry as her driving force.
In 2019 Alicia Blue released her first EP and was near-immediately contacted by Starbucks to have her song "Magma" featured in stores worldwide via their Starbucks Acoustic playlist on Spotify. Garnering immediate attention as a songwriter and singer, Alicia quickly became a pivotal figure on the LA songwriting circuit. She's been featured in publications like Billboard and Atwood Magazine, as well as LA's legendary KCRW.
Alicia Blue's first full-length album, Bravebird, was released April 2020 (yes, in the middle of a global pandemic), securing spots on Spotify's influential Fresh Finds Pop and Fresh Finds Rock playlists and garnering a whole new round of buzz and attention. In January 2021, she was featured at the top of Atwood Magazine's "2021 Artists to Watch."
In fall 2021, Alicia recorded her new album in Nashville with producer Lincoln Parish. Her label and team are currently working on the set-up and release for 2022. Look out for much more coming!
KingQueen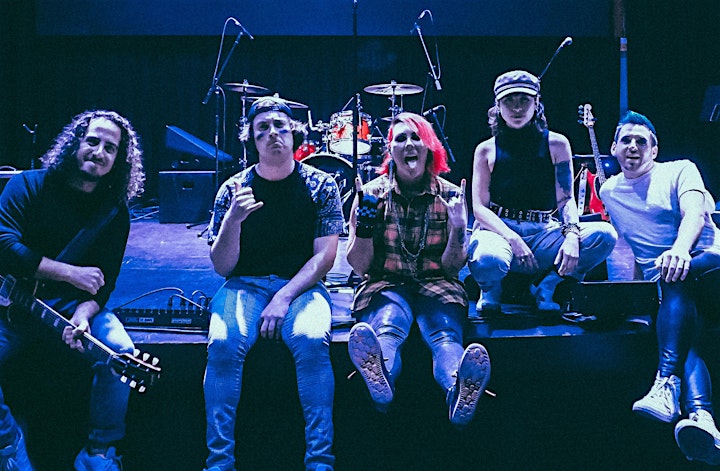 KingQueen is an LA based pop-rock band. The band was formed by Swedish lead singer Ina and has been seen on multiple platforms such as MTV, VH1, OutAt TV, Revry TV and American Music Awards.
In 2019, KQ released their EP "Get Loud" and music videos for both "Running In Water" and "One Day". "Running in Water" had it's premiere and screening at the 2019 QueerX film festival. KingQueen has had nominations for best pop at the LA Music awards, best pop song at HMMA Awards and won "music video of the year" at IndieNation Awards. KQ has performed at Avalon, Long Beach Pride Main Stage, Out Web Fest, The Viper Room, OC Fair, Boardners, DTLA Proud, Pershing Square main stage, Out At The Fair Tour, The Mint, LA Fashion Week, The Whisky a Go Go (opening for Rock band Royal Distortion, former Barb Wire Dolls), toured the US and more.
In the end of 2020 KQ released a music video for their single "Roller Coaster" which earned a nomination for 'Rock song of the year' at the 2021 Hollywood In Media Awards, 'Best Music Video' at the Munich Music Video Awards and won the 'Best Band' award at the International Music Video Underground awards in Paris.
KingQueen recently signed with Curtain Call Records and released their single "Live It Up" in April of 2021. The song had its radio debut on 95.5 KLOS Heidi and Frank Show and the music video came out in June. "Live It Up" was also nominated for Best Music Video at the QueerX Festival which took place in October.
KingQueen is currently recording their next EP which is expected to be released early 2022
Noah Vonne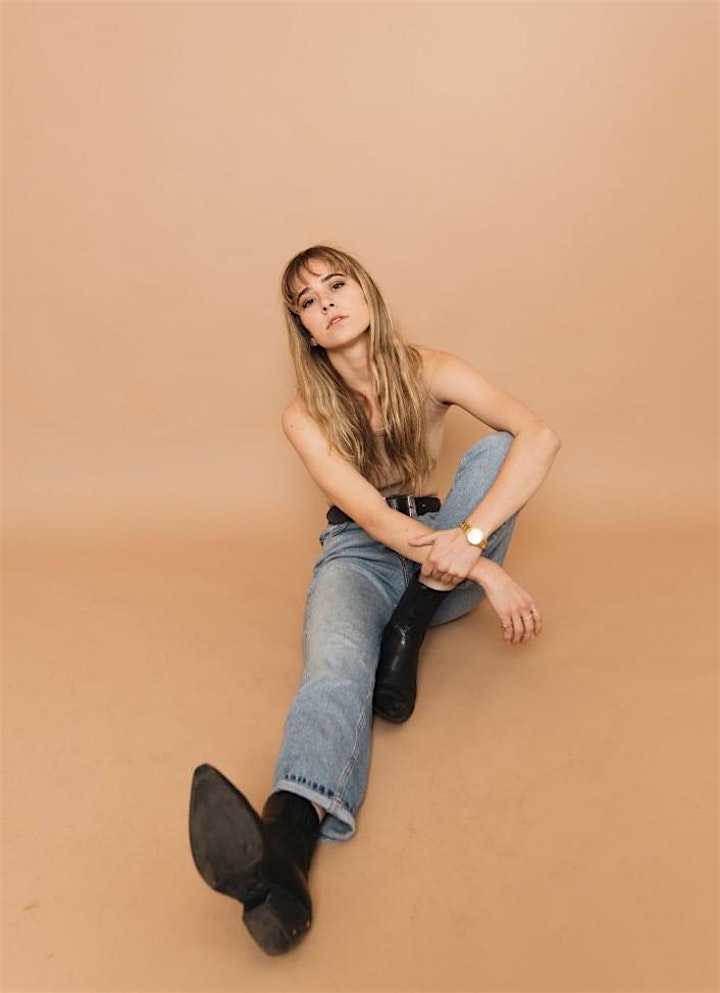 Raised in the musical heartland of Texas, Noah Vonne forged an original sound that blends elements of rock, soul, blues, and pop. From an early age, the New Braunfels native drew upon the likes of Janis Joplin, Sara Bareilles, Brandi Carlile, Alicia Keys, Joss Stone, Joan Jett and Ella Fitzgerald — each of these powerful women can be heard within the expressive ripples of Vonne's vocal delivery.
"My influences range quite a bit," she admits, "but I've always been drawn to female powerhouses. They carry so much kindness alongside their incredible talent."
In 2018, Vonne embarked on a journey across the world as lead singer of a group that performed three shows daily on Celebrity Cruise Line's newest ship, The Edge. After returning to the United States in 2019, she hit the ground running as direct support for Shawn James on the national The Dark & The Light Tour. Soon after, Vonne followed up with the release of two inventive singles, "LOVE MOVE" and "RnR", each released ahead of the Love Move EP in June 2020.
In October 2020, Vonne premiered the official music video for her critically acclaimed single "SUNSET INN". With the help of veteran producer Jimmy Messer, Noah is preparing for the debut of her first full length LP, written and produced in her new home of Southern California.
Meet our hosts!
Jess Bowen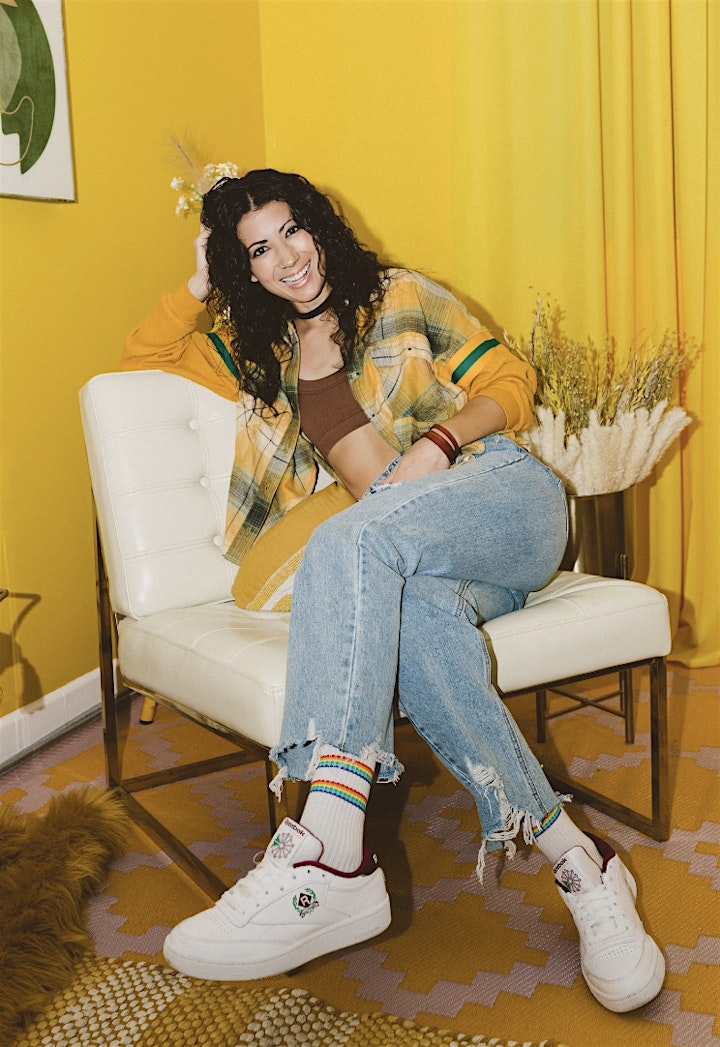 Jess Bowen is best known as the drummer of the The Summer Set, a pop-rock band she co-founded as a teen in Arizona in 2007. Having garnered a local following with their early work, the band was signed to their first record label as soon as the members graduated from high school, and they went on to gain a large international fan base throughout the rest of the ten years they played together. The Summer Set has several well-received albums under their belt, and have toured all around the world, including performances in the Macy's Thanksgiving Day Parade, iHeart Radio Music Festival, and several summer's on Warped tour. They have had multiple songs featured on radio and a variety of television shows on ABC and MTV. In August 2021, the band announced their reunion after a five year hiatus.
During the time apart from TSS, Jess continued as a touring drummer with artists such as 3OH!3, Alice Glass, Tessa Violet, The Ready Set, Only Child, and many others. She's also been featured in a national Pepsi commercial as the drummer for Charli XCX. She is known to audiences around the world for the energy she brings to the stage and the life her drumming infuses into the music.
Jess grew up in a drum-playing family following in the footsteps of her dad and older brother. Her major influences include drummers such as Travis Barker, Dave Grohl, and Shelia E. She is endorsed by DW drums, Sabian cymbals, Vater sticks and Remo percussion. When she's not drumming, you will most likely find her petting a puppy, doing crossfit, or making the best breakfast burrito you could ever dream of.
Most recently, you can catch Jess on Netflix's "Count Me In," a documentary that features some of rock's greatest drummers as they come together in an inspiring rhythmic journey about the power of human connection. Jess has established herself as a rising musician and one of the top role models for female drummers! We are honored to have her join us as co-host for this epic night!
Megan Holiday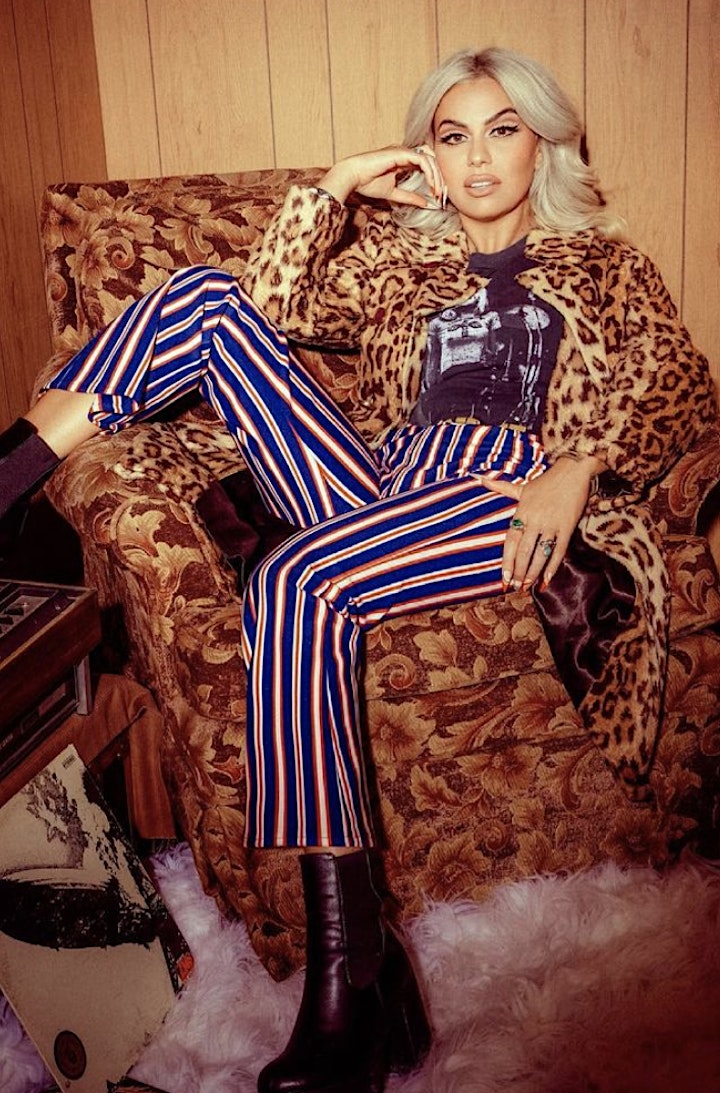 Megan Holiday has been obsessed with music for as long as she can remember and her record collection varies from Motown and The Beatles to Nirvana and Post Malone. She loved singing lessons and acting in musicals as a kid which later translated to emo hair and sweaty pop punk shows in high school. Megan always had a love affair with listening to radio and it was when she first attended a local radio summer concert in college that she realized she could harness that passion into a career. Just two years later, she made that dream a full-circle reality and began her first on-air gig. From the first moment Megan cracked the microphone she knew that broadcasting was her calling in life. It was the element of getting to connect with people that drew her in the most. After all of these years, her passion and love for radio grows stronger every day.
In addition to her on-air responsibilities, Megan has hosted live concerts and events. She's also interviewed globally recognized talents including Coldplay, Beck, Jack White, and Panic! at the Disco. She also expanded her skillset into podcasting with her "7 Words" podcast, where she discusses how guests like Emile Hirsch, Margaret Cho, Brandon Jenner, and more manifested their dreams into reality.
With many years of sobriety under her belt, Megan focuses on her recovery as a top priority and is an advocate for addiction and mental health awareness. She also loves spending time with her family and her dog Juno, being involved in community service, horseback riding, and attends as many concerts as humanly possible. Ultimately, Megan believes that if she has made one person smile, whether it's during their commute or at an event, she has done her job.
Thank you for your support!
Can't make it to the show but still want to donate or learn more about Fan Girl Cafe's mission? No problem! Check out our IFUNDWOMEN account page https://ifundwomen.com/projects/fan-girl-cafe and follow our IG @fangirlcafeweho for updates and future events!
Not able to donate? Spreading the word helps too! Follow, like, and share!! We thank you in advance and can't wait to Fan Girl out together in our future home soon!
Much love ,
From FG Cafe's friendly, queer, music obsessed partners, Betsy and Cynthia Martinez
We can't wait to connect with you all! XoXo
(peep our concept sketch below- *neither of us are designers so no judgement)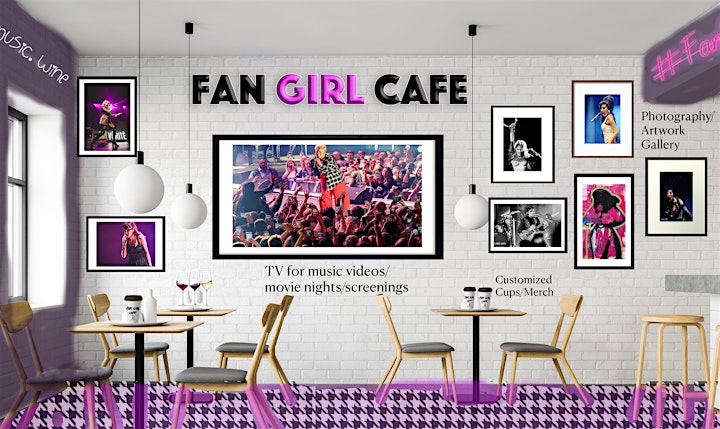 Organizer of Fan Girl Cafe Presents: Jax, Kat Cunning, TRACE, Alicia Blue, and more!