Multiple Dates
Famous Food Truck Market - Smith Haven Mall - Long Island, NY
Food Truck Market @ Smith Haven Mall OCT 1st - NOV 7th (Friday - Sundays) LONG ISLAND, NY
About this event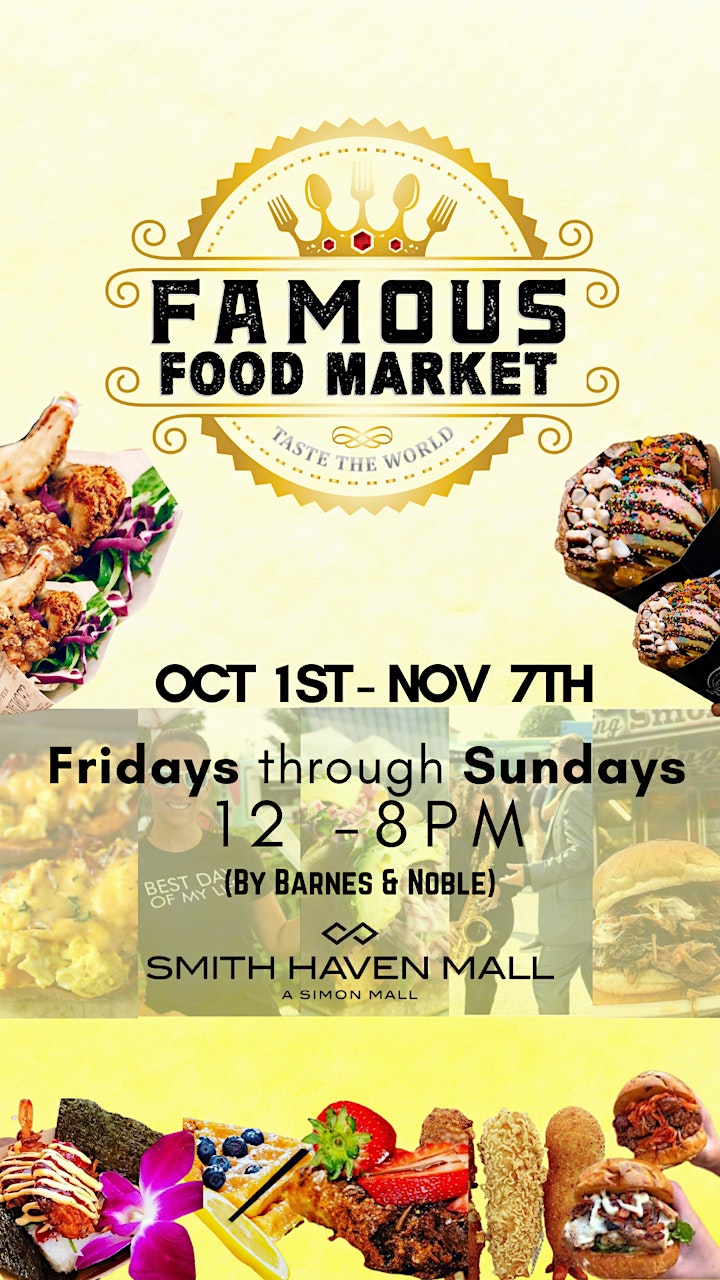 Coming to Smith Haven Mall October 1st - Nov 7th (Fridays, Saturdays, and Sundays) every Famous Food Festival will be hosting an outdoor Food Truck Market at the Smith Haven Mall in Long Island, NY. The food truck market will include 8+ delicious food trucks and family fun. All while being at one of the greatest shopping malls on Long Island. All Food trucks encompass different cultures of food that provide a wide variety of tastes and dietary restrictions.
The market is free to enter! Grab your reservation tickets here to avoid waiting on lines!
Online, Contact-less ordering available.
Offering a no wait on line, contact-less option. Get the text when your orders ready. All for $1.
MESSAGE FROM THE ORGANIZERS
Food Truck Market 2 returns, this year to Smith Haven Mall
With Farmers markets being one of the top things to do as we recover from Covid-19 pandemic, we thought there was no better way to serve our local community and the businesses that serve this area.
WHEN?
Every FRIDAYs to SUNDAYs ,12 pm - 8 pm
October 1st - November 7th
WHERE?
Smith Haven Mall
313 Smith Haven Mall Lake Grove, NY 11755
▇ Market Sponsors ▇
King O'Rourke Automotive Group
Leaf Filter Gutter Protection
What the Truck
Springbrook Hollow Farm Distillery
Alpha Axe Throwing
NY Party Works
Athletic Brewing (Non Alcoholic Beer)
Stargazer Sound
Men on the Move
Chameleon Cold Brew
Mobile Man Cave
**If you order food through www.whatthetruk.com, you receive a FREE Non Alcoholic Beer on site sponsored by Athletic Brewing! Redeem at the Front Entrance Tent. (2 Flavors to choose from, while supplies Last)**
▇ Vendors Week 1+2 ▇ (10/1- 10/3 + 10/8-10/10)
(Vendors Weeks 3-4 to be released after week 1)
Anda Cafe - The best Bubble Tea in the business.
Bubbles n Bowls - Healthy Smoothies and Delicious Bowls
Crepes and Bakes Truck - Authentic Sweet and savory crepes and gourmet coffees - Sunday only
Desi Food Truck - Authentic Indian Kati Rolls, Pav Bhaji "The Gamechanger"
Dobler Farms - Roasted Corn, Watermelon Sugar
Eat Me Drink Me - Artisanal Gourmet Menu
Emily's Apple Puffs - Zeppoles, Apple Puffs, Funnel Cakes, Fried Oreos, Fried Pop Tarts, Fried Twinkies, and Fried Rainbow Cookies
G & L Gyros - Gyro, Chicken Pita, Shish Kebab
Golden Jalapenos - Tacos, Burritos, Salads, Quesadillas
Goodway Bakery - Award-Winning Rum Cakes
Iron Mobile Chef - Burgers, Sausage + Peppers + More.
Island Spice Grill - Jerk Chicken, Jerk Pork, Slow Braised Oxtail, Coconut Rice & Peas and Vegan options
Josuha's Craft Services - Mexican Taco and Custom Creations - Friday, Saturday & Sunday
Kabayan Grill - Filipino Cuisine & Dishes
Katie's Food Truck - Mac N Cheese in a Cone, Lobster Mac N Cheese
Knot of this World - Gourmet Pretzels
La Bella Torte - Brooklyn American Classic Sandwiches
La Braza - Elote, Mozzarepas, Empanadas
La Sous Cuisine - Authentic Haitian fusion cuisine
Mighti Healthi - Raw, Seamoss, Juices, Gels
Mister Softee - Your old fashioned Ice Cream Favorite.
Nao's Caribbean - NAO'S Caribbean Flavor is the only Haitian food truck in the tri state area. Tasty fried pork with plantain and a one of a kind Haitian patties.
Parlo Kitchen - Curry Chicken, Curry Pork, Roti
Plizza - Plant based Vegan Gluten Free Pizzas
Rolling Smoke Grill - Wood Fired BBQ
SD Sauce - Thai Hot Sauce + Specials
Spoonable Spirits - Boozy Pudding Shots
Tacos El Guerro - Assorted Spanish Cuisine + the Homemade Tacos
The Big Black Food Truck - Pulled Pork Grilled Cheese, Peanut Butter Bacon Burger, Da Burger, Crab and Avocado Toast
The Cone Depot - Chicken and Waffle in a cone.
The Main Lobster - Lobster Roll - Connecticut, Maine, Buffalo Style
The Steak Truck - The best steak sandwiches in the business.
The Waffle Chic - Chicken Shrimp Belgian waffles, Desert Bubble waffles with ice cream we will also have vegan options - Saturday & Sunday
Yanis Food Sensation - Soul Food Classics
**Vendors may not be available every day of the Market.
Full 6-week market is OCT 1st - NOV 7th : Every Fridays to Sundays from 12 - 8 pm. Come by the market and enjoy some food on Long Island Outdoors.
FREE TO ENTER!
Smith Haven Mall (By Barnes & Noble)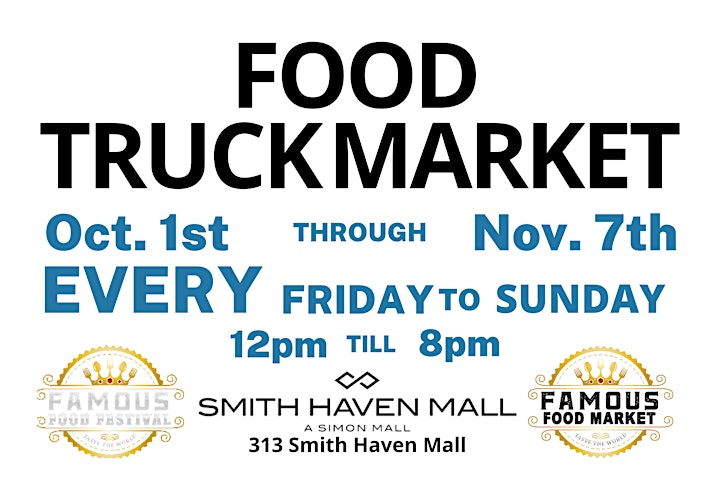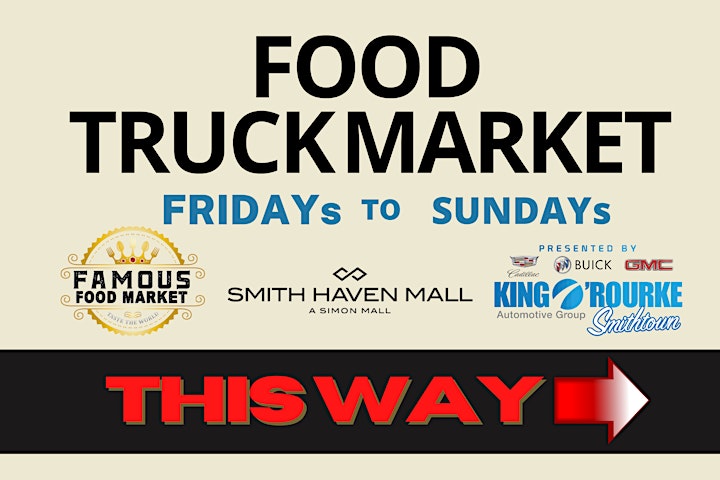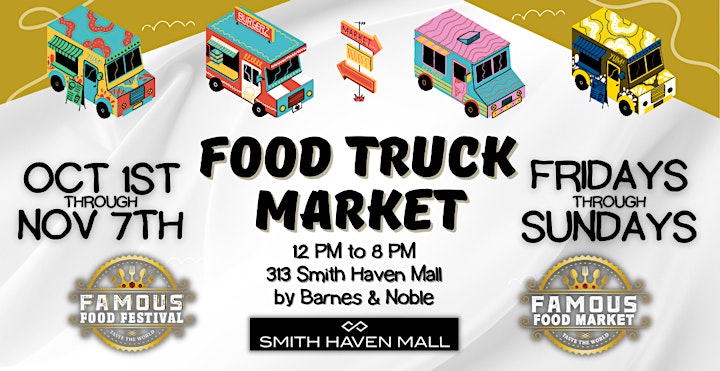 Organizer of Famous Food Truck Market - Smith Haven Mall - Long Island, NY
The Famous Food Festival brings to you new and well known foods from all over the world created by new-to-the-scene and experienced chefs who are thrilled to showcase their creative, mouth-watering works of culinary art to the local community.
 Now in our 4th year with Tanger Outlets, we're really looking to deliver a festival unlike anything people have experienced. With SO many things to do for the whole family as well as all the unique and delicious cuisines, this event has become a hot commodity on Long Island! People from all throughout the greater NY area and throughout the country come all the way to the famous food festival to an over-the-top modern food and entertainment experience