Multiple Dates
Famous Food Truck Market 2020 (6-week Limited Series) - Long Island, NY
Food Truck Outdoor Market (Limited Series). Come try some of the best food trucks and have some fun at the Walt Whitman Mall Shops!
About this event
Starting September 24th Famous Food Festival will be hosting an outdoor Food Truck Market every Thursday, Friday, Saturday and Sunday at the Walt Whitman Shops in Long Island, NY. The food truck market will include 8+ delicious food trucks, all encompassing different cultures of food that provide a wide variety of tastes and dietary restrictions.
Tickets are free to enter! Grab your reservation tickets here to avoid waiting on lines!
SHOW that you've ordered online from www.foodtruck.pub to receive a free cold Non-Alcoholic Beer Provided by Athletic Brewing come try them Non Alcoholic IPA and Golden Flavors!
Huge thank you to FoodTruck.pub for supporting local businesses coming through for all our vendors offering a no wait on line and contactless option.
MESSAGE FROM THE ORGANIZERS
What a 2020 it has been.
We decided the best method to keep all of our fans happy while supporting the local community is to host an outdoor Food Truck Market.
With Farmers markets being one of the top things to do as we recover from Covid-19 pandemic, we thought there was no better way to serve our local community and the businesses that serve this area.
WHEN?
Every Thursdays to Sundays 12 pm - 7 pm
September 24th Through November 1st
WHERE?
Walt Whitman Shops
160 Walt Whitman Rd. Huntington Station, NY
▇ Market Sponsors ▇
Springbrook Hollow Farm Distillery
Newsday
On the Marc Training
Athletic Brewing (Non Alcoholic Beer)
T-Mobile
David Lerner Associates
Colored Colors
Stargazer Sound
Men on the Move
WBAB 102.3
106.1 WBLI
Chameleon Cold Brew
Mobile Man Cave
**If you order food through www.foodtruck.pub, you receive a FREE Non Alcoholic Beer on site sponsored by Athletic Brewing! Redeem at the Front Entrance Tent. (2 Flavors to choose from, while supplies Last)**
▇ Vendors Week 6 ▇ (10/29 - 11/1)
Anda Cafe - Bubble Tea - Saturday & Sunday
Aunt Toni's Crumb Cake - Crumb Cake, Crumb Muffins - Sunday only
Cousin's Maine Lobster - Lobster Roll, Lobster Grilled Cheese, Lobster Tots, Lobster Bisque Soup - Sunday only
Crepes and Bakes Truck - Authentic Sweet and savory crepes and gourmet coffees - Sunday only
Eat Me Drink Me - Artisanal Gourmet Menu - Friday & Sunday
Emily's Apple Puffs - Zeppoles, Apple Puffs, Funnel Cakes, Fried Oreos, Fried Pop Tarts, Fried Twinkies, and Fried Rainbow Cookies - Friday, Saturday & Sunday
Exotic Snacks - Assorted snack items found around the world - Saturday & Sunday
G & L Gyros - Gyro, Chicken Pita, Shish Kebab - Friday, Saturday & Sunday
Golden Jalepenos - Tacos, Burritos, Salads, Quesadillas - Friday, Saturday & Sunday
Goodway Bakery - Rum Cakes - Friday, Saturday & Sunday
Island Spice Grill- Jerk Chicken, Jerk Pork, Slow Braised Oxtail, Coconut Rice & Peas and Vegan options - Friday, Saturday & Sunday
Josuha's Craft Services - Custom Creations - Friday, Saturday & Sunday
Kabayan Grill - Filipino Cuisine - Saturday & Sunday
Katie's Food Truck - Mac N Cheese in a Cone, Lobster Mac N Cheese - Friday only
Knot of this World - Gourmet Pretzels - Friday, Saturday & Sunday
Mighti Healthi - Raw, Seamoss, Juices, Gels - Thursday, Friday, Saturday & Sunday
Mr. Peppers - Assorted Hot Sauces - Friday, Saturday & Sunday
Parlo Kitchen - Curry Chicken, Curry Pork, Roti - Friday only
Sam's Fried Ice Cream - Fried ice cream (5 different flavor) - Friday, Saturday & Sunday
Spoonable Spirits - Boozy Pudding - Saturday & Sunday
Tacos El Guerro - Assorted Spanish Cuisine - Saturday & Sunday
The Big Black Food Truck - Pulled Pork Grilled Cheese, Peanut Butter Bacon Burger, Da Burger, Crab and Avocado Toast, Vegetable Tacos - Friday & Sunday only
The Waffle Chic - Chicken Shrimp Belgian waffles, Desert Bubble waffles with ice cream we will also have vegan options - Saturday & Sunday
Three Little Pigs BBQ - Cheesesteaks, Hamburgers, Chicken Fingers & Fries, Mozzarella Stick, Pickle Chips - Friday, Saturday & Sunday
Twisted Potato - Deep Fried Spiral Potato with special seasonings - Saturday & Sunday
Van's Potato Salad - Gourmet Potato Salad - Saturday Only
Antonia's Promise - Custom Jewelry - Sunday
Chipwip - Novelty toys - Saturday & Sunday
Dreaming in Yellow - Custom Hand Painted Denim Items - Saturday only
LI Candle Company - 100% Natural Soy Candles - Sunday only
Mikaylas-Creations - Custom Hair Accessories - Sunday Only
The Green Walnut - Custom Wooden LED lit Christmas Tree decorations - Saturday only.
**Vendors may not be available every day of the Market.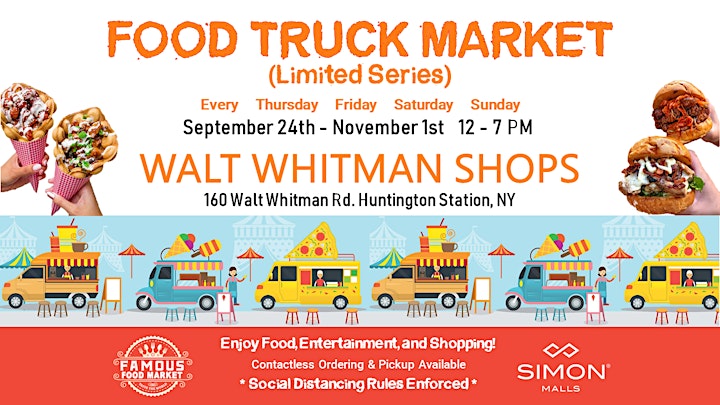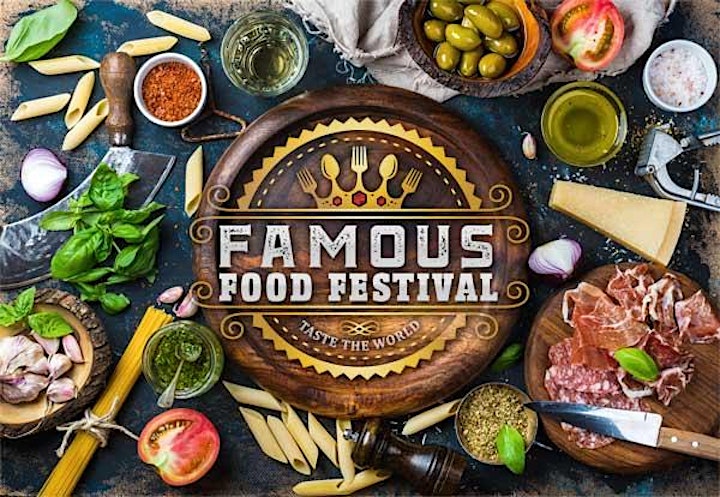 Organizer of Famous Food Truck Market 2020 (6-week Limited Series) - Long Island, NY
The Famous Food Festival brings to you new and well known foods from all over the world created by new-to-the-scene and experienced chefs who are thrilled to showcase their creative, mouth-watering works of culinary art to the local community.
 Now in our 4th year with Tanger Outlets, we're really looking to deliver a festival unlike anything people have experienced. With SO many things to do for the whole family as well as all the unique and delicious cuisines, this event has become a hot commodity on Long Island! People from all throughout the greater NY area and throughout the country come all the way to the famous food festival to an over-the-top modern food and entertainment experience