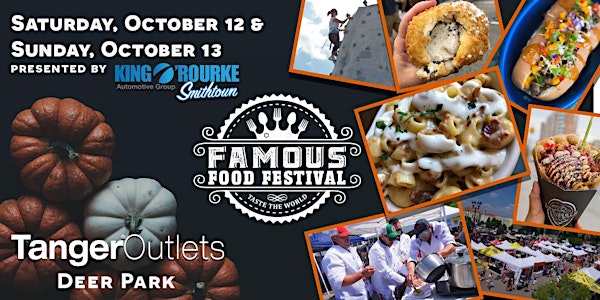 Famous Food Festival "Taste the World" October 12 + 13th @ Tanger Outlets i...
Location
Tanger Outlets - Deer Park
152 The Arches Circle
Deer Park, NY 11729
United States
Refund policy
Refunds up to 7 days before event
Description
Famous Food Festival - October 2019
On Saturday and Sunday, October 12th & 13th, The Famous Food Festival Returns for it's final 2019 event at Deer Park Tanger Outlets! Don't miss the largest and most amazing food festival of the year!
Enjoy a weekend of uniquely delicious cuisines from around the world and fabulous entertainment for all!
There will be a wide range of entertaining activities to enjoy for all ages - kids, teens, adults - the whole family! The festival is about bringing the local community together, to enjoy lots of different cultural foods & have tons of fun.
▄▄▄▄▄▄▄▄▄▄▄▄▄▄▄▄▄▄▄▄▄▄▄▄
October 12th & 13th (10-7pm) @ Tanger Outlets (Deer Park)
NEW Event Features
- "Battle of the Badges" Championship Round! Saturday, 10/12, 2-4pm, SCPD 3rd Precinct VS. Riverhead Fire Department - Grand Prize Donation: $4000. 2nd place: $1000
- Guest Chef Demonstration (2 pm Sunday, 10/13)
- FREE Super Smash Bros' Nintendo Video Game Tournament (by Aon Gaming & Gfuel) Saturday & Sunday @ 11 AM (Must Pre-Register). Grand Prize - 1 Year Free Supply of Gfuel!
- Apt 84 Tour Bus (must experience)
- Cornhole + other Big Lawn Games
- Money Cube Thriller - fun prizes
▇
OTHER FESTIVAL FEATURES
▇
+ Over 60 Cultural Food Vendors
+ Live Music
+ Beer and Wine Garden
+ 250' Zip Line, Rock Wall, and Virtual Reality (by NY Party Works)
+ VIP Lounge
+ Car Display by King O'Rourke
+ Butterfly Exhibit
+ Kids Section
+ Artists Tent
+ Gem Mining
+ Red Carpet Photo Booths
+ Free Beverage Samplings
+ Prizes, Raffles, Much More!
▄▄▄▄▄▄▄▄▄▄▄▄▄▄▄▄▄▄▄▄▄▄▄▄
This all-ages fun for the whole family event is only $5 to attend each day! Children 10 and under are FREE. Taking Place at the Tanger Outlets in Deer Park, NY. (Southeast Parking Lot, opposite Regal)

Tickets are selling really fast. Guarantee yours today! https://famousfoodfestival2019.eventbrite.com/

Pre-Register for the Free Video Game Tournament - Starts 11am each day - https://www.eventbrite.com/e/super-smash-bros-video-game-tournament-famous-food-festival-free-tickets-73302867851
▄▄▄▄▄▄▄▄▄▄▄▄▄▄▄▄▄▄▄▄▄▄▄▄

▇ VENDORS ▇

1958 On The Road
AJ's Grilled Cheese Shop
All American Wontons
Anda Cafe
Bang Cookies
Bona Bona Ice Cream
Blossom Water
Bubbles and Bowls
Build a Sandwich
Caribbean Street Eats
CBao
Campfire Cookies
Cckoul Caterers
Chiflez
Cousins Maine Lobster
Crazy Crepe Cafe
Emily's Apple Puffs
Farm To Truck LI
Get Fried
Green Street Food Truck
Goodway Bakery
Grilled to Perfection
G&L Gyro Concessions
Henna by Ekhata
I Heart Mac and Cheese
Island Spice Grill
Jeff's Kettle Corn
Joanie Baloney Face Painting
Katie's Mac n Cheese Truck
Karl's Balls
Knot of this World Pretzels
Kona Ice of LI
La'Maoli
Little Porky's Marinade
LI Famous Foods
Long Island Eatery
Maracas Southwest Grill
Massage Therapy Rachel
Mavis Foods
Meatoss
Meats Meat
Meltology
Memphis Seoul
Moo La La
Nachos Libre
NY Strip Catering
Renegade Vegan
Right Coast Taqueria
Roadhouse Empanadas
Roasted Masala
Sams Fried Ice Cream
San Antonio's Pizza
T's Chicken and Fish
Tasty Grill Catering
Tanur
The Cookies Only Vegan Co
The Happy Pig
The Perfect Pickle
Theresa Fernand Psychic
Toum Food Truck
Twisted Potato
Twizzles Tasty Treats
Uncle Jimmy's Cheesecakes
Wowfulls
Chef Jimmy Viscious Creole
▄▄▄▄▄▄▄▄▄▄▄▄▄▄▄▄▄▄▄▄▄▄▄▄
▇ ENTERTAINMENT ▇
• • Saturday October 12th • •
4 Shades of Grey - 10am - 12pm
Penny Lane (Beatles Tribute Band) - 12pm - 2pm

"Battle of the Badges" - Final Round - S.C.P.D. 3rd Precinct vs. Riverhead F.D. - 2pm - 4pm

Over the Garden Wall - 4pm - 5pm
Killin Time - 5pm -7pm

* * Sunday October 13th * *
Radio Play NY - 10am - 12pm
Mean Machine - 12pm - 2pm
Chef Demonstration 2pm - 3pm
Panic - 3pm - 5pm

Island Exclusive - 5pm - 7pm
▄▄▄▄▄▄▄▄▄▄▄▄▄▄▄▄▄▄▄▄▄▄▄▄
▇ SPONSORS ▇

This Year's Presenting Sponsor is King O'Rourke Buick GMC : Visit their website at https://www.famousfoodfestival.com/kor

AARP
Columbia Care NY
Castello Cheese
Dogfish Head Brewery
Essentia Water
GFuel Energy
Hubert's Lemonade
Jovia
KeVita
LeafFilter Gutter Protection
MTA - LIRR
Newsday
Newsday FeedMe
New York Life Insurance Company
NY Party Works
Pekant Tea
Power Home Remodeling
Renewal by Andersen of Long Island
Safeguard Roofing Siding & Windows
Signature Real Estate
Simplay NY
Stop & Shop
The Six Juice Company
Wild Bill's Soda
ZICO Coconut Water
The Bullion Foundation
▄▄▄▄▄▄▄▄▄▄▄▄▄▄▄▄▄▄▄▄▄▄▄▄

▇ PARTNERS ▇

Tanger Outlets • Connoisseur Media Long Island • 94.3 The SHARK • WALK 97.5 • 103.1 MAX FM • KJOY 98.3 • The Grindhouse Radio • LongIsland.com • News 12 Long Island • Eventbrite • Colored Colors • U.S. Army • Race Has No Place •

▄▄▄▄▄▄▄▄▄▄▄▄▄▄▄▄▄▄▄▄▄▄▄▄

▇ ABOUT THE FAMOUS FOOD FESTIVAL ▇

Can you think of a more enticing expression of culture than food? Welcome to the ultimate culmination of Culinary Arts in the Food Festival Industry! Our Community Food Festival event production company consciously focuses on creating a distinctive food festival experience through delivering the opportunity to taste the world and blend together all of the most delectable and flavorsome ingredients stemming from a myriad of different cultures and food.

▄▄▄▄▄▄▄▄▄▄▄▄▄▄▄▄▄▄▄▄▄▄▄▄

▇ LOCATION ▇

Tanger Outlets, Deer Park
(In the SouthEast Parking Lot)

152 The Arches Cir
Deer Park, New York 11729
www.tangeroutlet.com/deerpark/

▄▄▄▄▄▄▄▄▄▄▄▄▄▄▄▄▄▄▄▄▄▄▄▄

▇ TICKETS ▇

This is an All Ages Family Friendly Experience, children under 10 get in for free!

Online Tickets are $5 for One Day, $9 for Both Days @
https://FamousFoodFestival2019.eventbrite.com

Tickets will be available for $8 at the door.

▄▄▄▄▄▄▄▄▄▄▄▄▄▄▄▄▄▄▄▄▄▄▄▄

▇ GETTING THERE ▇

++ Public Transit ++

Tanger Outlets, Deer Park is conveniently located a short distance from the Deer Park LIRR Train Station. Purchase the Tanger Deer Park package at open ticket offices and ticket machines (gray or blue). The package includes rail fare to Deer Park station, where you can board the Tanger Outlet Shuttle for a short ride to the center.

Visit http://mta.info/lirr/getaways/LongIsland/TangerDeerPark.htm for package and train information

++ Driving ++

For driving directions visit https://goo.gl/VYfWpD

▄▄▄▄▄▄▄▄▄▄▄▄▄▄▄▄▄▄▄▄▄▄▄▄

▇ OFFICIAL FAMOUS LINKS ▇

Website : www.FamousFoodFestival.com
Facebook : www.facebook.com/famousfoodfestival/
Instagram : www.instagram.com/famousfoodfestival/
Vending Info : www.famousfoodfestival.com/vendor/#beavendor
Sponsor Info :: www.famousfoodfestival.com/sponsors/#beasponsor

FAQs
What does my GA ticket get me?
Access to all the food vendors and the wide range of festival activities we have going on throughout the event. Please see our Special Features up top to see all the elements that are included within the festival grounds. This gives you the opportunity to try what you like.

What is available Free On-Site?
Essentia Water, Tastings from Huberts Lemondade, Kevita Kombucha, Zico Coconut Water, Sparkling Ice, Pekant Tea, Gfuel
- Live Music / Chef Demonstrations
-Video Game Tournament (starts at 11 Am each day) Must Pre-Register at "Free Super Smash Bros' Nintendo Tournament with Prizes. Grand Prize - 1 year Free Gfuel
- Butterfly Exhibit
- Beer and Wine Garden
- Local Artists Tent
- Bathrooms
- Can leave and come back, all day! You can go into the rest of the outlets and come back into the festival as you wish!
Are there ID or minimum age requirements to enter the event?
All Ages to attend. 21+ for the beer and wine garden. Kids 10 and under are free to enter.
What are my transportation/parking options for getting to and from the event?
Long Island Railroad LIRR Deer Park Stop Free Shuttle every half hour to Tanger at the east end of the north platform, up to 1/2 hour before store opening and after store closing times.
What can I bring into the event?
All bags all allowed and subject to search. We work with local enforcement to ensure the safest event possible.
How can I contact the organizer with any questions?
info@famousfoodfestival.com and someone will get right back to you, thank you in advance for reaching out!
What's the refund policy?
Up to 7 days before event!
Do I have to bring my printed ticket to the event?
Printed or on the phone. Through the eventbrite app you'll find your tickets or your email you entered in when you bought the tickets you have that email open on the barcode to scan and thats it! The printout version also has a barcade that can also be scanned in addition to the phone option.
Is my registration fee or ticket transferrable?
Yes. Your ticket will be scanned on the phone. Tickets are sent by Email and on the Eventbrite app.
Is it ok if the name on my ticket or registration doesn't match the person who attends?
Yes. A ticket is a ticket. All tickets that have been scanned in cannot be reused. If you bought a 2-day ticket, you will need to show the same ticket you showed on the first day.