Famous Food Festival "Taste the World" Long Island Returns To Tanger Outlets (Deer Park, NY) this Labor Day Weekend | Sep 3rd - 6th, 2021
About this event
FAMOUS FOOD FESTIVAL RETURNS THIS LABOR DAY WEEKEND!
Welcome back everyone we invite you to come 'Taste The World' with delicious food inspirations from countries represented from all around the world. Featuring Over 60 Food Vendors, be prepared to taste some of the best New York, Tri-State, and home of Long Island has to offer.
Our focus is to bring Long Island a festival they can be proud of. One that's filled with unique eats that few have ever tried before on top of fun things to do for the whole family to enjoy.
Whether it's the Live Music and seating section, our Beer and Wine Lounge, Cooking Demos, Local Artists Gallery, Vampire Escape Room, Alpha Axe Throwing, Mobile Man Cave Tailgating Experience, and Kids Section, there truly is something for everyone. Because Long Island New York deserves a famous festival.
This all-ages fun for the whole family event is only $7 (Online) to attend each day and discounted for multiple day entry! See all the ticketing options 1, 2, or all 4 days! Tickets at the Door (1 day) Will be available day for $12 per person.
Children Ages 8-12 Only $5, Children 7 and under free. Guarantee your ticket today!*
COVID-19 SAFETY PLEDGE** Famous Food Festival is fully dedicated to providing consumers with enhanced health and safety measures. All CDC Guidelines shall be implemented and adhered to.
Masks are encouraged to wear when not eating, but no prior test is needed to enter the grounds.
*Limited Availability
**Covid19 Safety Protection plan is in place and in communication with local town and state organizations.
Famous Food Festival 2021 is Proudly Sponsored by King O'Rourke Buick GMC
Event Times
September 4th (Saturday) : 11am - 8pm
September 5th (Sunday) : 11am - 8pm
September 6th (Labor Day Monday) : 11am - 8pm
What should you expect to see at Famous Food Festival?
▇ SPECIAL FEATURES ▇
+ 60+ Food Vendors
+ Tastes from Around the World!
+ Live Music All Day
+ Palm Tree Beer and Wine Garden
+ Virtual Reality (NY Party Works)
+ Rockwall (NY Party Works)
+ Alpha Axe Throwing (Alpha Axes)
+ 9-Hole Mini Golf (Redmax Events)
+ The Mobile Man Cave "Ultimate Tailgating Experience"
+ The Art Bazaar (@Colored.Colors)
+ Kids Section with Face Painting, Henna, Stuffed Animals,
+ Red Carpet Photo Booth Opportunities with Fun Backdrops
+ Psychic readings offered on Site
+ King O'Rourke Car Displays
+ 360 Photo Booth
+ Florida Palm Trees
▇ Food Vendors 2021 ▇ (as of 7/30/21)
Anda Cafe - New and unique ideas to the traditional bubble tea menu: Bubble milk tea, Jasmine green tea, Thai mill tea, Taro Milk Tea w/ Tapioca
Baked in Color - The happiest cookies on earth! Rainbow chocolate chip cookie treats, cookies and brownies
Bang Cookies - Giant, Soft Baked, Organic & Natural Cookie: Sea Salt Chocolate Chunk, Triple Chocolate Chunk, Peanut Butter Chocolate Chunk
Bona Bona Ice Cream - Ice Cream with Flamed Meringue on top. Vegan options
The Big Black Food Truck - A menu that will overwhelm your every sense: Da Burger, Pulled Pork Grilled Cheese and the Chicken and Waffles
Build a Sandwich - Burgers Done Better! Pulled Pork (Mother Load, Porky Mountain Fries, Nacho Explosion with Pork, Loaded Kinish, Gourmet Burgers, Hot Dogs, and Chicken Sandwiches
Caribbean Street Eats - One of the Caribbean's most beloved street foods, Fried Shark Sandwich, homemade Tropical Drinks and Cheese Steak Pretzel Braid
Clubdog - Korean corndog that's currently popular in the streets of Korea: Original Kdog, Potato dog, Cheese dog
Crepes and Bakes Truck - Sweet and Savory Crepes that will melt in your mouth.
#DeepFriedWatermelon - Deep fried watermelon from Tennessee cooked as a Filipino street food topped with grandma's homemade vanilla icing.
Desi Food Truck - Authentic Indian Kati Rolls + More. Vegan Options
Emily's Apple Puffs - Hot fresh tasty donuts as well as Zeppoles, Apple Puffs, Funnel Cakes, Fried Oreos, Fried Pop Tarts, Fried Twinkies, and Fried Rainbow Cookies
Empire BBQ NYC - Offering a delicious selection of meats that tastes just as good as it smells: Smoked Brisket sandwich/platter, Apple wood smoked Pork Shoulder and Crispy Chicken sandwich
Fried Lasagna Mama - Hand crafted fried lasagna that you can eat on the go - "The Original" "The Veg" "Mex Flex"
G & L Gyros - Gyro Grill offers the best Greek and Mediterranean flavors you will find anywhere. Gyro, Chicken Pita and Shish Kebab
Goodway Bakery - Your taste buds will savor the flavor of pure Madagascar bourbon vanilla, grade A butter (not the flavoring!)real Bacardi Rum. Caribbean Rum Cake, Coconut Butter Rum, and Black Rum Cake
Grilled to Perfection - Grilled Steak cooked with our special spices , Grilled Shrimp drenched in garlic butter, Grilled Chicken with our signature spices, and Fresh Lemonade, one lemon in every cup.
HangryDog - A new twist to your old corndog recipe. Corndog with just hotdog, one with stretchy cheese, and a combination of both. The stretchy cheese and a combo also have an option of regular bread crumb, potato or sweet potato bits
Iron Mobile Chef - Philly Cheese, Sausage + Peppers, Burgers
Island Spice Grill - Delicious authentic Caribbean Cuisine: Jerk Chicken, Rice and Peas, Jerk Pork, Oxtail and Curry Chicken
Jamaican Me Happy - Jamaican Jerk BBQ Chicken, Rice and peas, Jerk chicken sandwiches
Kabayan Grill - Lumpiang Shanghai (Filipino Eggrolls), BBQ (Filipino BBQ Chicken or Pork), Grilled Pork Belly, Deep Fried Pork Belly.
Knot of This World Pretzels - Our hand twisted Pretzels all have one-of-a-kind characteristics just like homemade. Old New York, Pretzel Braid, Stuffed flavors
La Braza - Latin Fusion Cuisines: Meat Skewers, Empanadas, and Arepa with Cheese.Ecuadorian
La' Maoli - Antiguan & Barbudan Food Codfish Balls w Mango Sauce, Coconut Rice & Mango Jerk Chicken/Pork Bowls, Coconut Bread Pudding w Caramel Rum Sauce, Rum Cake, Ultimate Seafood Rasta Pasta, Tamarind Drink, Passion Fruit and Ginger Beer
La Sous Cuisine - Authentic Haitian fusion cuisine: Black rice,Griot (Fried pork) and Fried Red Snapper
Mattitaco - Our goal is to bring fresh, authentic flavors from our farms to your taco: Bang Bang Shrimp Taco, Al Pastor Taco, Farm to Taco
Meats Meat - Barbeque done right. No corners are cut in the making of our food: Pulled pork sandwiches, sausage, ribs, wings, fries, mac n cheese and baked beans
Memphis Seoul - Southern " COOKIN' with a Korean Kick! buns, rice bowls, sandwiches Korean BBQ Meatloaf and vegetarian "pulled pork" (jackfruit) and the vegan platter. Saturday & Sunday Only
Mighti Healthi Seamoss - Natural products from the Caribbean oceans: Seamoss Gel, Dry Seamoss and Seamoss Drink
Mister Softee - Ice Cream brings back childhood memories and hearing the chime of the ice cream truck driving by. Vanilla chocolate cones, cups, waffle cones, milkshakes and sundaes
Nao's Caribbean Flavors - The beauty of Haïti through its food. Fried Pork with Plantain, Haitian Patties, Fried Chicken, Haitian Lemonade, Black rice and the Griyo crunch
The Perfect Pickle - A small, locally owned business providing gourmet pickles: Pickle on a stick, pickles & olives pints and quarts
Parlo Kitchen - Caribbean Jerk Chicken, Oxtail, Curry Chicken, Roti + More!
Plizza - Plant Based Vegan Pizzas
Quiaufa's Kitchen - Vegan Soul Food: traditional dishes we grew up eating transformed into vegan meals - Vegan Rib Sandwich, Vegan Fried Oyster Mushroom sandwich and Vegan Mac and cheese
The Roadside Grill - The Ancient Roots of Greece: Chicken or Lamb Gyro/Platter, Fresh Chopped Salads (Southwestern & Harvest Salad), Classic Chicken or Pork Souvlaki
Sam's Fried Ice Cream - Out of the freezer and into the fryer. We give you the best of 2 worlds; Salty, crunchy bite to sweet, delectable delight. Fried Ice Cream (5 Different Flavors)
San Antonio's Wood Fired Pizza - Pizzas with fresh, locally sourced ingredients. Sweetie Pie , Classic Margarita, Mushroom Truffle Pizza
Sherri's Crab Cakes - Our own recipes with loads of jumbo and lump crab meat: Crab Cakes Sandwich, Crab Mac & Cheese and Grilled Shrimp
Spoonable Spirits - Boozy Pudding and Jello Shots with 5% Alcohol! Vanilla Vodka Pudding Shot, Whiskey Rolos Pudding Shot & Cranberry Cosmo Jello Shot
Snowie Licious - Delicious Hawaiian Shaved Ices: Mermaid, Unicorn and Apple pie shaved ice
Tacos El Guero - Authentic Mexican Food Stand: We sell tacos, quesadillas, burritos, and nachos. Customers get to choose their toppings and everything is cooked fresh and 100% mexican. We also sell traditional natural drinks such as Jamaica, horchata, tamarind, and piña colada.
Tania's Kitchen - Savory Haitian Caribbean dishes: Jerk Chicken, Fried Pork and BBQ Chicken. All serves with rices and plantain
Twisted Potato - A spiral shaped potato on a stick that is deep fried to perfection! Served with 8 signature flavored seasoning options.
The Waffle Chic - We won't make it until you order it! Chicken & Waffle fish/shrimp & waffles waffle taco
The Wasted Baker - Tom Collins Cupcake: A Cheesecake/Cupcake Hybrid Topped with a Graham Cracker Crumble and Italian Style Gin and Lemon Curd Buttercream.
Yani's Food Sensation - Blend of spice, soul and comfort for our Empanadas, Jerk Chicken and Mac n Cheese
Additional Vendors:
A Party with a Plan - Face Painter & Glitter Tattoos
Atlantis - Custom Jewelry
Fire Island Vines - Local Winery; Rose, Pinot Noir, Sangria & Greek Spreads
Henna Squad - Henna Artist
Muffin & James Doggy Bag Treat - Handmade natural clean eating dog treats (Also human friendly) Peanut Butter banana honey bites; PB blueberry bites; Parsley Carrots Apple bites - Saturday through Monday only
Paparazzi Accessories - Jewelry & Accessories
Theme Night Wines - Varietals of Wine - Red Blend, Rose, Merlot, Pinot Noir, Pinot Grigio, Chardonnay, Cabernet Sauvignon
▇ Sponsors 2021 ▇
King O Rourke | (Cadillac, Buick, GMC) Smithtown, NY
___Remaining Sponsor List ___
Athletic Brewing
Alpha Axe
Bathroom Buddy Remodeling
Chameleon Cold Brew
Corona Premier
Eat My Cake Too
Island Rock
Leaf Filter Gutter Protection
Modelo
Momentum Solar
NY Party Works
Power Home Remodeling
Preferred Events
Renewal By Andersen
Redmax Events
Springbrook Farm Distillery
Sugardale Foods
Super Coffee
Stargazer Sound
Wild Bills Soda
White Claw
Tanger Outlets
▄▄▄▄▄▄▄▄▄▄▄▄▄▄▄▄▄▄▄▄▄▄▄▄
Live Entertainment Performances Lineup:
Friday Sep 3rd
Romney Lewis 4:30-5:15
Janis Joplin Experience (5:30 - 6:45 PM)
The Day Trippers "Beatles Tribute" (7 - 9 PM)
Sat. Sep 4th.
Verick (11 - 1 PM) (Tik Tok @euphorick_)
Russell Breiter (1 - 3 PM)
Defiant (3 - 4:30 PM)
Rock Nation (4:30 - 6 PM)
Marliii Music (6 - 6:30 PM)
Arahmus Brown (6:30 - 8 PM)
Sun. Sep 5th
Bill Perkins (11 - 1 PM)
Valerie Rose (1 - 3 PM)
Lisa Polizzi Band (3 - 4:50 PM)
Sharp Dressed Band (4:50- 6:10 PM)
Russell Breiter (6:10 - 8 PM)
Monday Sep 6th
Bowtie Fridays (11 - 1 PM)
Valerie Rose (1 - 3 PM)
Janis Joplin Experience (3 - 4:30 PM )
Ryan Delaney Music (4:30-6 PM)
Josh Gibson (6 - 8 PM) (Tik Tok @Joshgibson)
▇ ABOUT THE FAMOUS FOOD FESTIVAL ▇
Can you think of a more enticing expression of culture than food? Welcome to the ultimate culmination of Culinary Arts in the Food Festival Industry! Our Community Food Festival event production company consciously focuses on creating a distinctive food festival experience through delivering the opportunity to taste the world and blend together all of the most delectable and flavorsome ingredients stemming from a myriad of different cultures and food.
▄▄▄▄▄▄▄▄▄▄▄▄▄▄▄▄▄▄▄▄▄▄▄▄
▇ LOCATION ▇
Tanger Outlets, Deer Park (In the South East Parking Lot)
152 The Arches Cir
Deer Park, New York 11729
▄▄▄▄▄▄▄▄▄▄▄▄▄▄▄▄▄▄▄▄▄▄▄▄
▇ TICKETS ▇
This is an All Ages Family Friendly Experience,
Online Advance Tickets are $7 for One Day Pass, $12 for 2 day Pass - $18 for 4-day Labor Day Legend!
Children 7 and under get in free, Ages 8-12 Years: $5
Tickets will be available for $12 for One Day Passes at the door!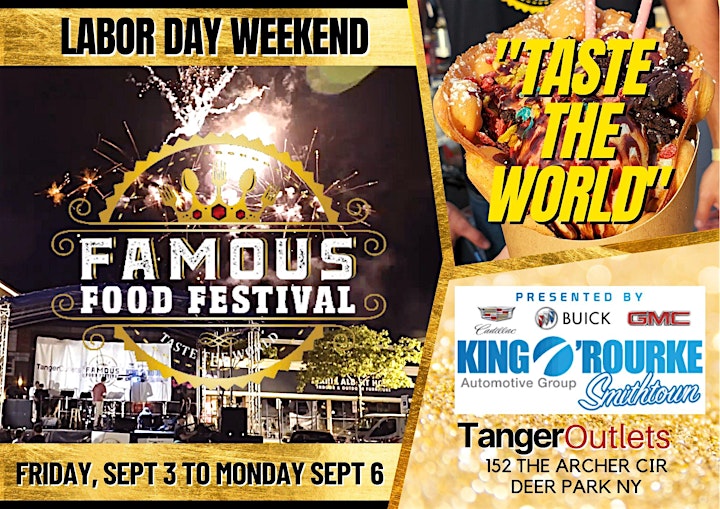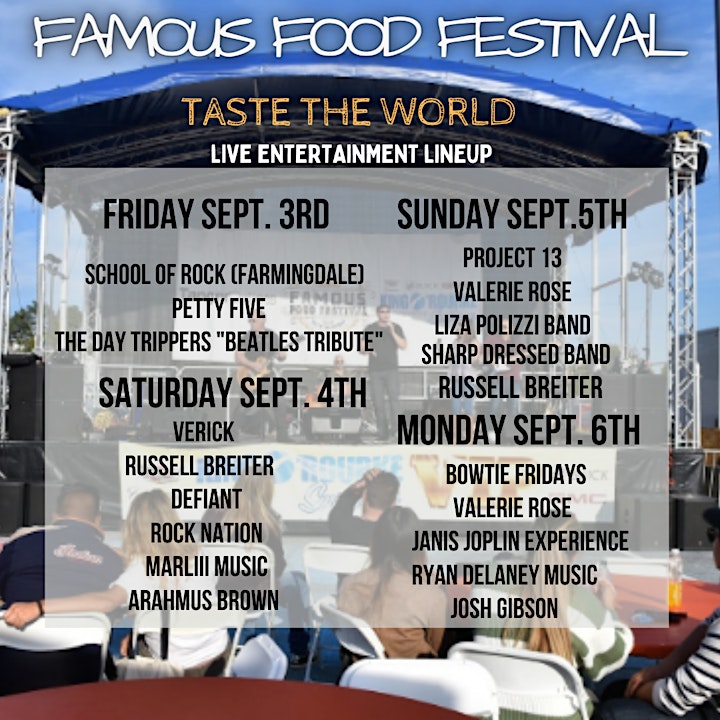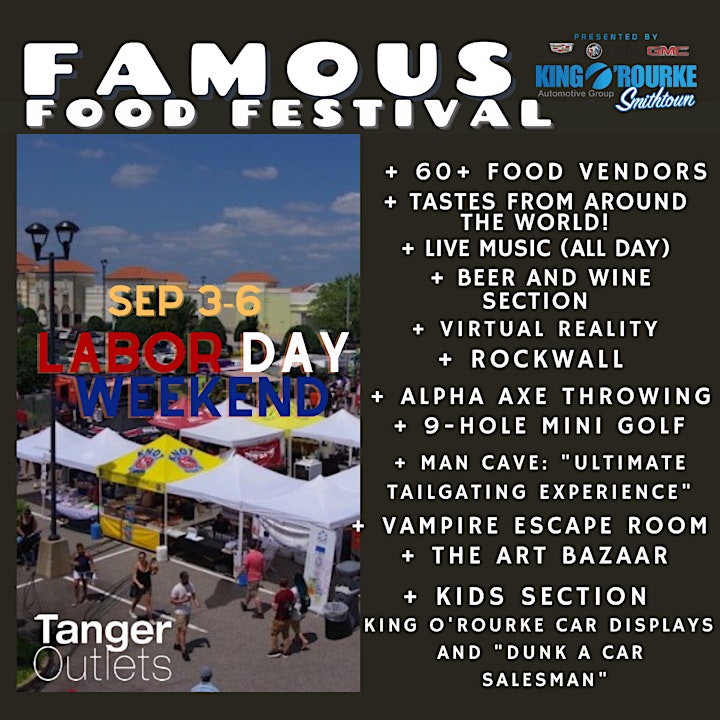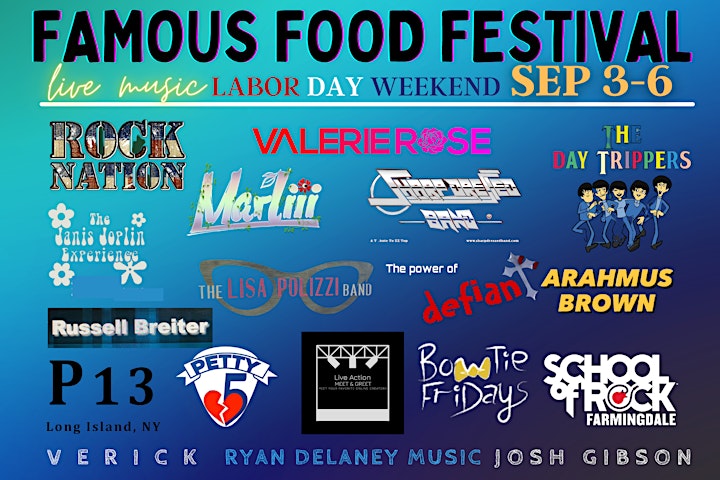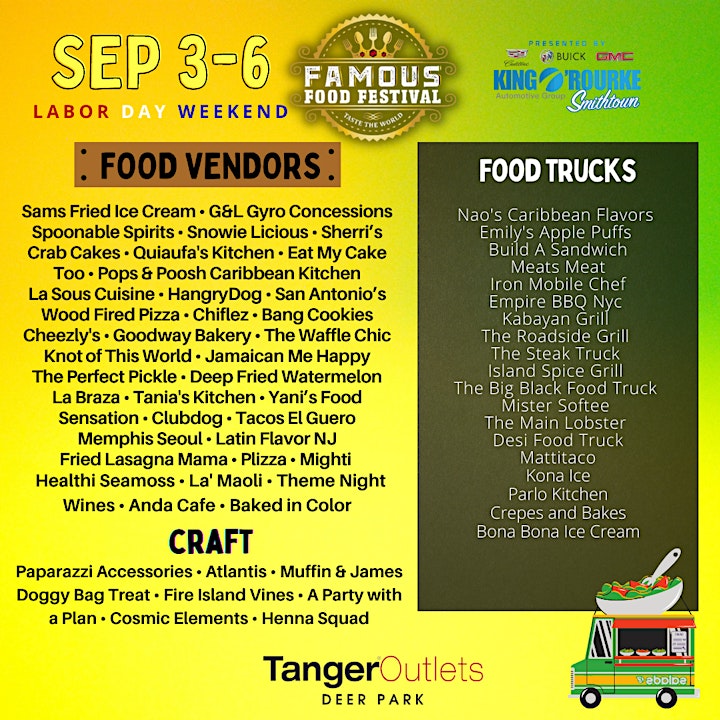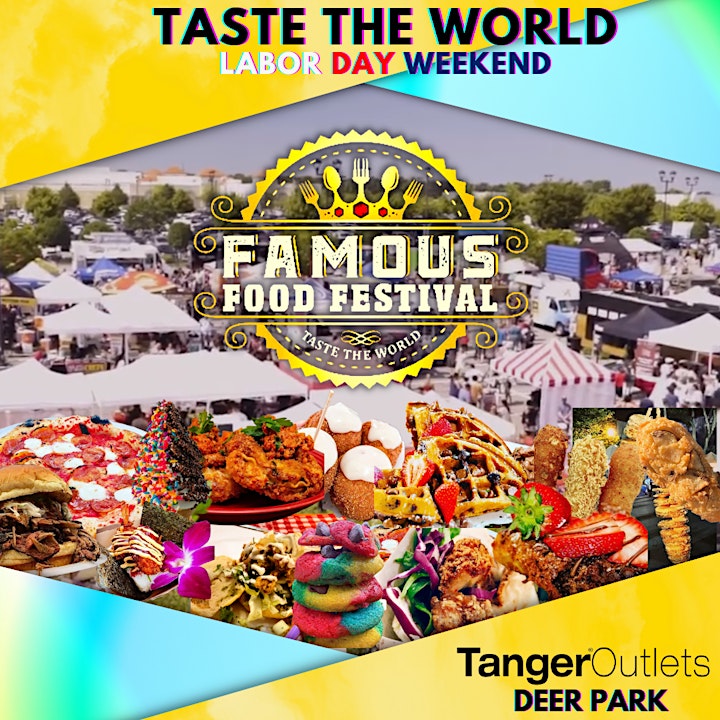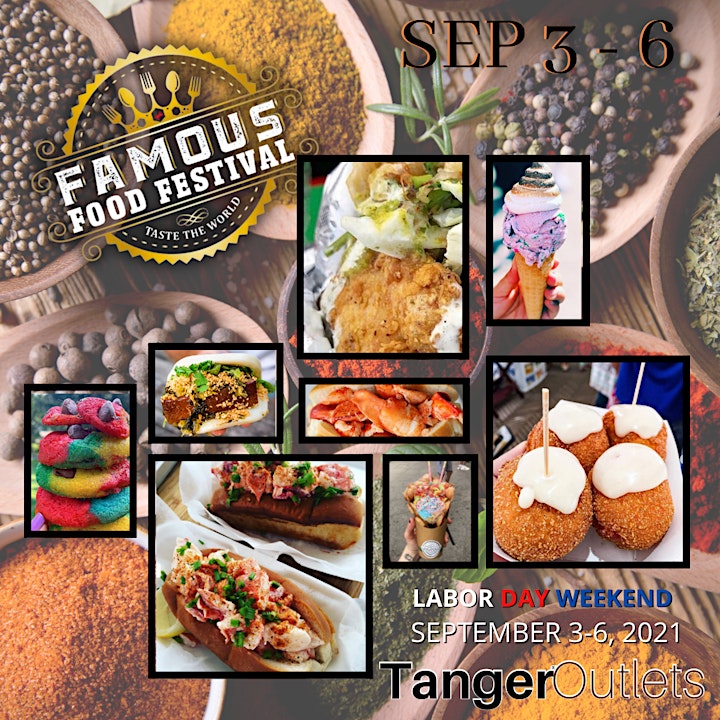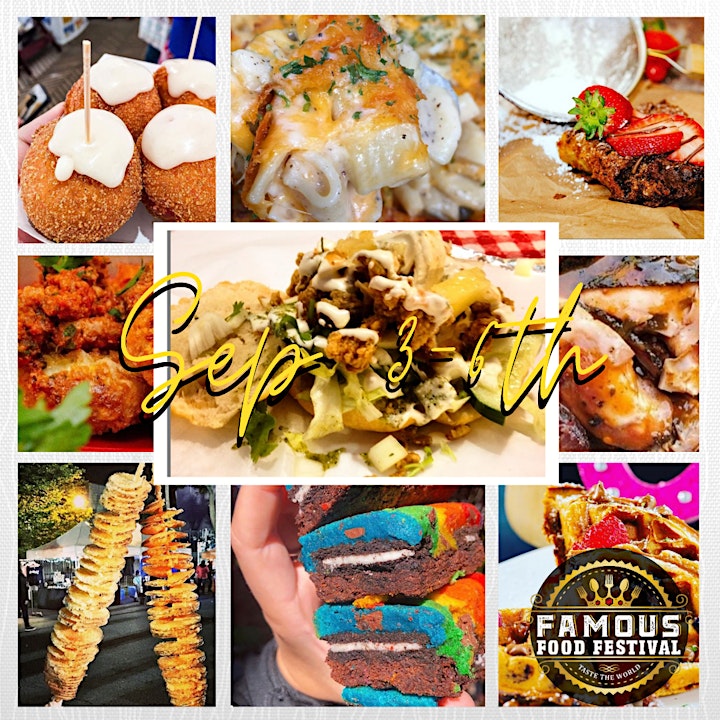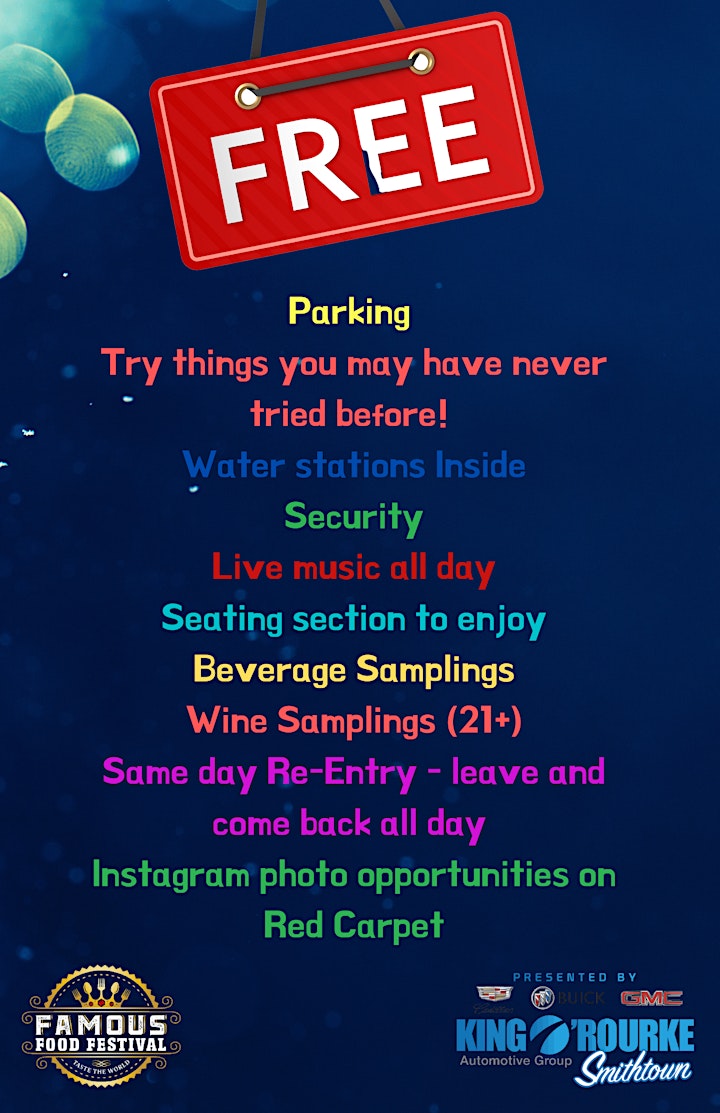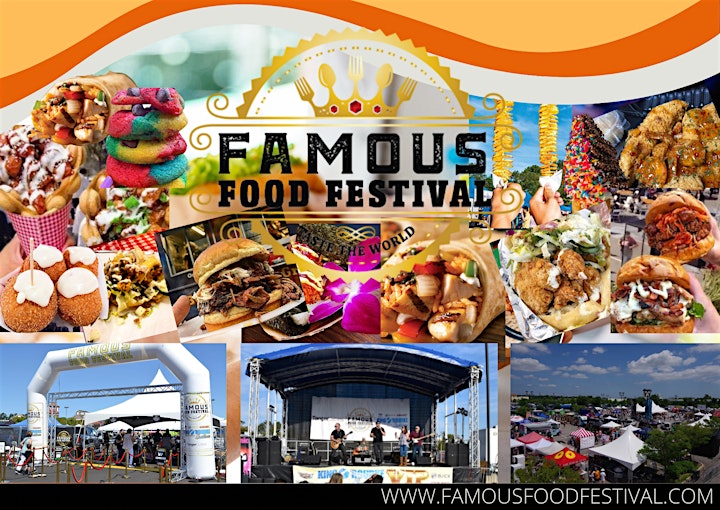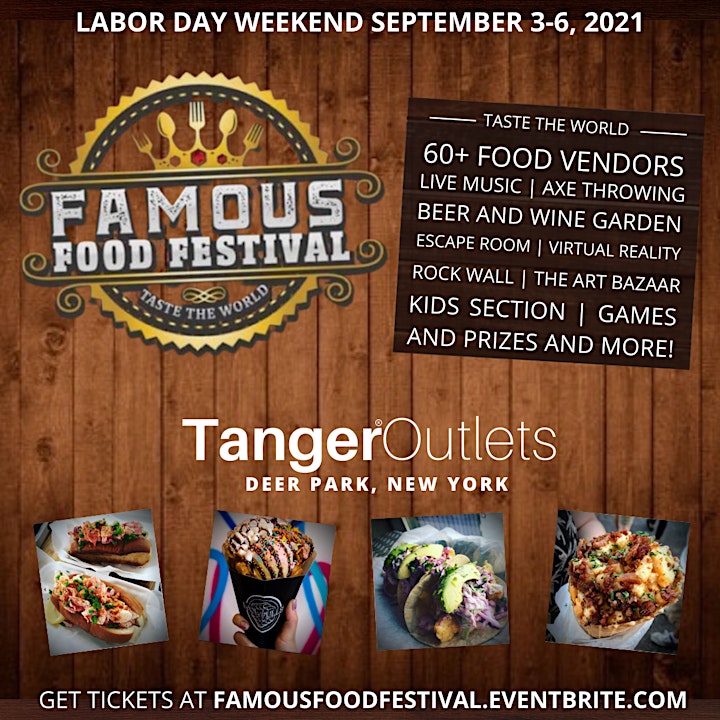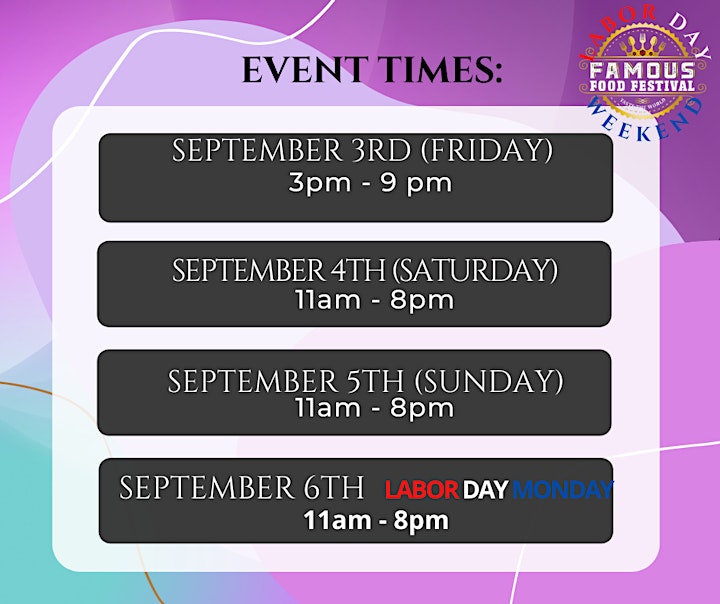 Organizer of Famous Food Festival " Taste the World" Long Island, NY - 2021
The Famous Food Festival brings to you new and well known foods from all over the world created by new-to-the-scene and experienced chefs who are thrilled to showcase their creative, mouth-watering works of culinary art to the local community.
 Now in our 4th year with Tanger Outlets, we're really looking to deliver a festival unlike anything people have experienced. With SO many things to do for the whole family as well as all the unique and delicious cuisines, this event has become a hot commodity on Long Island! People from all throughout the greater NY area and throughout the country come all the way to the famous food festival to an over-the-top modern food and entertainment experience