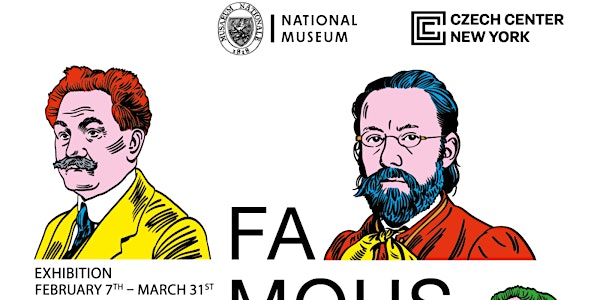 Famous Czech Composers: Exhibition Opening
Exhibition opening: Immerse yourselves in the life stories of four phenomenal composers and their classical music works
When and where
Location
Bohemian National Hall 321 East 73rd Street New York, NY 10021
About this event
Immerse yourselves in the life stories of four phenomenal composers and their classical music works in an exhibition by the National Museum.
Bedřich Smetana, Antonín Dvořák, Leoš Janáček, Bohuslav Martinů: four great names in Czech music that have become a global phenomenon. Each is from a different generation with its own unique style and signature. Their works may be different, but they have one thing in common: an unmistakable je ne sais quoi that is a product of their Czech heritage and helps paint an image of Czech culture on the world stage.
The unique life stories of these four composers will be presented to you by an attractive graphic novel illustrated by Alexei Klyukov that allows you to experience crucial life moments together with each individual artist. You will find yourself immersed in an intimate patchwork of both extraordinary and ordinary motifs and a diverse selection of compositions. Video interviews with the curators of the project – Sandra Bergmanová, Veronika Vejvodová, Aleš Březina, and Jiří Zahrádka – will allow you to better understand the environments with which the composers interacted.
They will also help you to picture the inspiration and experiences that had a major impact on the composers' way of thinking and the creative processes that led to the creation of such major operas as Smetana's The Bartered Bride, Dvořák's Rusalka, Janáček's The Cunning Little Vixen, and Martinů's Juliette. The exhibition also features materials from the archive of the Dvořák American Heritage Association (DAHA), among which a facsimile of the historical contract that brought Dvořák to America 130 years ago is included. You will also find original costumes worn by characters from productions of The Bartered Bride and Jenůfa in New York, which are on loan by the Metropolitan Opera.
The exhibition is organized by the Czech Center New York and the National Museum of the Czech Republic in collaboration with BBLA, the Consulate General of the Czech Republic in New York, DAHA, and the Metropolitan Opera.