Description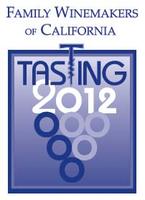 Want to know -- and taste -- the well-known and the soon-to-be known in California wines? You've come to the right place. The Family Winemakers tasting -- this is our 22nd anniversary! -- includes tiny wineries you've never heard of, favorites you know and love, varietals you want to discover ... in short, the vast and exhilirating world of wine in California, 2012. It's a once-a-year extravaganza where you can tour and taste the world of California wine. Your ticket includes: unlimited access to 250 wineries from 30+ California appellations pouring over 50 varietals and 750 different wines; commemorative wine glass; a great variety of cheeses; on site creperie. Many wineries will be offering special pricing on select wines. FOR OUR SECOND YEAR -- TASTE & TAKE! Take home the wines you love (participating wineries identified on site).

This is the most comprehensive tasting of California wines in the world -- the largest number of wineries; an enormous range of varietals; wine growing appellations from all over the state. This is a Family Winemakers tasting, which means that many of the wineries are small (under 5000 cases), have limited marketing outreach, and will be represented by family members. Over 30 wineries in this year's tasting will be pouring with us for the first time, giving you a taste of the new kids on the block. You can sample new releases from your classic favorites and from wineries just selling their first vintages. Check out varietals you've never heard of (Vermentino? Touriga?) or your best-loved Cabs and Chardonnays. This well-respected tasting is a once-a-year opportunity to tour and taste California's wine country under one (very large) roof.
NEW! iSipLounge features Sommelier Courtney Cochran leading a stand-up tasting of 8 varietals, 4 reds and 4 whites. Verdelho, Grenache, Tempranillo -- well, you get the idea. Your ticket admits you to the Lounge as well as the tasting at any time between 3:00 and 6:00. Mini-crepes and cheeses served to pair with the wines.
Contact us: tasting@familywinemakers.org, (415) 705-0646

No non-service animals and no one under 21 admitted, including infants.
Organizer of Family Winemakers of California -- San Francisco 2012
Our first tasting was held on November 12, 1991, in the Sheraton Palace Hotel in San Francisco.  Family Winemakers had 71 member wineries back then, and 47 of them poured that night for about 350 members of the wine trade.  We've grown.  We have over 375 members today and many of them pour at one or all of our tastings: Bay Area, Del Mar and Pasadena.  We've grown, and so have our tastings, but some things haven't changed.  The wineries are just as dedicated as they were in 1991 to producing the finest wines they can, the winemakers are just as passionate about the right soil, the right grape, the right microclimate.  And Family Winemakers is just as committed to presenting our member wineries and their wines at tastings that showcase the breadth and depth of winemaking in our state.   Family Winemakers ... Great Wine a Family Tradition!