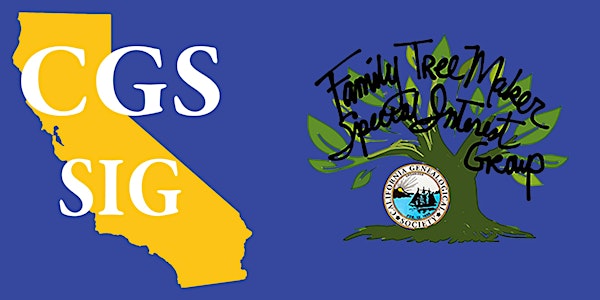 Family Tree Maker User Group Meeting, Feb 18, 2023, Deep dive into Media
This Family Tree Maker Users Group is perfect for new FTM users, people who are just FTM curious, and experienced FTM veterans. All welcome!
When and where
Location
In Person and Online 2201 Broadway, Suite LL2 Oakland, CA 94612-3031
About this event
FTM-SIG Has A Great February 2023 For You
Meeting #75 - February 18, 2023, 1:00 - 3:00PST
Attend the meeting is live at the CGS Library -or- Zoom
CGS Library will be Open 10:00AM - to - 4:00 PM on Feb 18. Please come to the "live" (hybrid) FTM-SIG meeting. Use the NEW Super Photos Scanner. We will help you with your FTM issues from 10:00-to-4:00, before and after the FTM-SIG meeting.
At This Meeting:
1. How has FTM been treating you in 2023? Good surprises? Not as good surprises?
2. Great Tip from Keith Montgomery - Looking for Family Search Records
3. Managing FTM Media.
4. Deep dive ionto the power of FTM Media handling.?
5. How do you find orphan (unattached) people and branches in your tree? And ... what to do with them???
Join us Saturday, February 18, please register by clicking
For much more information, please visit the FTM-SIG Website:
This FTM-SIG meeting will be recorded. This FTM-SIG meeting #75, Power Point and Handout will be in the FTM-SIG Dropbox folder Friday, February 17.
Questions? Contact:
Ron Madson: ftm@californiaancestors.org  (650) 576-4495
Karen Halfon: karenhalfon@yahoo.com (415) 922-2255
REGISTRATION INFORMATION: 
• Special Interest Groups are free to CGS members. 
• Non-members are welcome to attend one meeting at no charge (register in the 'CGS Member' area, and enter 'first free' in member number field); thereafter, you may join CGS and attend for free; or remain non-member and pay $10* for each meeting attended.
* You can purchase a $45 one-year CGS Basic membership when you check out. To sign up for other membership options go to our web page: CGS Membership application
 PAYMENT OPTIONS:
Credit card payments will be processed by Eventbrite. 
*The fee for this meeting is non-refundable.