"Family Style" dinner at Alidos Island Flavor

Monday, October 17, 2011 from 7:00 PM to 9:00 PM (PDT)
Event Details
Join KapaMealya  for another evening of delicious Filipino food. This time we focus on traditional family style cuisine, spotlighting the delicious creations from Alidos Island Grill. This 6 course dinner will feature a variety of signature dishes from the kitchen of chef Virgina Alido. There will be fun trivia, prizes and giveaways as well as live music. If you want to experience traditional Filipino food a don't know where to start...this event is just for you.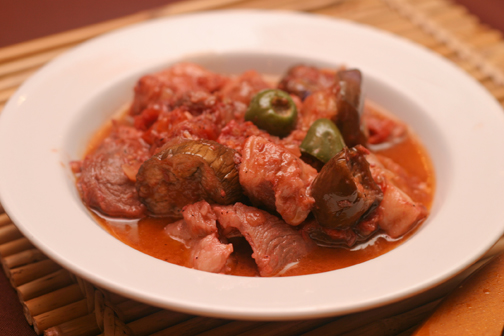 Please read our Reservation Rules and Dining Decorum Page prior to purchasing your tickets!
$25 includes the dinner, tax, and gratuity (as well as good conversation, networking, smiles from that cutie across the table) - an additional fee will be charged by Eventbrite (sorry, we can't avoid this) upon completing your credit card transaction.  Drinks will be paid separately at the restaurant. 
YOU MAY PAY AT THE DOOR WITH CASH to avoid transaction fees on your credit card.  If you do choose to pay at the restaurant, please notify us at eat@kapamealya.org with your name, phone number, and # of people in your party.  We will not have change, so please bring the exact amount of $25 to the dinner. 
Repeat "no-shows" may result in "no-invites" to future events.
---
Watch KapaMealya's last event featured on Adobo Nation. http://youtu.be/8DtlymqnQhg
About kapaMEALya:
"kapaMEALya" is a combination of two words: kapamilya = family and meal = food.
Food brings people closer and turns friends into family. kapaMEALya is here to promote, highlight, and exhibit the Filipino cuisine. By way of organized meals, chef demos, music events, and beer & wine pairings, we hope to open people's minds, introduce new flavors and concepts, and build a network of Filipino food lovers while enriching and helping the community.
See you there!
- Team kapaMEALya
Visit Us!
Twitter:  @kapaMEALya
Facebook:  www.facebook.com/kapaMEALya
Website:  www.kapamealya.org
The History of Alidos

30 years of Filipino Food

In 1981, Virginia Alido decided not to be a housewife anymore. The young mother of two was bored being home and wanted a challenge, a hobby if you will. Having immigrated to the US from the Philippines in 1971, she saw the demand for Filipino goods and food with the rising local population of Filipinos. With her husband, Ernesto, working as an architectural engineer and often in the field across the US, she had her hands full with two young children. But, being the workaholic she still is, she had the energy and drive to go for something new. Virginia and Ernesto Alido opened Philippine Mart, a corner store in San Francisco at the intersection of San Jose & Geneva Avenues.

Philippine Mart carried the products that were hard to find in its day. Now we can easily run to the Asian superstore, back then there were just a handful of these specialty stores. Imported foods, fresh produce, fresh fish, longanisa, candy, beer & wine…. It was a mash-up of products. Being across the street from one of the busiest BART/MUNI stations (Balboa Park), Virginia decided to sell some food ready to eat. Sub sandwiches was the start with the multi ethnic foot traffic and transit operators. Once there was a good amount of regular customers who would grab a sandwich and go, Virginia figured she'd try to introduce the rest of the world to Filipino food. Mind you, this was pretty early in the game and being a somewhat newer demographic, it was a pioneering step in getting our Filipino Island Flavor on the palates of whoever would try it. Success! Lumpias vs. roast beef sandwiches, heck, how about some lumpias and a roast beef sandwich on the side! Truly a pioneer.

Soon after in 1983, Virginia got bored once again. With Philippine Mart doing well, she saw the need to open up a Filipino restaurant. in 1983, Alido's was born in the heart of San Francisco's Mission district. The restaurant was on Mission & 18th street, next to a liquor store and a coin-op laundry-mat, underneath a weekly rate hotel with some vagrant residents. It was a pretty rough neighborhood but there was plenty of foot traffic. It was a small place, probably 12'wide by 50' deep with most of the kitchen in the front bay window to show the cooking process. Alido's was one of the first. Back then, there was probably a less than a dozen Filipino restaurants in the bay area, now there are dozens within 3 miles of each other.

In 1985, Ernesto decided to take a break from his career and work full time for the business. With his help, Virginia became bored once again and decided to open up another restaurant a few blocks away. In 1986 Alido's opened up at a second location on Mission & 24th in San Francisco in a multi-national food court dubbed "Food Faire", 6 blocks away from restaurant number one. Diane Feinstein showed up for the grand opening.

In 1989, with three locations in San Francisco, the husband and wife decided to venture south into South San Francisco. January 1990, Alido's opened at 671 El Camino Real continuing the turo-turo style of the other two locations.

In 1996, with the turo-turo style under their belt, the Alidos decided it was time to step it up and open a full service restaurant. In October of that year, Alido's opened up at 3560 Callan Boulevard in South San Francisco, this time with room to grow and host banquets as well as diners. This location was a leap in size compared to the other three, which the largest being less than a thousand square feet. Alido's on Callan is about five times the size of the El Camino restaurant with plenty of parking.

Alido's prides itself on traditional Filipino meals, just like mom would make it. The dining space is cozy and the people are friendly. The owners (Ernesto & Virginia) are on a first name basis with the regulars and are always welcoming to new faces.
When & Where

Alidos Island Flavor
3560 Callan Boulevard
South San Francisco, CA 94080


Monday, October 17, 2011 from 7:00 PM to 9:00 PM (PDT)
Add to my calendar