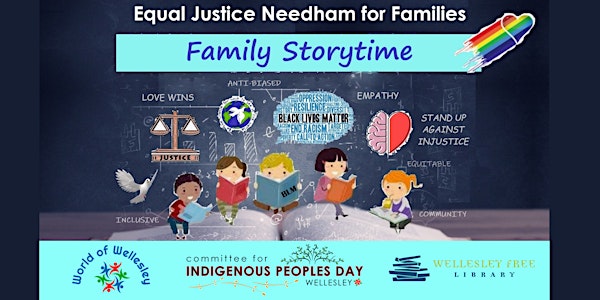 Family Storytime
the Zoom link is emailed by EJN Families. Check your inbox, junk mail or Spam.
About this event
In celebration and in solidarity with Indigenous Peoples' voices, EJNF presents Family Storytime with Carole Lindstrom, who will be reading with us her NYT best seller We Are Water Protectors. A Coda and Professional ASL interpreter will participate in this read aloud to bridge the communication gap. The event will close with an interactive Q&A session and water protection activities for kids to inspire us all to make an impact in our communities.
EJNF commemorates Indigenous Peoples' Day with this family event thanks to the generous sponsorship of the Committee for Indigenous Peoples' Day of Wellesley, World of Wellesley and the Wellesley Free Library.
Free | Zoom link will be emailed to you soon after registration. All are welcome. We hope you join us!
ABOUT CAROLE LINDSTROM
Carole Lindstrom is Anishinabe/Metis and is tribally enrolled with the Turtle Mountain Band of Ojibwe. Carole is a renowned author of children's literature. Her titles include Girls Dance, Boys Fiddle and the New York Times Best Seller, We Are Water Protectors -- a picture book inspired by Standing Rock and all Indigenous Peoples fighting for clean water.
ABOUT THIS EVENT
Every month EJNF hosts Family Storytime with a guest author or guest reader. The reading is followed by an interactive Q&A session with the author/reader to engage the young audience in thoughtful conversation. EJNF Family Storytime series are designed for parents/caregivers, educators, and families who wish to learn about equity, diversity, inclusion, and social justice.
ABOUT EJNF
EJNF is a working group within Equal Justice in Needham (EJN). We focus on anti-bias education initiatives for families and caregivers to support children in developing empathetic, anti-bias, and inclusive worldviews. EJNF believes that, if we are serious about building a community where all children are safe and treated equally, conversations at home about race, diversity, equity, and inclusion need to start early. We acknowledge that children learn and absorb bias in their daily lives. When families and caregivers explicitly teach anti-bias attitudes and model inclusive behaviors, children learn to be empathetic and inclusive. We believe in the power of children's books to spark amazing and transformative conversations that will help families and caregivers raise children who are able to think critically and compassionately about diversity, equity, inclusion, racial and social justice.
For questions regarding accessibility or the event in general, please email us at ejnforfamilies@gmail.com
For more information about Equal Justice in Needham for Families visit: https://equaljusticeneedham.org/ejnforfamilieshome
Follow us on Facebook: https://www.facebook.com/EJNFamilies/