Actions and Detail Panel
Family Science Lab
Sat, April 29, 2017, 11:00 AM – 2:00 PM EDT
Description
Anyone can be a researcher, no matter their age. Children (ages 7-12) and grown-up pairs will get hands on experience in a biotech lab, extracting their own DNA and exploring its molecular structure. You will learn techniques used by scientists to study real world challenges and engineer solutions using the same principles and DIY approach from our adult classes. At Genspace's Family Science Lab, a kid and their grown up (1 child per adult) can join the biotechnology revolution.
We will introduce the concept of DNA, discussing its structure and function. Participants will extract DNA from a strawberry and their own cells. Each pair will then create a model "gene" using colored wire (phosphate backbone) and beads (color coded for base pairs) that will be joined to form a class-wide DNA strand, which we will twist and fold to visualize how DNA is packaged in the nucleus.
Instructors:
Gabrielle Rabinowitz is a Community Manager at Trellis, the new online platform for scientific communication and collaboration from the American Association for the Advancement of Science. Gabrielle has a master's degree in Biological Sciences from Rockefeller University where she studied the molecular basis of Fragile X syndrome using RNA sequencing. She was a faculty member of Bard College's Citizen Science course for freshman and has experience developing science outreach activities for K-12 students. Gabrielle is interested in the future of science communication and education and the role of technology in facilitating the exchange of ideas.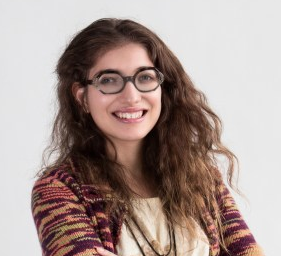 As a community organizer, artist, designer, and educator, Nica Rabinowitz has developed programming for students at museums, in classrooms, and wherever else creativity can happen. She created the educational department at Manufacture New York and helped start the weaving outreach initiative, Saori Arts NYC. After graduating from Parsons the New School for Design she founded Fiberhouse Collective where she creates closed loop textiles and facilitates accessible hands-on workshops for people of all ages, backgrounds and aptitudes. Nica has taught workshops through Textile Arts Center, Parsons the New School for Design, New York University (NYU), Children's Museum of the Arts, the annual Maker Faire and now Genspace, where she acts as Community Manager.