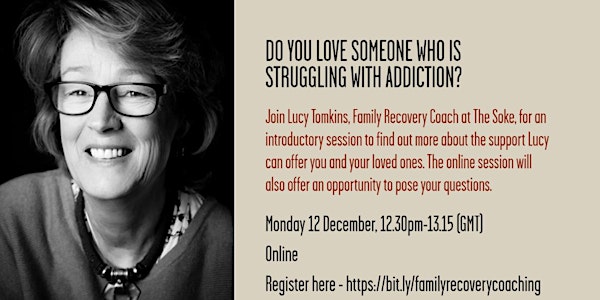 Family Recovery Coaching - Introductory session
Do you love someone who is struggling with addiction? Is nothing you do working?
About this event
Lucy Tomkins, Family Recovery Coach at The Soke, can help by providing a safe environment specifically for individuals and families affected by a loved one's addiction.
With the support of education, new skills and tools, Lucy can help you heal from the impact of their addiction.
Discover an opportunity to reclaim your life and start contributing to a positive outcome for you, your family and your loved one.
Additional notes
The session starts at 12.30pm GMT (UK time)
Participants are welcome to attend anonymously. Cameras can remain switched off. It is entirely optional to participate in the conversation. Those who'd like to ask a question can submit questions prior to the session, via Zoom chat or live during the session.