Description
Family Photographs for the Holidays: Avoiding The Awkward Family Shot with Tamara Lackey
In this high-energy, engaging workshop, you'll learn a variety of group posing techniques, step through simple lighting concepts for a number of every day scenarios (as well as more tricky lighting situations) and learning how to shoot authentic family portraits this holiday season - and all year round! Tamara will also walk through technical settings, composition, and subject interaction, conducting a live family photo shoot during the workshop.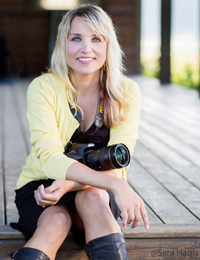 Tamara Lackey is a Nikon USA Ambassador and renowned professional photographer, speaker, author and program host. Her authentic lifestyle photography, from children's portraits to celebrity portraits, is praised within her industry and published internationally - featured in a myriad of media outlets, including O The Oprah Magazine, Parenting Magazine, Town & Country, Food & Wine, Men's Journal, Nikon World, Professional Photographer Magazine, Rangefinder Magazine, PDN, NBCs The Today Show, and ABCs Good Morning America.
Tamara is the passionate co-founder of Beautiful Together, a non-profit in support of children waiting for families, working to improve the lives of orphaned children living in challenging situations, and shining a light on those who wait for family.

Tamara speaks at quite a range of programs, seminars and conventions, from delivering presentations on the Google stage to delivering private workshops around the globe. She is the author of six books - her latest are Envisioning Family: A Photographers Guide To Making Meaningful Portraits of The Modern Family, The Posing Playbook (for Kids Who Don't Do Posing) and The Family Posing Playbook. Tamara has co-produced and hosted multiple live broadcasts for creativeLIVE and her long-term web series, The reDefine Show, is a mix of examining the inspiring stories of top-tier creative artists who make it work, combined with behind-the-scenes walkthroughs of her photography.

She is also the co-creator of Lush Albums, fast-to-design, eco-friendly fine art albums that give back half of all proceeds to Beautiful Together. Tamara is sponsored by some of the top names in the photographic industry, including Nikon USA, Adorama, Nations Photo Lab, Imagely, Animoto, and Think Tank. For the last 14 years, Tamara has run a busy, associate-based studio focused on portrait, commercial and editorial photography. She and her husband, three children, three dogs, and two cats all live together in Chapel Hill, North Carolina.