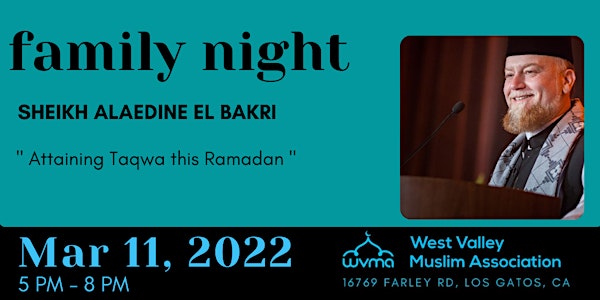 Family Night: Featuring Shaykh Alaedin ElBakri
WVMA invites you to attend Friday Family Night at LGIC, Friday, March 11th with Shaykh Alaedin ElBakri
When and where
Location
West Valley Muslim Association 16769 Farley Road Los Gatos, CA 95032
About this event
Friday, March 11, 2022 from 5:00 pm - 8:00 pm
WHERE: Los Gatos Islamic Center (LGIC)
WVMA invites you to attend Friday Family Nights at LGIC. There will be food and games for the whole family.
On Friday, March 11th Shaykh Alaedin ElBakri will be discussing in depth about Taqwa in Ramadan.
Alaedin ElBakri began his study of Islam at a young age in North Africa and continued his education in the Islamic sciences in Jordan, learning from predominant scholars in the Muslim world.
He has served the Muslim community in the United States in numerous capacities, serving as Imam at several Islamic centers and establishing full-time and weekend Islamic schools.
He has also served as a founding board member of IMAN (Inner City Muslim Action Network) in Chicago, as a book editor for IQRA and also is an advisory board member in many Islamic organizations.
Having been trained in both the Islamic sciences and secular education, Shaykh Alaedin has the ability to appeal to various audiences and his main focus is in helping Muslims develop a deep understanding of the self, life and faith.
He currently serves as Khateeb at Saratoga Masjid in California.
FOR INQUIRIES:
Call or text us at (408) 805-4560 or (408) 800-4887
For more information about WVMA: