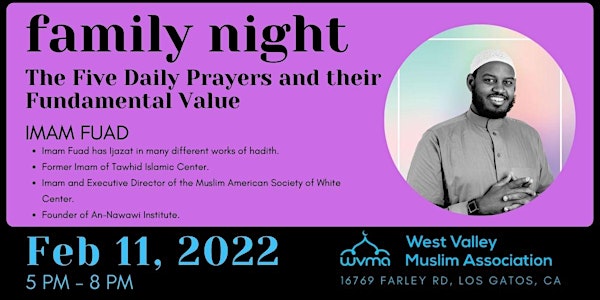 Family Night: Featuring Imam Fuad Mohamed
WVMA invites you to attend Friday Family Nights at LGIC. On Friday, February 11th we have guest speaker IMAM FUAD joining us.
When and where
Location
West Valley Muslim Association 16769 Farley Road Los Gatos, CA 95032
About this event
Friday, February 11, 2022 from 5:00 pm - 8:00 pm
WHERE: Los Gatos Islamic Center (LGIC)
We regret to inform you that Imam Azeez will not be able to join us On Friday, February 11th.
However, the WVMA has arranged for another guest speaker, Imam Mohamed Fuad ISA.
Imam Fuad was born in Ethiopia and grew up in Seattle,WA. While he was a teen he began studying hadith sciences with the imam of his local masjid in Seattle Washington.
After graduating high school, he moved to Cairo Egypt to continue pursing Islamic education. He has been given Ijazat in many different works of hadith.
He was the former Imam of Tawhid Islamic Center. He is currently the Imam and Executive Director of the Muslim American Society of White Center. Imam Fuad is also the founder of An-Nawawi Institute.
Imam Fuad will also be leading the 1:30 pm Friday Khutba, at Saratoga Prospect Center.
You can follow Imam Fuad on:
Twitter: https://twitter.com/fuadalarusi
Instagram : www.instagram.com/fuadalarusi
YouTube:https://www.youtube.com/results?search_query=imam+fuad+mohamed
FOR INQUIRIES:
Call or text us at (408) 805-4560 or (408) 800-4887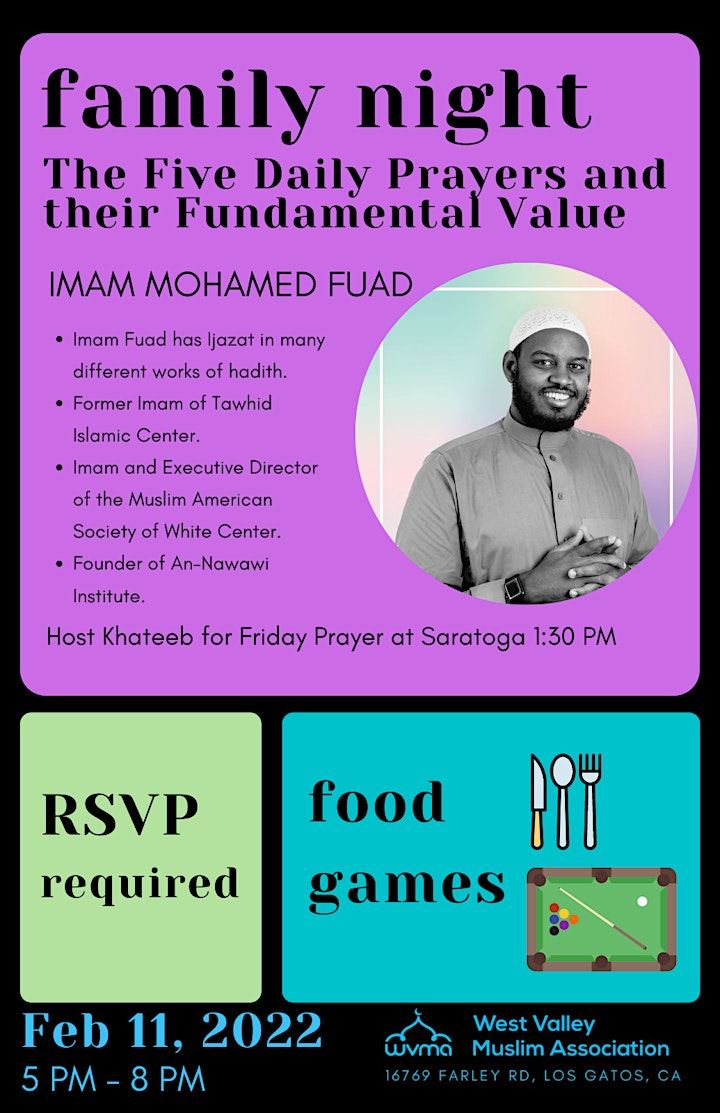 For more information about WVMA: