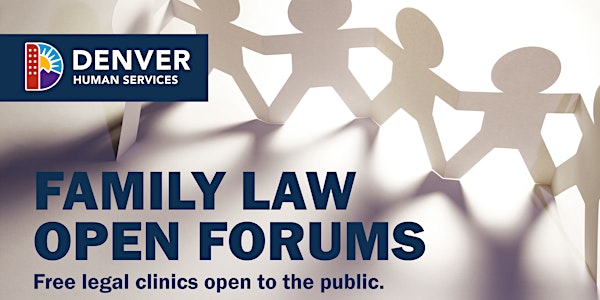 Family Law Open Forum
Family Law Open Forums are free, online legal clinics open to the public. These will help you navigate the whys and hows of going to court.
About this event
We offer a monthly, free legal clinic to help you navigate the whys and hows of going to court.
Our Family Law Open Forum will help you get things done right and done legally.
An attorney will give information on:
Child support
Visitation
Parenting time
Custody
Contempt citations (family law only)
Other family law/court issues you may have
The meeting is held monthly on the third Tuesday of each month and is presented virtually on the Microsoft Teams platform. Sign up here and we'll send you the link prior to the scheduled meeting time.
For more information, contact us at 720-944-1323 or CSSFatherhoodProgram@denvergov.org.
This information is presented in a group setting, not a one-on-one consultation. This is not legal representation, but a free information resource. Open to anyone in the Denver metro area. Sign language interpreters and real-time captioning via CART are available upon request with a three business days' notice, SignLanguageServices@denvergov.org. For other public accommodation requests/concerns related to a disability, DisabilityAccess@denvergov.org.