FAMILY HISTORY STORIES LEAD TO VISITS TO EASTERN EUROPE
Description
This program is a reschedule of the cancelled October program.
FAMILY HISTORY STORIES LEAD TO VISITS TO EASTERN EUROPE
Join us to hear two members who will share their family discovery journeys with the Jewish Genealogical Society of Greater Orlando (JGSGO).
Dorie Cohn grew up in Massachusetts and New York, and has lived in Florida for nearly 30 year. She has been interested in her family's history since she was a child. Her maternal grandmother, when asked, would say she was from Russia on some days, and other days she was from Poland. She didn't remember any details of coming to America. She didn't know her "old country" name, wasn't sure of her age, couldn't remember if she landed in Boston or New York, but she was a citizen. She said she was a citizen by her father. Dorie, when visiting her in Lynn, MA, found that everyone was a cousin. That information just made her curious.
As an adult, she visited the family cemetery, interviewed relatives, and tried to put the pieces together. When living in Washington, D.C. in the 1980's she visited the National Archives looking for her name and her father's name on microfilmed passenger lists. A visit to the LDS Family History Library in Salt Lake proved unsuccessful.
Dorie has been on Ancestry for 10 years building her family tree as best she could, including sending away occasionally for birth, death and marriage certificates. A breakthrough came three years ago.
Once she had the ancestral family name, the flood gate of documents opened up. Finding the name, corroborating the documents, talking to descendants and some serendipity got her to identify Derazhne, Ukraine the ancestral home of her grandmother. Her visit to the town this past summer was the culmination of this family history journey.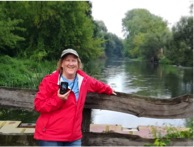 (above) Dorie standing on the "temporary bridge" which crosses the Horyn River in Derazhne. It was built by the Soviets in the 1980s and connects the residential area to the farm and pasture lands of the town.
Laura Kerben LaBoda is a retired secondary science teacher in the Volusia County Schools. She became interested in genealogy through her cousin Larry Morrell. She recalls that whenever she saw him he had discovered another Bornstein relative on her mom's maternal side. Once she joined JGOGO she learned of the the quality and amount of information that is available documenting the Jews post Holocaust. She attended the last two IAJGS conferences and is becoming a much more skilled amateur genealogist. Her most recent success followed discoveries of her of her grandparent's family that led her to records in in Radom, Poland, and their residence in a nearby shtetl.
Time will be reserved for meeting new members, mentoring, and carrying out your own research. Bring your laptop to work on your own or with a mentor!

DATE: Tuesday, Nov. 13, 2018
TIME: 7:00 P.M.
ADMISSION: Free for members, $5 for guests, which can be applied to membership
LOCATION: Roth Jewish Community Center, 851 N. Maitland Ave., Maitland, FL 32751
Registration is required. For on-line participation go to http://jgsgo.org/programs-jgsgo/
---
Contact Information
Lin Herz at info@jgsgo.org
JGSGO Voicemail:
407-494-4230
---
About the Jewish Genealogical Society of Greater Orlando
The Jewish Genealogical Society of Greater Orlando is a non-profit organization formed in 1990, for sharing genealogical information, techniques and research tools with anyone interested in Jewish genealogy. Anyone may join the JGSGO. Annual dues are $35 for an individual and $40 for a family. JGSGO's monthly meetings are free to members. For more information visit www.jgsgo.org and "like" us at www.facebook.com/jgsgreaterorlando. Questions? Email info@jgsgo.org.
Copyright © 2017 Jewish Genealogical Society of Greater Orlando, All rights reserved.