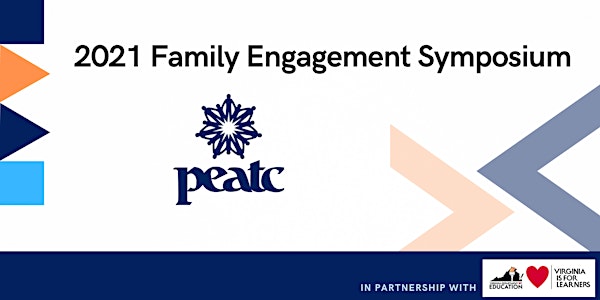 Family Engagement Symposium - 2021
The 2021 Family Engagement Symposium offered by PEATC in collaboration with the VA Department of Education.
About this event
PEATC, in collaboration with the Virginia Department of Education, is pleased to announce our 2021 Family Engagement Symposium entitled "Together We Win and Students Soar."
This year's Symposium will continue to create synergy and robust systems of support for all parents and caregivers of school-aged children (PreK-12th grade), especially children receiving special education services, new and experienced educators, administrators, Title 1 coordinators and community partners around authentic collaborative engagement for student success.
The 2021 Virtual Family Engagement Symposium is a day of connecting virtually and professional learning. This year's Summit with feature several live, interactive and engaging presentations, with a special emphasis on building engagement for underserved families in Virginia. Our nationally known speakers will bring attendees concrete, innovative strategies and methods to help families and schools change the trajectory of how they engage one another to ensure ALL students soar.
*** IMPORTANT INFO ***
This event will take place on March 6, 2021 beginning at 9am. Several attendee raffle prizes will be awarded throughout that day.
A recorded version of the Symposium will be available to registrants from March 8th – March 22nd.