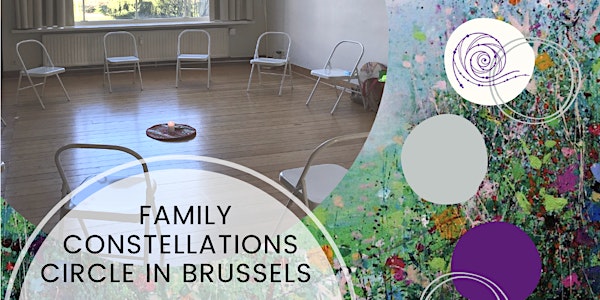 Family Constellations Circle in Brussels
An afternoon of Family Constellations in Brussels - Join the Healing Circle!
When and where
Location
Shanti Home 8 Rue Darwin 1190 Bruxelles Belgium
Refund Policy
Contact the organizer to request a refund.
Eventbrite's fee is nonrefundable.
About this event
This is an open Circle for anyone and open to constellate on any subject. It's a good way to get started if you've been wanting to see what Constellations is all about. We will start with some bodywork exercises and then there will be time for three Constellations on any topic.
A Constellation is a means for accessing the timeless map you hold within, linking the past to the present and the present to the future. It's a tool to find the origin of the problems we face today such as repeated patterns, blockages, relationship difficulties or health concerns, to name a few, and has the power to reveal hidden dynamics not visible to the normal eye. Then a healing exchange takes place and steps are taken to free you from the past and put you on a road to freedom, understanding and authenticity for your future.
There are two ways to participate, either as a participant or Space Holder in the Circle or to bring a topic to constellate as an Issue Holder, which is limited to three places. Although one person will bring a subject to constellate, everyone participates. A Constellation is a Healing Circle for all who attend.
​Price for Space Holders: 35 Euros
Price for Issue Holders: 125 Euros
​Date: Sunday, September 25th
​Time: 3:00 to 7:00 pm
Location: Shanti Home: Rue Darwin 8, Brussels 1190 (Forest)
​*There are three spots available for Constellations. Contact me if you'd like to reserve one of these spots.
*Spots are limited to ensure enough space, although the room is very spacious.
*Modified price for students or if you are unemployed. Write me if this is your case.
​*Payment must be made beforehand. You can register either to the following account or pay by credit card or PayPal by following the link to the website.
​
Meghan Ann Kelly
BE84 3770 9125 9859
​Contact: Meghan +32 468 455 273
meghan@gettotheorigin.com
www.gettotheorigin.com
About the facilitator: Meghan is originally from Colorado in the United States but she lives and works in Brussels, Belgium. She is a Systemic and Family Constellations facilitator, and her training comes from a variety of teachers: Anni Schuff in Buenos Aires – Founder of SECI and Certified Facilitator and Academic Advisor for the Center of Latin American Constellations, Elmar Dornberger from Hemisphere Consulting in Boulder, Colorado, Maria Crespo - a first generation facilitator based in Barcelona, Spain, and Pia Kalhof who specializes in Hellinger's final work, Spiritual Constellations. In addition to these formal training, she has studied with and observed many of the biggest names in constellation work, including Bert Hellinger himself, Stephan Hausner, Franz Ruppert, Cecilio Fernandez Regojo, and Joan Garriga in Spain.
Meghan is also a trained facilitator in a technique called Systemic Ritual® developed over many years by Daan Van Kampenhout. This method brings together elements of shamanism and family constellations to give a more spiritual and shamanic approach to constellation work versus a therapeutic approach in traditional constellations. Today she holds Constellation Circles both in person and online, individual sessions and special workshops in Brussels. She works in both English and Spanish.